Kensington Palace Is Now Keeping Kate Middleton's Fashion Choices Under Lock And Key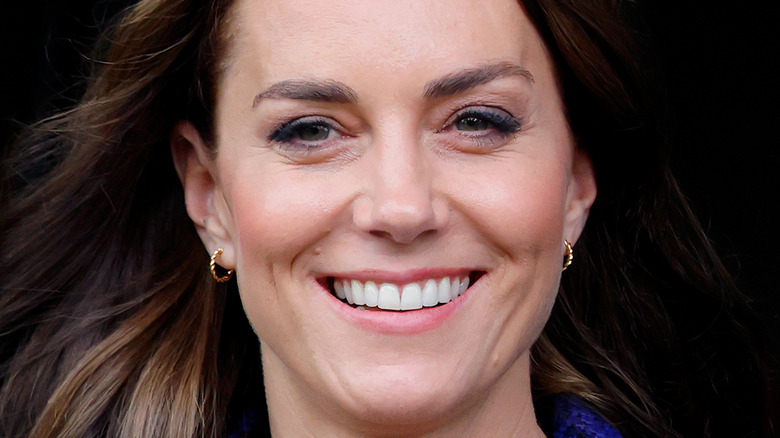 Max Mumby/indigo/Getty Images
There's no denying that Catherine Middleton, Princess of Wales, has transformed into a fashion icon since marrying Prince William, Prince of Wales. In fact, research by the Fashion Retail Academy, according to Tatler, found that 47.8% of people surveyed voted Kate as the royal family's number one fashion icon.
Before the death of Queen Elizabeth II, Kate took some fashion cues for Her Majesty by adding bright colors to her wardrobe. The queen is known for her colorful ensembles (via Town & Country). Her daughter-in-law, Sophie, Countess of Wessex, even revealed in the documentary, "Our Queen at 90," (via People), "She needs to stand out for people to be able to say 'I saw the queen.'"
Kate has also developed a style all her own. From Kate Middleton's best evening gowns to the Princess of Wale's designer jeans, many of the outfits she wears to royal events sell out within hours of the princess wearing them, which has been dubbed the "Kate Effect" in the fashion industry (via Hello!). "There is no question that Kate choosing to wear Reiss has impacted our brand," David Reiss told Marie Claire. "The surge in web traffic following the release of these images [of Kate wearing the brand's Shola dress in 2011] caused our website to crash. The dress promptly sold out online when service was resumed."
However, now sources have revealed that Kensington Palace is no longer sharing details about Kate's wardrobe with the press.
Kensington Palace believes the focus shouldn't be on Kate's fashion choices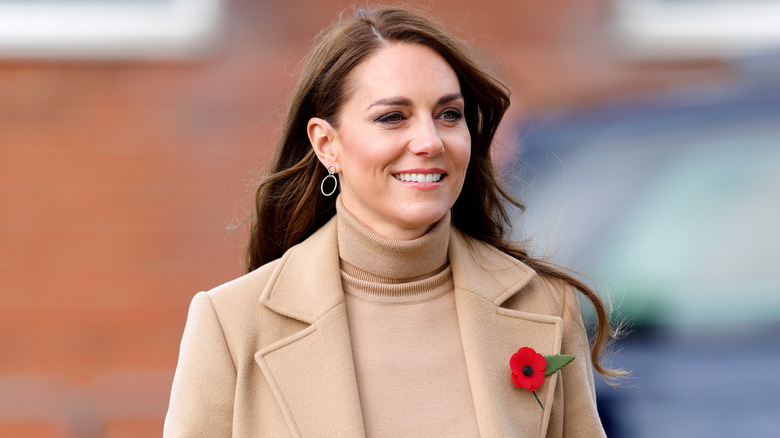 Max Mumby/indigo/Getty Images
Kensington Palace officials have stopped sharing details about the ensembles worn by Catherine Middleton, Princess of Wales, at official engagements. Sources revealed that there has been "frustration" over the media's obsession with Kate's wardrobe, per Express. There will be exceptions to the rule, however, for a "glamorous occasion such as a film premiere or state event or overseas visit where she is deploying fashion diplomacy by wearing items designed in the host nation."
So, it can be assumed that the Palace will share details of Kate's wardrobe when she and Prince William, Prince of Wales, visit the United States in December. The couple will be in Boston for the second annual Earthshot Prize ceremony (via People), and are also expected to make a "quick trip to New York." "Kate and William are not taking this trip lightly and have been brainstorming with their team about the most effective ways to make a positive impact in the U.S.," a source told Us Weekly. "They're taking a hands-on approach with speeches and engagements."
The royals will also make some time for fun, with Kate reportedly looking forward to ice skating at Rockefeller Center and shopping for souvenirs for Prince George of Wales, Princess Charlotte of Wales, and Prince Louis of Wales. We can't wait to see what she wears!