Kate Middleton's Most Popular Lazy Day Designer Jeans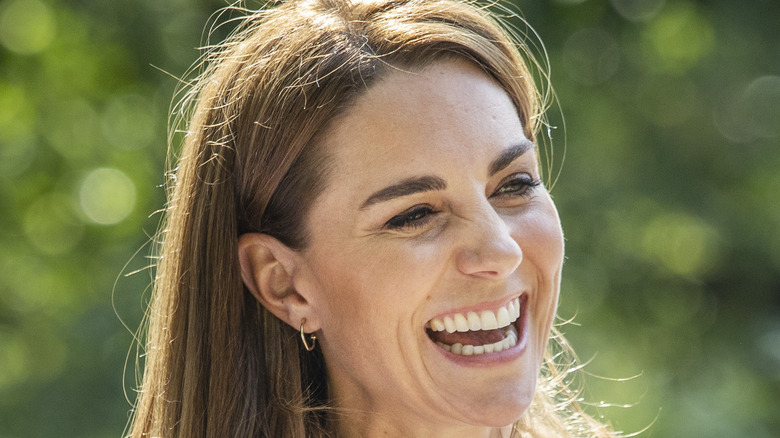 Wpa Pool/Getty Images
Kate Middleton, also known as the Duchess of Cambridge, has long been admired for her style. However, you might not have known that she likes to mix affordable pieces alongside higher-end ones. Whether it's a tailored Zara blazer or a stunning custom-made pleated gown (via Town & Country) there's no doubt Kate Middleton has cemented her place as one of the best-dressed modern Royals. From premieres to smart casual events, Kate Middleton is always dressed just right, making fans desperate to recreate her chic looks.
Part of the Duchess' appeal is her empathy, which, according to a body language expert, showcases a "genuine willingness to learn about others that cannot be faked" (via Marie Claire). This openness is similar to how Princess Diana came across, which is perhaps why the Duchess of Cambridge feels a lot more down-to-earth than other Royals. Plus, seeing the Duchess re-wear outfits is one of the small ways the public can relate to her, as most of us don't have the budget for a new wardrobe each year.
With this in mind, the discovery of a recently worn and affordable piece owned by the Duchess has everyone scrambling to get their hands on it.
Her style staple is surprisingly affordable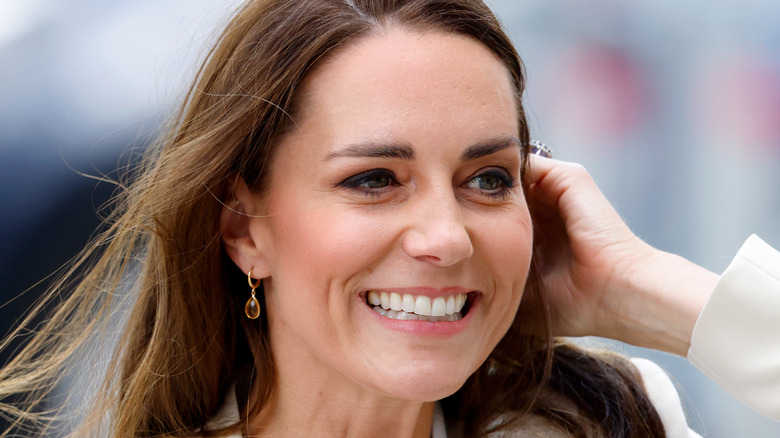 Max Mumby/indigo/Getty Images
As spotted by People, Kate Middleton has been seen to wear the same pair of jeans on at least three occasions. The jeans in question are dubbed the Favourite Cut Jeans and are by cool and classic brand & Other Stories. The brand has three ateliers, based in Paris, Stockholm, and Los Angeles, and prides itself on its "curated serendipity" (via & Other Stories). The jeans themselves come in a few shades of denim, including the pale blue color seen on the Duchess of Cambridge. They offer "a high waist, a full-length slim leg, and comfort stretch." With these features, it's easy to see how the Duchess would love them, as royal duties can be tiring and time-consuming. 
Moreover, the Favourite Cut Jeans appear to toe the line between being comfortable and looking good. They are also much less pricey than you might have anticipated at $99. Even better, the buttons and zipper have been sourced sustainably, making them the perfect choice for the Duchess who has often re-worn her clothes to help promote sustainability. If you're looking for style inspiration on your new purchase, a fan blog dedicated to Kate Middleton's outfits (via Kate Middleton Style) goes into more detail on how the Duchess wore the coveted jeans on different occasions.
Kate Middleton is known to work closely with British designers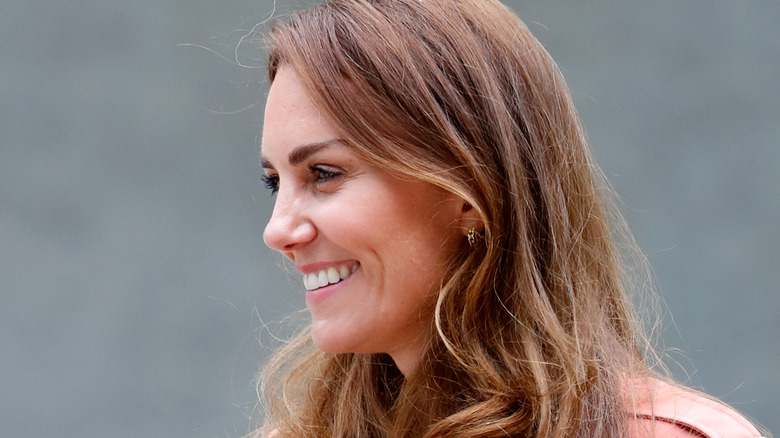 Max Mumby/indigo/Getty Images
The Duchess of Cambridge's 2011 wedding to Prince William (via Tatler) was one of the first moments where she really began to express her style. Her beautiful Alexander McQueen wedding dress included ancient lacemaking techniques (via Vogue). It also featured a subtle blue ribbon that had been sewn in, a charming reference to Prince William's mother Princess Diana who did the same thing at her own wedding exactly 30 years earlier.
Kate Middleton has stayed loyal to Alexander McQueen as a brand over the years, nodding to her love of classic and tailored pieces. As noted in Harper's Bazaar, McQueen was an unlikely choice for the Duchess' wedding dress due to the brand's more outlandish designs at the time in comparison to Middleton's more modest looks. Despite this, she continues to wear and reuse several Alexander McQueen outfits, particularly her perfectly tailored coats that remain timeless.
Judging by Kate's previously sold-out wardrobe pieces –Alexander McQueen's sales went up by 29% after her wedding day — we recommend running to buy your own pair of Favourite Cut Jeans before any more sizes disappear!