Where You Can Find A Dupe Of Elizabeth Taylor's Unique Yellow Baby Doll Wedding Dress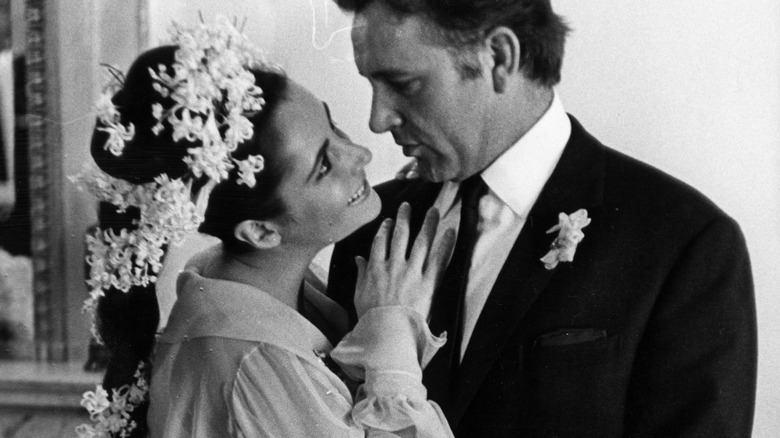 William Lovelace/Getty Images
In the span of her lifetime, famous actress Elizabeth Taylor got married a total of eight times to seven different men (via People). Her first wedding occurred at just 18 years old in 1950 and she was last a bride in 1991 at age 59. Her longest marriage was to Richard Burton, whom she married twice, and had met on the set of Cleopatra in 1961. Thus began their infamous, and perhaps most scandalous, affair which earned them criticism from a Georgia Congresswoman and the Vatican, as People reported.
However, the two wed in 1964 and Taylor revealed her unique wedding attire: a yellow baby doll dress designed by her Cleopatra costume designer, Irene Sharaff (per Brides). The dress featured canary yellow chiffon, a wide shawl collar, an empire waist, and a set of beautiful poet sleeves. Taylor topped off her look with a braided updo and a crown of hyacinths and lilies of the valley weaved into it. 
If you love the look for yourself, whether for your own wedding or another occasion, you can certainly obtain it.
Get a replica custom made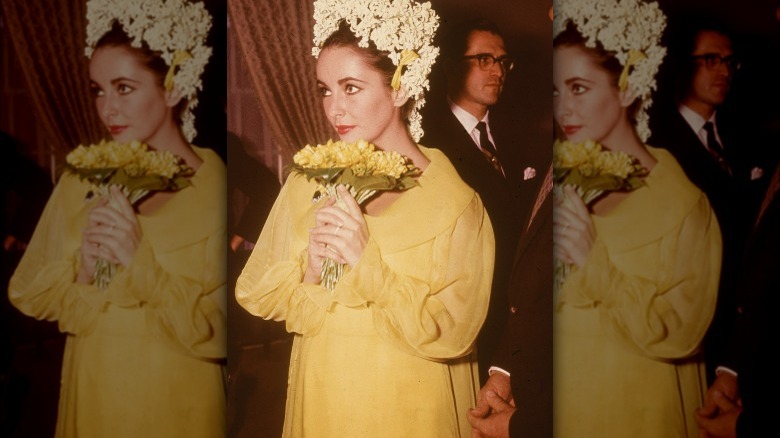 Hulton Archive/Getty Images
Your first option to get a dupe of Elizabeth Taylor's yellow baby doll dress is by opting for a custom-made service. By getting it custom created, you can make sure it is made to your liking and your exact details with direct coordination with the designer you choose to work with. TheCelebrityDresses is an online retailer that makes this option easier to access than ever. It focuses on providing dresses as seen on celebrities at an affordable price. When you order, you specify which color and size, and a even get a chance to add other notes you may want to include to your order with extra specifications for the custom fit they aim to provide. In fact, TheCelebrityDresses offers a dupe of Taylor's exact dress made of satin chiffon. At the moment, it is on sale for $129.99.
You can also do your own search for a designer that fits what you are looking for, and that would be willing to custom create the dress for you. This way, you can have more personal interactions as you carefully explain to the designer what you're looking for in the design. Maybe it is a local designer in your area or someone you can find through sites like Etsy. Ieie Bridal offers vintage-inspired wedding dresses and accessories, as well as a custom dress order option where you are given the choice to request a duplicate of other gowns.
Look at individual features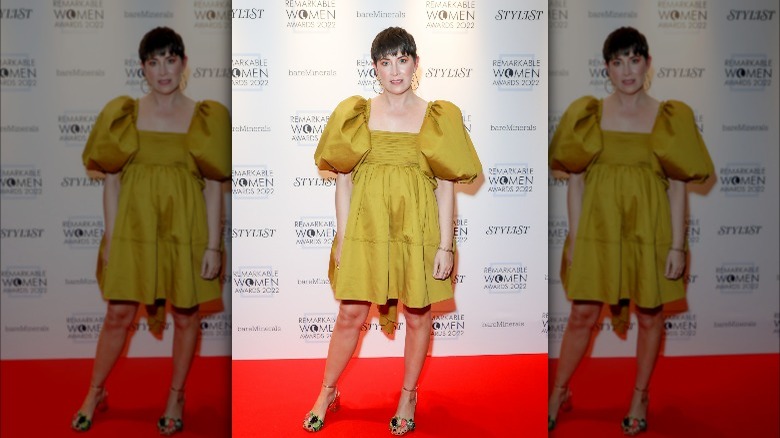 David M. Benett/Getty Images
The baby doll dress is one of the hottest trends at the moment, so you can also find the style in a variety of combinations of styles and colors. The most popular and beloved features of the dress are its puff sleeve and empire waist. The trend first made waves in the 1960s, right around the time Elizabeth Taylor donned her yellow baby doll wedding dress, and it is now officially back in action (via Stylelisty).
If you don't want an exact dupe, look at the separate features of the dress and choose which ones you like best. Once you determine this, you can implement them into your search for your own Elizabeth Taylor-inspired yellow baby doll dress. Split it by color, shape, material, neckline, type of sleeves, and length to pinpoint what about it you really love. If you love the overall baby doll shape in the color yellow, you can try the Lulu's Dream Girl yellow mini dress with an empire waist and short flutter sleeves. If you love the sleeves, opt for something like the Lulu's Always the Right Time dress with balloon sleeves and ruffled hem edges. Mix and match the features you admire and make those your goals in your search.