Why An Expert Says Hemp And Honey Make The Ultimate Skincare Combo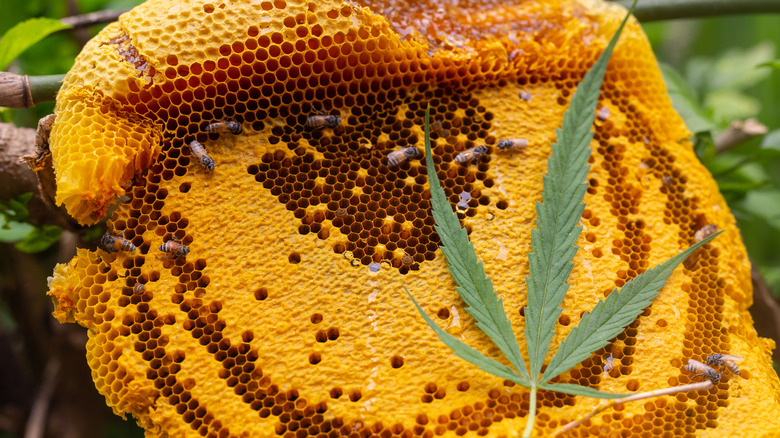 271 EAK MOTO/Shutterstock
Facing down an aisle full of beauty products can be overwhelming. What's the best product for you and your skin? It can be hard to know just what the different ingredients will do. And then, you have to figure out how the products can come together in a skincare routine that will have you looking your best. Genetics definitely play a role in how your skin looks, but a daily skincare routine will help keep your skin glowing and beautiful (via Elle). Skincare can even be a way to connect with nature.
Everyone is different, but the basics of a good skincare routine are cleaning, toning/balancing the skin, and hydrating, according to The New York Times. When you start with a new regimen, be patient. Products take time to work, and the benefits are often based on cumulative use. The List spoke exclusively with Colleen Poe, Founder and Formulator of Apo.Ge, which has products for a three-step skincare routine with a cleanser, night elixir, and face cream — bonus, they're all plastic-free. Poe designed the products with mānuka honey, CBD, and hemp seed oil as the active ingredients, and she told us why that combo is so good for your skin.
Hemp and honey are gentle and help with a variety of skin issues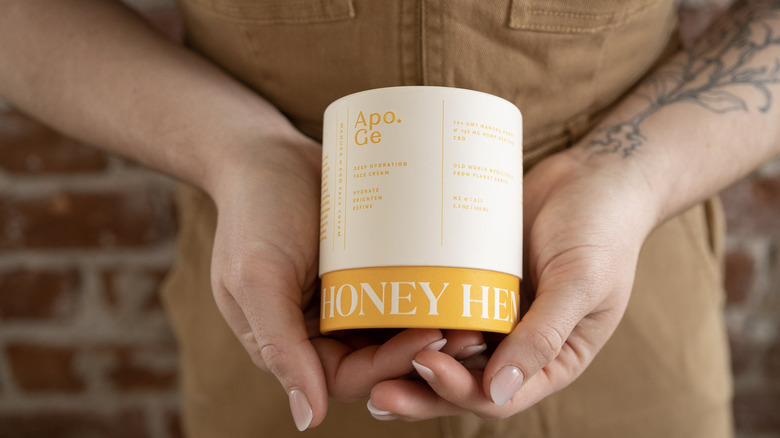 Courtesy of Apo.Ge
What's great about the combination of hemp and honey? Colleen Poe, Founder and Formulator of Apo.Ge, explained that they're both "gentle ingredients that are suitable for all skin types" and the combo "packs a powerful punch when it comes to tackling multiple skin concerns." Poe outlined the benefits that come from hemp seed oil — which she said is "often called Nature's perfect oil" — "Hemp seed oil contains the ideal ratio of essential fatty acids to strengthen impaired barriers and lock in moisture." The ratio of fatty acids is three parts omega-6 fatty acid to one part omega-3 fatty acids, per Healthline. The fatty acids help reduce inflammation and irritation, and it helps with skin hydration, via Byrdie.
As for the CBD in the Apo.ge products, Poe said that it "interacts with the body's own endocannabinoid system, balancing sebum production and calming irritations." The endocannabinoid system was discovered in the 1990s, and while more research needs to be done to find out what all it does and how it works, it plays a role in regulating sleep, appetite, memory, fertility, and mood, according to Healthline.
Then, there's the mānuka honey, which "optimizes hydration, fights acne-causing bacteria and protects your skin from environmental damage," Poe said. So, when you put all those natural ingredients together, you've got a multi-pronged approach to help get and keep beautiful skin.