Why One Brand Founder Thinks The Beauty Industry Desperately Needs To Go Plastic-Free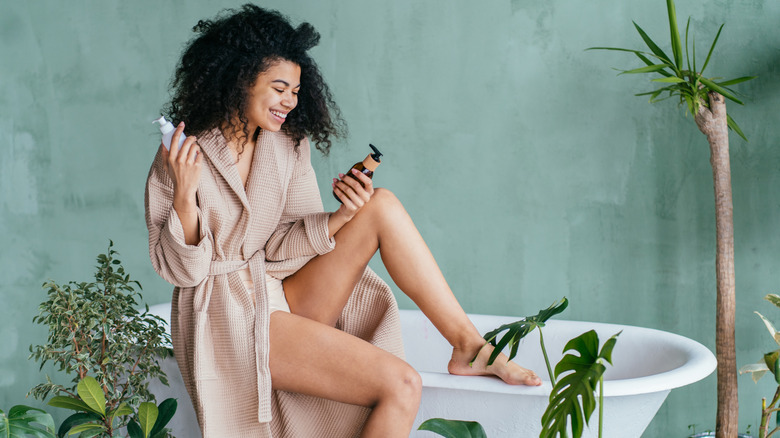 Iryna Inshyna/Shutterstock
In 2018, the Environmental Protection Agency determined that, on average, Americans produced 4.9 pounds of trash per day. In 1960, it was 2.68 pounds per person per day. All that trash has a negative impact on the planet, from driving climate change to harming wildlife, via Earth Day. One of the biggest issues is plastic, particularly single-use plastic, per United Nations Environment Programme. One way to help combat the problem is to look at the ways you can reduce how much waste you're creating, and to think about if the products you're using on a day-to-day basis are helping make the problem worse or if they're making things better.
One way of making things better is swapping out single-use plastic for more sustainable options. It's a trend that's caught on in hotels, removing single-use toiletries in favor of larger, refillable containers, per Corporate Travel Community. And in your home, you can look at how you can embrace a zero-waste lifestyle with your beauty routine. The List also spoke exclusively with Colleen Poe, founder and formulator of the skincare line Apo.Ge about the importance of going plastic-free.
The beauty industry currently generates a lot of plastic that isn't recycled
Colleen Poe created Apo.Ge, a line of skincare products that uses Manuka honey and hemp as active ingredients, and they only use non-plastic packaging that's recyclable, refillable, or biodegradable. The List asked her why it's so crucial for skincare to be plastic-free. "The global beauty industry creates over 120 billion units of single-use plastic packaging every year," Poe explained, but the problem is not just the volume of plastic that's being created. Poe also noted the stats from the Environmental Protection Agency, that in the U.S., plastic is recycled at a rate of less than 10% "That means that over 90% of plastics consumed in the U.S. are either incinerated, destined for our landfills, or accumulate in our oceans and local environments."
And for the 10% of plastic that is recycled, it's not like it can be recycled forever. "Plastics that are recycled have a finite lifespan," Poe said. "They can only be downcycled into a product of lower quality and stability a handful of times before inevitably entering the waste stream. Selecting packaging that can be endlessly recycled or refilled helps to keep plastics out of the environment." In the beauty industry, according to the British Beauty Council, around 70% of the waste in the beauty industry comes from its packaging.
Check to see if the beauty products you have can be recycled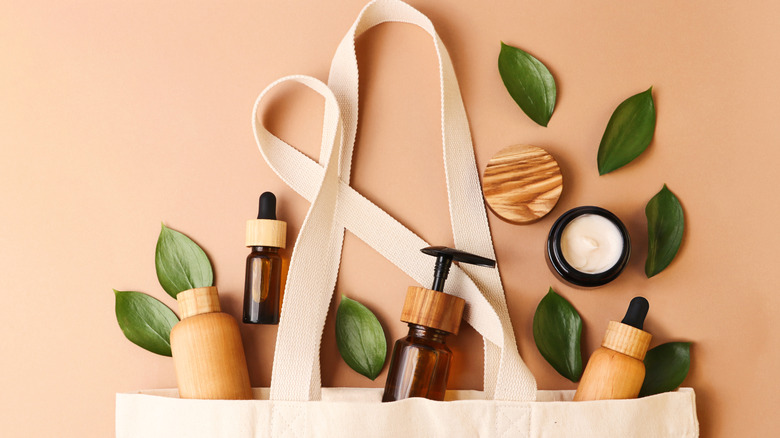 Bidzilya/Shutterstock
Aluminum can be endlessly recycled, per Earth 911. Glass is another potential endlessly recyclable item. However, container glassware, which can be recycled again and again, is different from window glass or mirrors — making them harder to recycle, via Earth 911.
As you start to phase out the plastic in your beauty products and start working on a greener beauty routine, double check to see if you can recycle the empty containers in your local curbside recycling bin — since some only take plastics with numbers 1 or 2 on them, according to Real Simple. Keep an eye on what's in the products as well, avoiding things like plastic microbeads in exfoliating face washes.
There are some specialized companies that will take hard to recycle items and recycle them, like TerraCycle. They've partnered with stores like Nordstrom to be drop off points for empty beauty product packaging, like lipstick cases, hairspray caps, and mascara tubes to be recycled.