Tiffany Trump's Wedding Photo Has Twitter In A Tizzy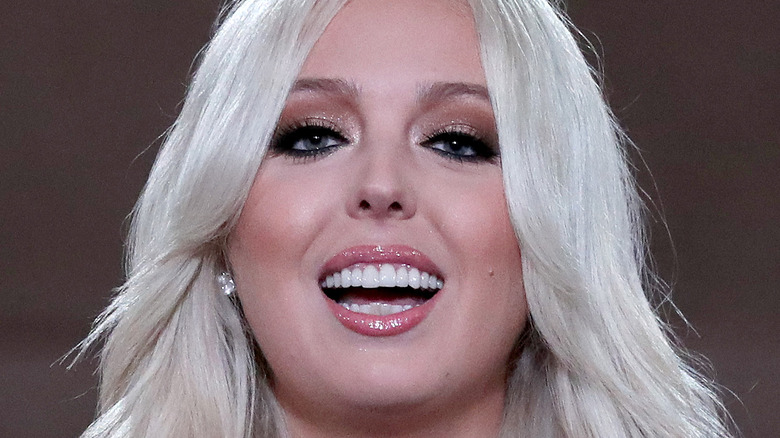 Chip Somodevilla/Getty Images
The Trump family may not be especially pleased with the 2022 midterm election results, but they found reason to be joyful over the weekend. Donald Trump's younger daughter, Tiffany Trump, married her longtime boyfriend Michael Boulos at the Mar-a-Lago Club on November 12 (via People). Hurricane Nicole got in the way of the pre-wedding festivities, forcing staff to evacuate the club in advance of the welcome dinner, per Page Six. But to the relief of all, the storm cleared out in time to allow for guests to arrive, for the rehearsal to go off without a hitch, and, most importantly, to allow the bride to fully enjoy her big day.
The Trump family was the picture of harmony, with Tiffany's mother, Marla Maples, cheerfully posing for pictures that included her stepmother, Melania Trump. half-sister Ivanka Trump was part of the wedding party, and her half-brothers Donald Jr., Eric, and Barron Trump were all there to celebrate, as were all the assorted nieces and nephews. Some pundits worried that the former president might steal focus away from his daughter by announcing his run for re-election, but it seems that he is keeping to his word of waiting until November 15, NBC News reports. 
Photos of the over-the-top event are already making the rounds. The U.S. Sun shared pictures of the decorations, the entertainment, and the happy couple taking a turn on the dance floor. But one shot, in particular, is generating a lot of buzz online. 
Social media had a lot to say about Tiffany's floral arrangements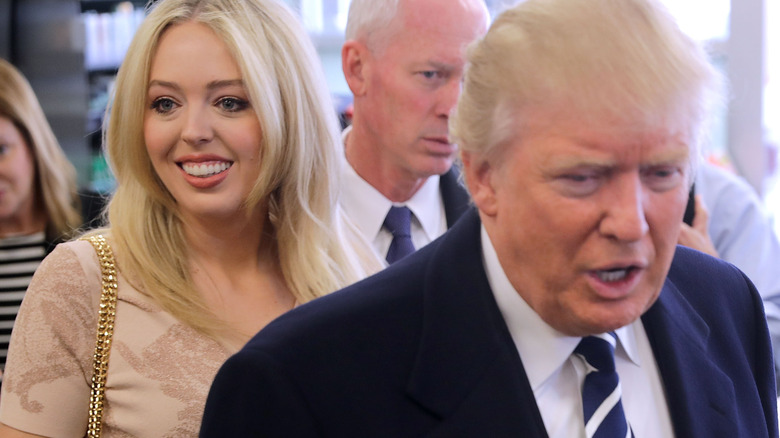 Chip Somodevilla/Getty Images
The first photos of Tiffany Trump's wedding have people talking — but perhaps not for the right reasons. Per the Daily Mail, one picture shows the bride being escorted down the aisle by her father, former president Donald Trump. Tiffany looked stunning in her gown, a spangled Elie Saab number with long sleeves and a scalloped hem (via People). Tiffany chose Saab, who is Lebanese, as a tribute to her husband's culture. She also carried a simple nosegay of white flowers that wisely didn't overshadow her dress.
But Twitter was quick to notice two details about the photo. First, her father Donald is giving his signature thumbs-up for the camera — a gesture better suited to a campaign picture than to a wedding photo. One commenter said, "A beautiful bride being escorted by a malignant narcissist whose thumb is frozen in a "look at me" gesture." Another sympathized, "Poor Tiffany! Couldn't keep the thumbs up out of one damn picture!"
Users were also less than impressed by the floral arches of hydrangeas lining the aisle, which were colored in various pale shades of yellow, green, lavender, and pink. Comparisons to "moldy cauliflower" and "popcorn balls" ensued. One suggested, "The poor flowers look like the kind we made from toilet paper when we were preschoolers." Another opined, "[T]he florals remind [me] of my college homecoming parade float." Then there was this blunt summary: "Looks like the Easter Bunny threw up."