These Are The YouTube Channels You Should Follow If You're Into History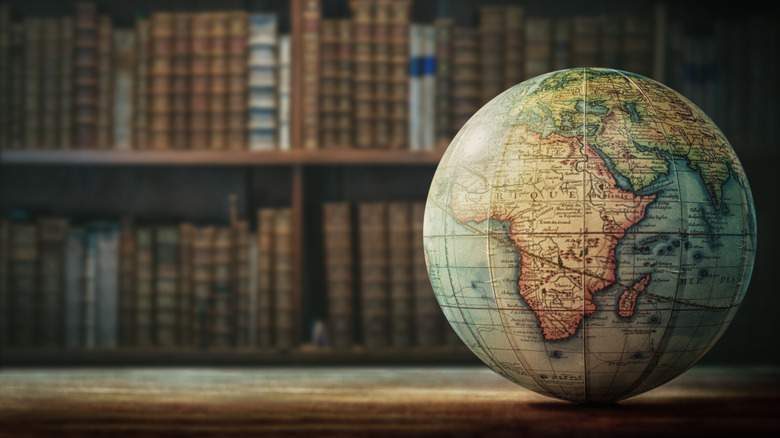 Triff/Shutterstock
If you're a fan of history, you may have done a deep dive into the most beautiful royal women in history or been interested to learn about how beauty standards have changed throughout the centuries. You could be a student trying to do some extra work in a way that doesn't feel mind-numbingly dull, or struggling to remember the facts of something you learned a long time ago. 
Whatever your intention, there's no denying that history YouTube channels have introduced historical events to an entirely new crowd. Though Smithsonian Magazine, reports that the number of history majors has dropped, the amount of subscribers history YouTube channels have on average proves that people are still interested in learning about the past. In fact, a study conducted by American Historical Association magazine Historians showed that 69% of respondents learned history from a documentary film or via television. 
With so many channels now offering content that is centered around history, you'll want one that's not only informative but entertaining, too. The channels below achieve the above and create content that sets them apart from the rest of the history crowd.
You're sure to want to dive deeper into history after watching videos from these channels
If you have ever been interested in a historical event, chances are you've heard of the HISTORY channel. Their YouTube channel is just as fun and informative, though, as noted by history blog The Archive, some videos do lean a little more towards entertainment than facts. Still, the channel's videos pack a lot into a short amount of time. HISTORY also conveniently uploads full episodes of shows as well as clips from its original shows like "Vikings." The content is wide and varied, from reports of UFO sightings to testing historical weapons, so there really is something for everyone. 
If you can't get enough of the ins and outs of war, YouTube channel The Great War covers war content, but with a twist. Though the actual time period spans from 1914 to 1923, show host Jesse Alexander presents information as though it were happening today (via The National WW1 Museum and Memorial). This channel is a great resource if you're learning about the first World War at school and want to know more, or are simply interested in an in-depth review of this time period.
If you find regular history a little stuffy, this channel is perfect for you
Another incredible channel that's all about history is Weird History. In the channel's own words, Weird History covers events that were left out of typical high school history curriculums. It's a channel for those who want to love history but can't help but get a bit bored when discussing day-to-day events. It has covered topics like the dreaded Black Plague and the gruesome history of gout, and yes, it isn't afraid to get a little bit gross. History blog The Archive describes the channel as comedic, often scary, and sometimes just downright weird, meaning it definitely lives up to its name. 
Alongside a website that is also full of weird facts, the company behind Weird History have launched another channel, this time focused on food (via GlobeNewswire). Aptly named Weird History Food, it has the same approach as the main Weird History channel but with a more niche focus on bizarre recipes throughout history.
You'll be brimming with weird and wonderful facts after watching these shows — but maybe keep the less palatable ones to yourself.