This Innovative Budge-Proof Glossy Lipstick Will Stay Put All Day Long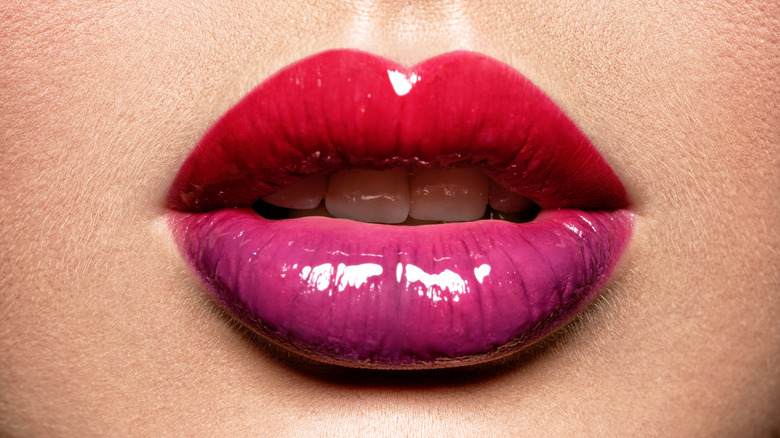 Valuavitaly/Getty Images
We may receive a commission on purchases made from links.
It's the ultimate conundrum — choosing between a lip gloss that makes your lips look plump and juicy versus a bullet-proof liquid lipstick that will stay on your lips through lunch and drinks (via Allure). The lip gloss will moisturize your lips and fill in any lip lines, but you have to deal with it rubbing off on your Starbucks latte cup. On the other hand, the liquid lipstick will provide budge-proof color, but it may dry out your lips and accentuate any lip lines.
Finding the perfect lip color that offers a high-shine gloss and all-day wear may actually sound more unlikely than the idea of meeting a unicorn in real life. However, your ultimate lipstick dreams may have just come true. Now, you don't have to choose between the two — you can enjoy long-lasting shiny lip color that doesn't make your lips look crusty. In fact, popular beauty guru Tati Westbrook calls this product a "smash-freaking hit" and "just a total winning item." She praises not only the long wear-time but the fact that they don't suck all the moisture from your pout. 
Get mirror-like shine with all-day wear time
The Maybelline Super Stay Vinyl Ink promises patent leather shine and pigmented color that will last 16 hours. The magic is in the special formula that you have to shake before applying. Just as your local bartender uses a cocktail shaker to blend the perfect margarita, you need to shake the product for 10 seconds (via YouTube). During this time, you can hear the pigments blending together with a mixing ball similar to ones found in a paint pen. 
Cosmetic chemist Kelly Dobos shed light on what sets this lipstick apart to Allure. After "seven years, 50 trials, and a team of over 100 scientists," Maybelline was able to manipulate the structure of "two silicone resins," which worked with the pigments to layer above the color and add a long-lasting, glossy shine.
Another beauty influencer named Magdaline Janet noted that the sheen left behind is forgiving on the lips, and the application effortlessly glides on for a smooth, moisturized finish. Janet tried kissing her hand and found that the product didn't transfer. She especially liked the precise applicator, one side helps you fill in your lips, while the narrow tip gives you sharp lines, which are ideal to line your lips.
New fall-themed liquid lip colors have launched in the Maybelline Super Stay Vinyl Ink line
Allie Glines, who reviews beauty products, noted that the color selection of the original launch consisted of pretty pinks and ravishing reds, and mentioned that there was a diverse selection of undertones. Tati Westbrook also loved the color selection, saying, "I think the color range is really, really pretty too. Flattering selection from really bright reds to more neutral tones." However, Maybelline's new nude-themed shade collection has beauty enthusiasts especially excited, as many of the tones are fall-friendly. 
Glines especially recommended the shade Awestruck, a cool-toned mauve nude. "I feel like when people give this a chance, I've never heard anyone be disappointed quite yet. You get the best of all worlds," Glines commented regarding the shine and longevity of the liquid lipstick.
Candace, a beauty influencer who has a medium-tan complexion, also tried the new shades on her YouTube channel and especially recommended Punchy (a caramel brown), Fearless (a dark chocolate brown), and Extra (a burnt terracotta). For Allure writer Angela Trakoshis, the lipstick lasted through a whole day of work, eating a pizza slice for lunch, and replenishing on water throughout the day — looking impeccable for all her Zoom meetings. So, go ahead and buy the Maybelline Super Stay Vinyl Ink. You can kiss all your worries goodbye, and not have to worry about reapplying that lipstick.