Hilary Farr Has Some Thoughts On The Fictional Home Renovation In Designing Christmas - Exclusive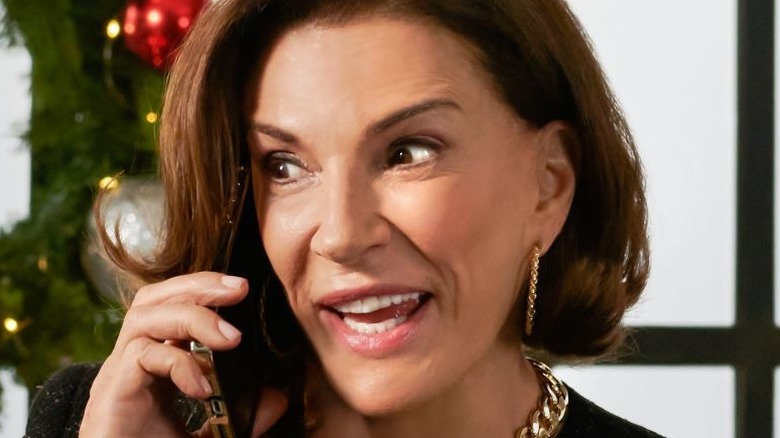 HGTV/Discovery+
Screenwriters know that when writing about a specialized profession, it's critical to get the terminology and technical details of the profession right. That's why medical dramas routinely hire physicians and/or nurses to both help writers develop realistic scripts and help actors portray medical procedures accurately (per Script).
For the same reason, the producers behind HGTV's first scripted Christmas movie, "Designing Christmas," brought on superstar designer and "Love It or List It" co-host Hilary Farr as not only a lead actor in the production but also a script consultant. Farr is an apt choice for the job: "Designing Christmas" is a Christmas romance that takes place on the set of a fictional home renovation show, and a major subplot is the time-sensitive renovation of a dilapidated Victorian home. Thus, producers relied on Farr to help them portray both the design profession and the technical details of producing a renovation show accurately. 
Surprisingly, though, one thing they didn't ask for was her input on the fictional renovation itself — and, of course, she has some thoughts about that. In an exclusive interview with The List, Hilary Farr chatted about the design choices on the "Designing Christmas" set.
Hilary Farr respects the production team's attention to detail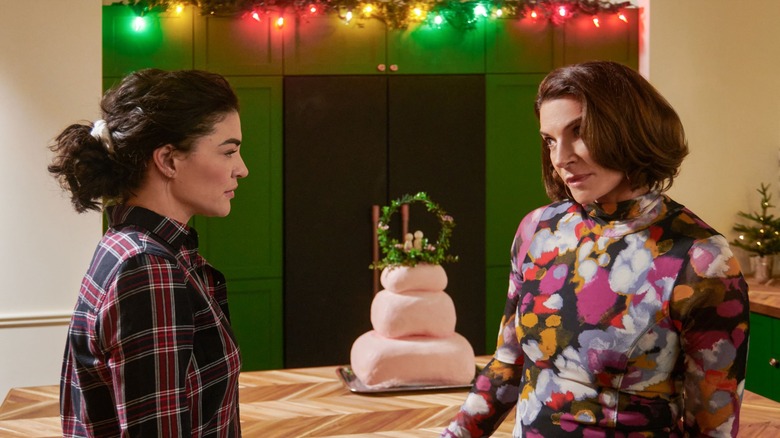 HGTV/Discovery+
Hilary Farr said she was approached about appearing in "Designing Christmas" months before the script was even completed because the production team needed her input. "That was one of the reasons that I was speaking with the writer and the team ahead of time, to flag things that I felt were a little bit playing with reality too much or were playing not quite right," she said.
Farr added that she respected not only the production team's respect for accuracy but also the level of craftsmanship that went into the show's fictional renovation. "It's always important to acknowledge [that] we had a tremendous team [for] building whatever we needed to be able to make this into a truly convincing, terrifying moment of reveal," she said. "The team was extraordinary. I have to say, behind the scenes, they were every bit of support that either one of us [Farr or co-star Jessica Szohr] needed, and kudos to them."
Some of the design choices were pleasant surprises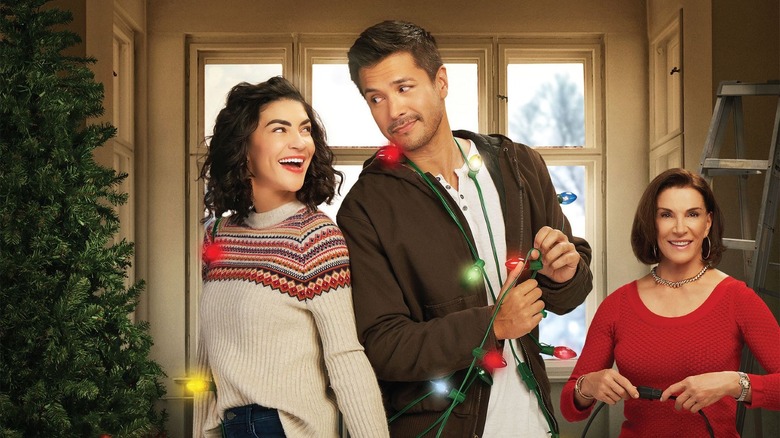 HGTV/Discovery+
While much of the drama in "Designing Christmas" revolves around the challenge of completing a large renovation within a dangerously short time frame, Hilary Farr explained that the scope of the renovation portrayed was actually much smaller than those she typically takes on in her own shows. "In reality, it's a very small renovation," she said. "There's nothing much that happens in terms of a show. It wouldn't be enough for our average shows."
While she said she didn't have a hand in the design choices for the fictional renovation, she was pleasantly surprised by some of them. "What I do very much like, though, was the aesthetic that got to be shared with an audience, which is you don't strip out old features, you don't necessarily paint over beautiful wood, although that's my instinct to do it," she said. "It was a very nice message of restoring and appreciating and designing with the environment in mind, so that you're not throwing everything out and putting in new [material]."
"Designing Christmas" is now streaming on Discovery+.