How To Wear A Beanie So That It Looks Stylish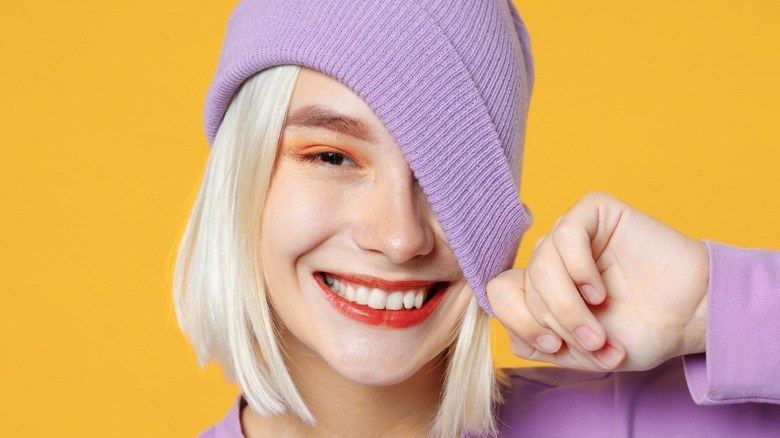 ViDI Studio/Shutterstock
We may receive a commission on purchases made from links.
Beanies continue to rank as one of the best and most affordable cold weather accessories. Soft, warm, and just downright fun to wear, beanies can add a pop of personality to your outfit while you're bundled up. While some may don a beanie for utilitarian purposes — winter weather does not mess around, and keeping warm is definitely a priority — we're here to proclaim that there is more than one way to do so. And while there are many ways to style hats for any time of year, dare we add beanies to the list of evergreen hair accessories? First, there is an essence to the beanie that adds a little extra charm to any outfit. And second, with so many kinds of cute beanies out there, who would not want to wear them all, and as much as possible?
We're also here to say that, if you think you look bad in hats, beanies can be quite forgiving. Besides, wear what you like! Should you be looking to add some more beanies to your collection, or even if you have your favorites on deck, here are a few different ways to wear your beanies.
Beanies are stylish, functional, and timeless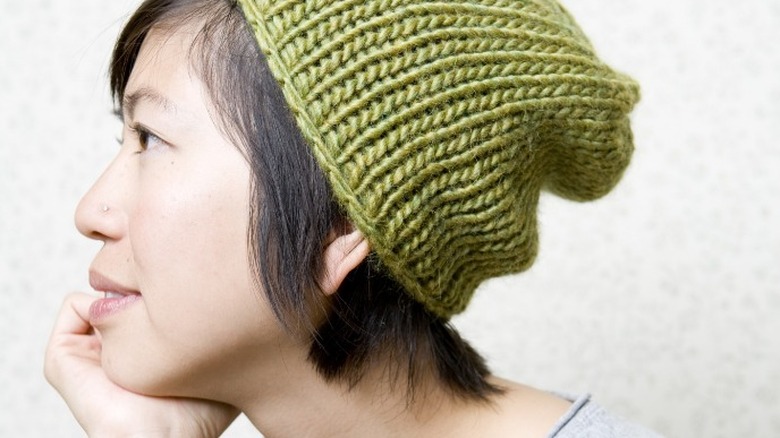 Zona/Getty Images
First, the classic, "straight-up" style, per Cosmopolitan. This tends to work better with a fuller beanie, one that was designed to withstand the elements, and has a bit of room on the crown of the head, like this Carhartt beanie, or this coveted (but expensive) Acne designer number. Simply pull the beanie over your ears and gently tug on the top of the hat to accentuate its shape. Wearing a beanie this way is stylish, functional, and quite timeless. We recommend this look to complete a vintage-inspired streetwear outfit, perhaps with cargo pants and a bright nylon jacket, a la Y2K revival. But really, you can't go wrong here.
Next, another favorite: the slouch. We love this look because of its versatility and opportunities to accessorize. Look for a beanie that is a little bit longer, and perhaps thinner, than your standard beanie, like this slouch beanie from Free People. Pull the beanie over your ears, then pull around the top of the beanie until you reach your desired slouch level. This kind of beanie can be worn over your hairline and slightly onto your forehead, or pushed back for an even more dramatic slouch. If you're having trouble keeping your slouch beanie in place, we have another hair hack all women should know: use barrettes to fasten your beanie to your hair. Check out these barrettes on Amazon, or use good old-fashioned bobby pins to secure your beanie for all-day wear. 
Warm and fashionable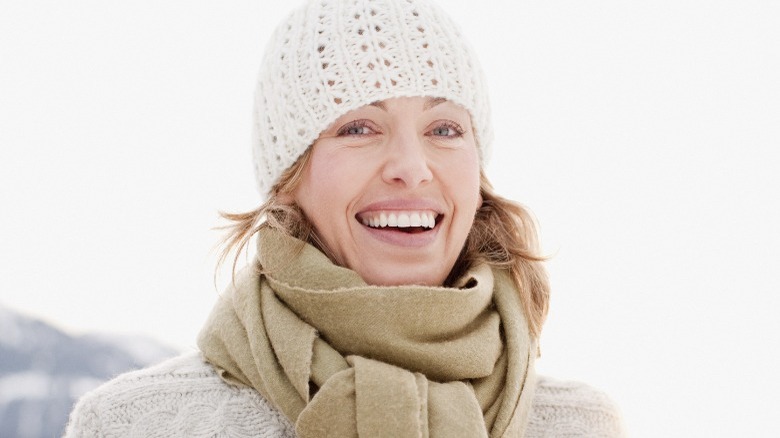 Sam Edwards/Getty Images
Finally, there is the tried and true fitted beanie. Perhaps the most prolific of the beanies, the fitted beanie is top in terms of comfort and utility. While often referred to as fisherman beanies, per Cosmopolitan, we think these hats add something of a cherubic affect to the wearer, should you want to express your inner snow angel. As suggested, this beanie goes right over your ears, and fits tightly around your head. Unlike the slouch beanie, this beanie tends to be more compact, so it is wise to play around with different styles, lest the beanie feels too small on your head (if the beanie does not cover your ears, for example, it could be the wrong size.) Fitted beanies tend to be both warm and fashionable: this knit cashmere beanie from H&M is understated and cool, while this striped knit beanie from ASOS adds a splash of color. 
However you wear your beanie, we're sure you'll ace it.