The Best Ways To Style Hats For Any Time Of Year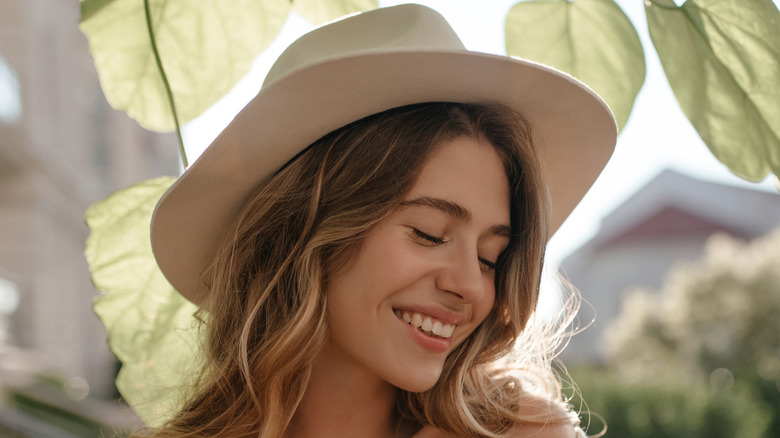 Look Studio/Shutterstock
The act of wearing a hat has quickly gone from functional to fashion statement with the stylish opportunities it offers. There's a hat for just about any occasion year-round with options like baseball caps, boaters, wide-brim, bucket hats, and more. "Wearing a hat is a statement and if it is new to you it can feel a bit strange at first, but you just need to wear it and get used to it, like a new pair of shoes," founder of Penmayne of London Claire Howeson tells Country & Town House. "You'll be surprised by how many compliments you get and wonder how you ever lived without it."
With the many choices of hats available, it should be an enjoyable process to find a hat that works with not only your personal style but also the time of the year. It's a classic accessory that's fairly easy to pair with any look.
Spring and summer hats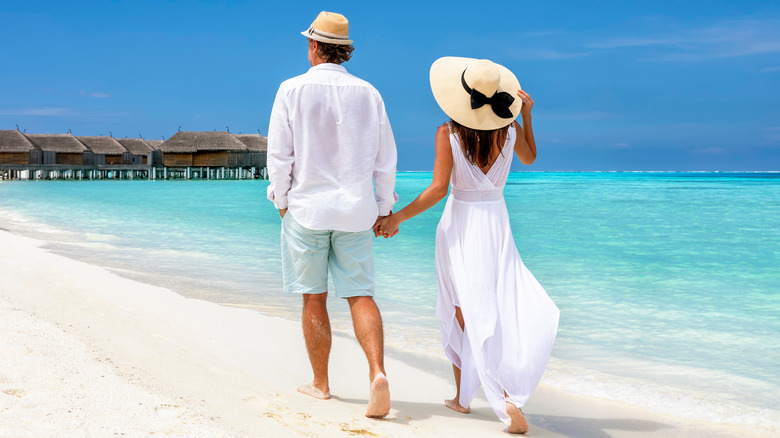 Sven Hansche/Shutterstock
Just before summer hits, springtime is the perfect time to play around with different types of hats and colors more suited for the warmer weather. As the sun starts to hang out for a little bit longer, try anything from bucket hats and baseball caps to boater hats and Panama hats. These offer optimal protection against the sun, and they're also the perfect aesthetic for summer (via Vogue).
Summertime is the best time to play around with wide-brimmed hats for sun coverage to make a big fashion statement. This is an especially popular choice to wear with a bikini or at a resort when you're on vacation at the beach. Additionally, in the summer, you'll usually find more straw and woven material hats for that weightless feel. Because of the weather, look for hats light in color — neutrals like beige and cream, as well as pastels. Style your hats with outfits that are similar in color, or opt for color-blocking techniques with your favorite summer clothes. A hat can be worn with a casual outfit, such as a T-shirt and jeans with a baseball cap. You can also wear something more elevated, such as a floppy wide-brimmed hat, with a summer dress (via Stylishly Me).
Fall and winter hats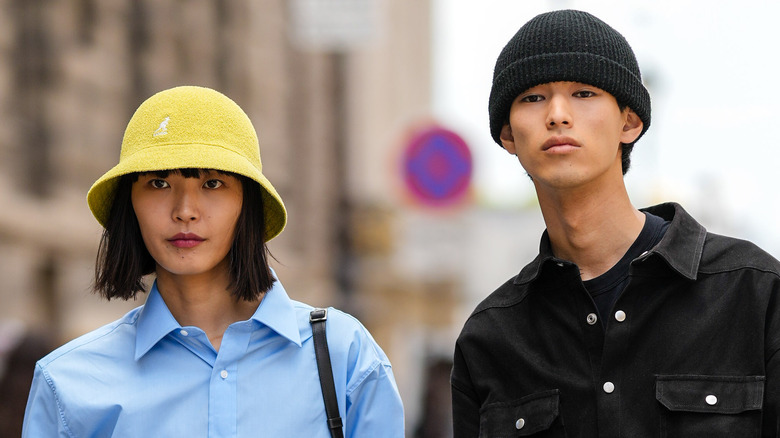 Edward Berthelot/Getty Images
When the weather begins to cool down, any hat can provide warmth. However, this is the perfect time to explore different textures with your hats that would not only be functional for additional warmth but also for style. Perhaps one of the most popular winter hats is the beanie, thanks to its knit wool material. It's usually stretchy, easy to wear, and warm. Today, there are many styles of beanies that can match something dressed up or down. Teresa Yoo, Style Panel member at Fashion Magazine, looks for dark, neutral colors, such as black or gray for the base. For the fashion element, she says she looks for details, such as beading or sequins, in the beanie.
To continue wearing hats with a brim as you do in the summer, try finding some that are made of warmer materials. Especially popular materials include felt, suede, or wool, and they don't take away the structure of the hat. You won't have to sacrifice the style of the hat or the warmth of your head and ears. Additionally, these hats are often offered in a variety of colors to match just about any outfit (via Raceu Hats).