How Early Is Too Early To Start Christmas Decorating?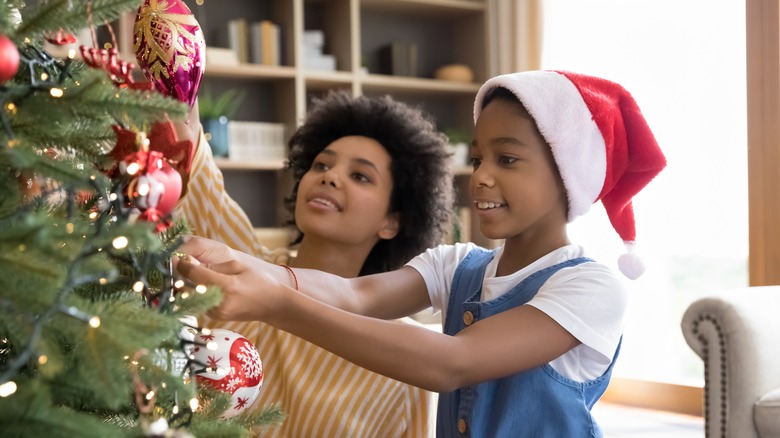 fizkes/Shutterstock
On November 13, Jessa Duggar Seewald posted a video of her toddler daughter, Fern, hugging a snowman ornament on the family Christmas tree. It got plenty of "so cute!" comments, but the clip also sparked a heated debate over the Seewalds' decorating a full month and a half ahead of schedule. "What happened to Thanksgiving?" one fan inquired. Another was totally baffled, wondering: "Why do you put up the Christmas tree so early? I never heard of people starting [the] holiday season [at] the beginning of November." 
However, other fans fully supported the "Counting On" alumni. As one commenter shared, "We put our Christmas tree up this week and it probably won't come down until mid-January!" Another bragged that her decorations come out in late October. One of Jessa's followers made a logical argument, too, noting: "Some people put a lot of work into decorating for Christmas, and so they start [early] so they can enjoy it longer than 25 days!"
Her followers are hardly alone; House Beautiful reported on a 2020 survey from YouGov, which revealed that 27% of those polled put up their Yuletide decorations before Turkey Day. Meanwhile, a 2015 survey from Christmas Lights Etc. (via PR Newswire) found that 25% hang on until Thanksgiving weekend. Naturally, retailers fully encourage the early birds. Stores like Old Navy are offering Black Friday deals, and in early November, Starbucks and Dunkin' Donuts begin pouring their peppermint lattes into seasonal cups. So, how soon is too soon to begin decking the halls with boughs of holly? 
Waiting to decorate has its advantages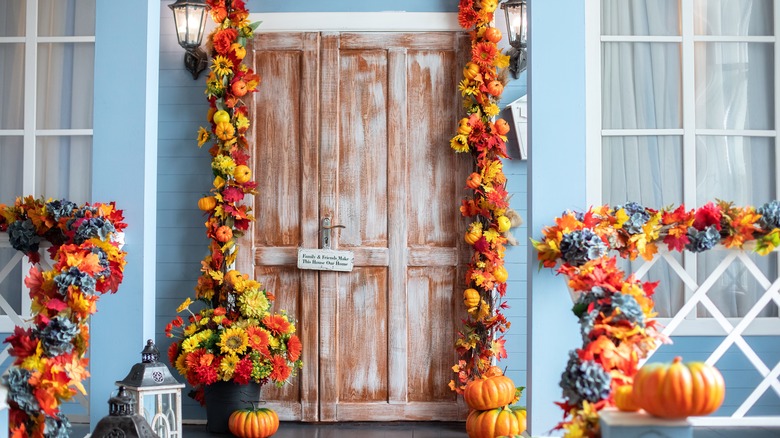 stock_studio/Shutterstock
Early Christmas decorating is a fairly recent tradition, historically speaking. A couple of centuries ago, families didn't even put up their trees until December 24 (via House Beautiful U.K.). Now, with people holiday shopping earlier than ever, mostly fearing product shortages down the line, it stands to reason that we feel like getting our homes ready while we're at it — those Hallmark "Christmas in July" movie marathons don't hurt, either.
But some warn against getting into the Christmas spirit too soon. Decorating experts pointed out to Best Life that prepping for a turkey feast is tiring enough without having to untangle colored lights at the same time. More to the point, as a writer for One Country notes, rushing into the Yuletide spirit can take away from Thanksgiving's emphasis on relaxing and appreciating our simple blessings. 
Having Christmas trimmings in the background sends an unspoken message: Let's hurry up and get the thankfulness over with so we can skip ahead to the tree and presents. When it comes to Christmas, there can be too much of a good thing. Going by the church calendar, the festive season lasts a full four weeks (in 2022, Advent starts on November 27, per National Today). 
Considering that most people keep their decorations up well into January, this means we're spending almost two months looking at the same inflatable Santas day after day, which definitely seems like overkill.  
Getting in the festive spirit early could make you happier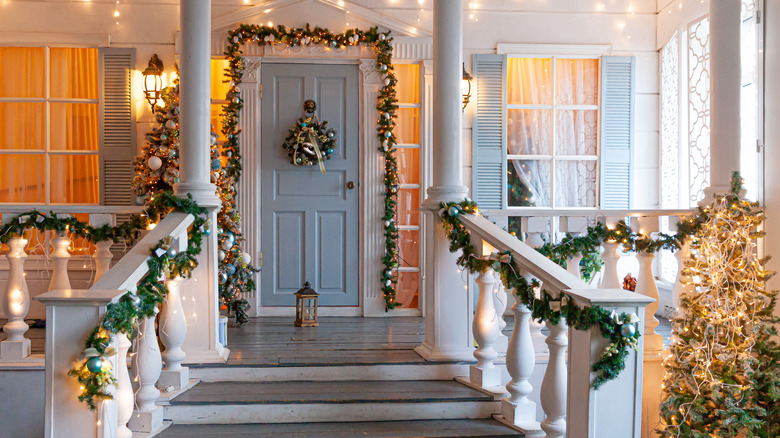 Julia Zavalishina/Shutterstock
Still, there are no hard-and-fast rules about the proper time to put up Christmas decorations, and certain experts claim that starting early can be a real mood booster. As psychoanalyst Steve McKeown explained to Unilad, "In a world full of stress and anxiety, people like to associate [with] things that make them happy, and Christmas decorations evoke those strong feelings of childhood. Decorations are simply an anchor or pathway to those old childhood magical emotions of excitement." 
Etsy's trend expert Dayna Isom Johnson recently told MarthaStewart.com that the trend is definitely toward earlier decorating, but she reckons it's a good thing. "We shouldn't hold back anyone's excitement for the holiday time because it's a moment to celebrate friends and family," Isom Johnson argued. Psychotherapist Amy Molin also pointed out to Unilad that bereaved families "may feel more connected" to their lost loved ones at this time of year by putting up the décor and mementos that remind them of that person.  
The combination of the cheery colored lights and the break from everyday life also stimulates the brain's production of dopamine, aka the "feel-good hormone." Psychologist Debora Serani informed Today: "It does create that neurological shift that can produce happiness." Likewise, a recent study shows that people who decorate their homes are perceived as friendlier and more neighborly. So if you're among the pre-Thanksgiving decorators, ignore the Grinches, turn on the Hallmark Christmas movies, and get out those ornaments!