The Sweet And Simple Way Soap Vet Tyler Christopher Spent His 50th Birthday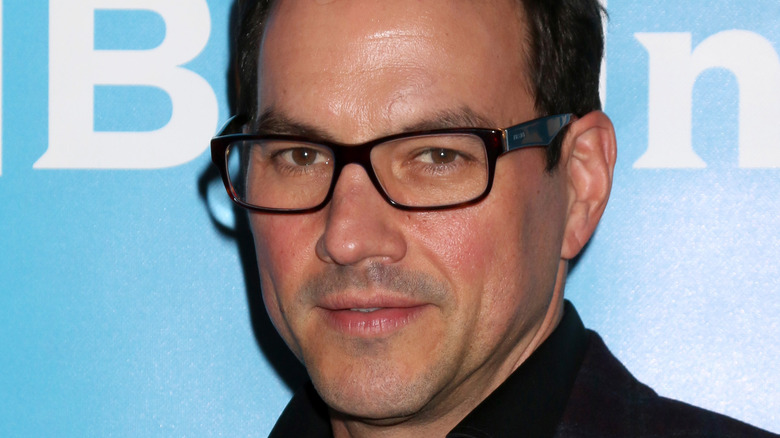 Kathy Hutchins/Shutterstock
Actor Tyler Christopher has been beloved by his fans for years, but many of those years were difficult. He got his start in the soap world playing Nikolas Cassadine on "General Hospital," eventually moving on to "Days of Our Lives" where he played Stefan DiMera (via Soap Central). Over the years, his alcohol addiction would get in the way of his work, including leaving "DOOL," to better himself (per TV Shows Ace). Christopher was interviewed by former "GH" co-star Maurice Benard on his YouTube show "State of Mind." Benard has been open about having bipolar disorder, advocating for mental health, and got Christopher to also open up about many of the difficulties he's dealt with in life.
In discussing his addiction, Christopher explained that he'd flatlined three times and was revived all three times, two of which were from alcohol poisoning and one due to withdrawal. He also discussed an accident in which he hit his head on a bathtub causing blood to fill his brain. The surgeon that was working on him stopped in the middle of the operation to tell Christopher's family that he probably wouldn't survive. When he did, the doctor said the actor would probably be in a vegetative state for the rest of his life. Christopher not only survived, but recovered his memory, speech, and mobility. 
Reflecting on the past 10 years of his life, Christopher recently shared a milestone with his fans.
Tyler Christopher keeps his birthday simple
In a heartfelt Instagram post, actor Tyler Christopher ruminated about the past decade, remembering his 40th birthday fondly and talking about the intervening years in which his daughter was born, he won an Emmy, starred in several TV shows and movies, and "relapsed and recovered, survived a traumatic brain injury and pandemic." He also cited the loss of some loved ones, his divorce, and finding God for helping create a quieter life. He continued, saying, "This weekend I spent my 50th birthday in an obscure Mexican restaurant in Indiana with my two beautiful children. There is no place I would have rather been than with those joyous souls. To those who did not think I would make it to 50 I will share my favorite poem 'I am the master of my fate. I am the Captain of my soul.' The best is yet to come." The poem Christopher quoted was "Invictus," by William Ernest Henley. 
Former "Days of Our Lives" co-stars Stephen Nichols and Mary Beth Evans wished him a happy birthday in the comments, as did many of his fans. One viewer lovingly wrote, "The trials and tribulations have contributed to making you the incredibly empathic, moving artist you've always been. I'm so grateful you're still here, and can't wait to see what this next decade has in store for you!"
While soap fans may not see Christopher's daytime return anytime soon, the actor continues to please fans with new projects such as the film "Murder, Anyone?" (via Soap Spoilers).
If you or anyone you know needs help with addiction issues, help is available. Visit the Substance Abuse and Mental Health Services Administration website or contact SAMHSA's National Helpline at 1-800-662-HELP (4357).