The Question Twitter Kept Asking After Seeing Melania At Donald Trump's Announcement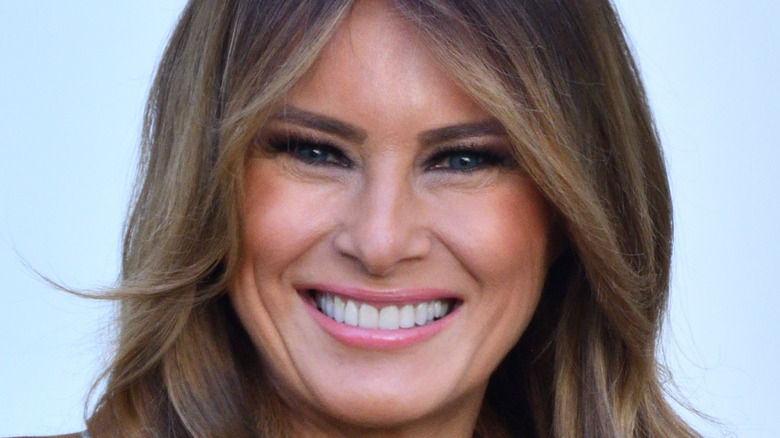 Evan El-Amin/Shutterstock
When Donald Trump announced his third presidential run during an appearance at Mar-a-Lago on November 15, 2022, his wife Melania was at his side. As the couple walked into the cheering room, an announcer welcomed them to the stage by saying, "Please welcome the next President and First Lady of the United States of America, President Donald J. Trump, accompanied by Mrs. Melania Trump" (via Twitter). Trump listed his achievements while in office from 2016 to 2020, which included a robust U.S. economy and "decisive action" that saved lives from Covid-19, according to his speech televised on C-SPAN. "In order to make America great and glorious again, I am tonight announcing my candidacy for president of the United States," Trump said.
As soon as news of Trump's announcement broke, Twitter users chimed in with various comments — some were supportive while others mocked the former president, who is facing multiple criminal and civil investigations (per ABC News). One burning question of the night for Twitter users focused on Melania, who has undergone a stunning transformation since marrying the real estate mogul.
People feel sorry for the former first lady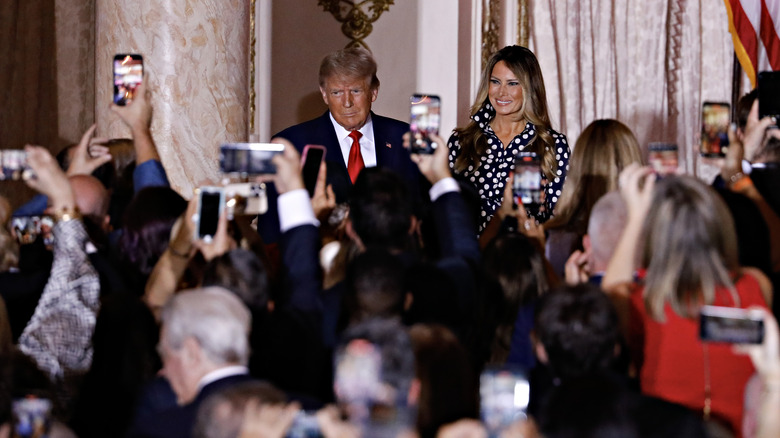 Bloomberg/Getty Images
As soon as Donald Trump announced his run for the presidency in 2024, several Twitter users turned their thoughts to his wife, Melania. A popular question was tweeted by comedian Noel Casler, who asked, "Can you imagine the size of the check Trump is gonna have to cut to keep Melania pretending to like him for another campaign?" In response, someone replied, "Melania knows not to accept a check from Donald." Another user wrote, "Melania is crying right now."
According to CNN, Melania left the White House with the title of least popular first lady. Thanks to numerous unsmiling appearances at her husband's side and secretly released voice recordings in which she expressed her frustration at the public's perception of her politics (per CNN), she often became the subject of jokes by comedians who felt she was a reluctant companion to the former president. The couple's marriage has also seemed to survive despite allegations of cheating.
There was even a rumor going around during Trump's time in the White House that his wife had hired a stunt double to take her place at political obligations. In one instance, USA Today busted the myth by analyzing photos. Regardless, there are plenty of photos that show Melania, who is mother to Trump's youngest son, Baron, looking less than happy to be at her husband's side.
Melania has reportedly considered divorce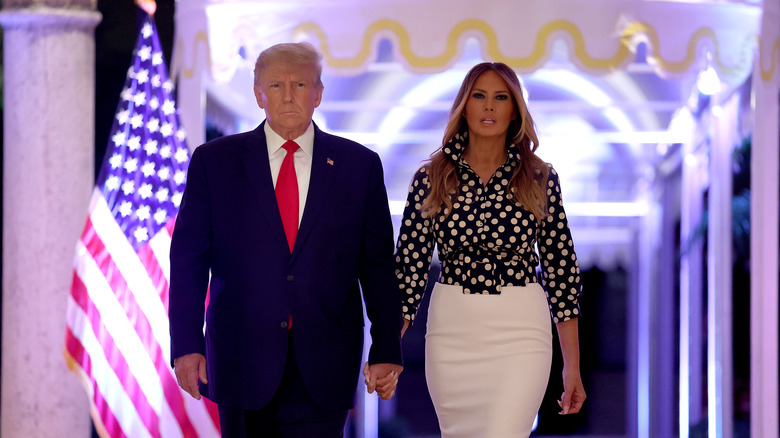 Joe Raedle/Getty Images
Speculation about a potential split between Melania and Donald Trump rose as his presidency came to an end. Right as Joe Biden took over the White House, Trump's niece claimed that Melania was "counting down the minutes" until she could end her marriage, adding that she had already "checked out." (via news.com.au). However, sources close to the former first lady said that although the marriage is "transactional," Melania will stay in the marriage for the perks it brings — namely, "romantic stability, financial stability" (via The Sunday Times).
However, outlets were also quick to pick up on the fact that Melania seemed much happier after moving out of The White House. Sources close to the former model told Insider that after her husband's presidency, she spent her days enjoying two-a-day spa treatments at Mar-a-Lago and appeared "happy and relaxed." Because this mood starkly contrasts her frequent stone-faced appearances at Donald trump's side, it certainly begs a couple of questions. Is she unhappy in her marriage? Is she reluctant to go through another campaign and potential presidency? Without much commentary to go off of, we're all left to speculate — and what better place to do that than Twitter?