Eye-Opening Poll Shows Donald Trump's Chances Of Getting The GOP Nomination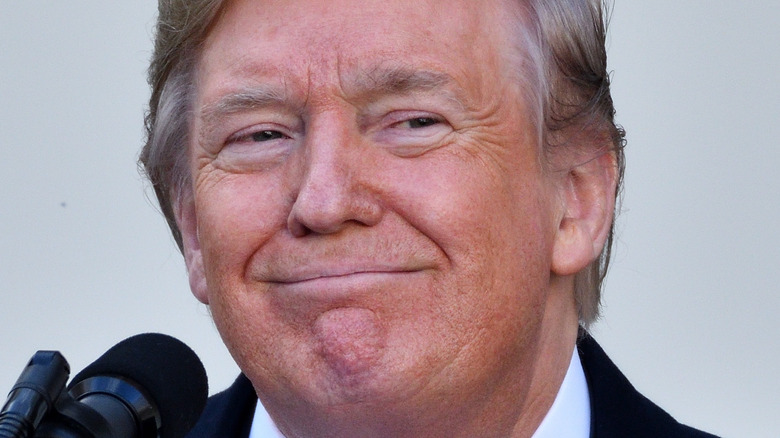 Evan El-Amin/Shutterstock
One of the worst-kept secrets in recent history was finally revealed on November 15, 2022, when Donald Trump took to the podium at his Mar-a-Lago resort to announce his third presidential run. Railing against what he called the current decline of America and its loss of respect on the international stage, he positioned himself as the "voice" of conservatives and declared, "This will not be my campaign; this will be our campaign," adding, "I will fight like no one has fought before." 
Trump returned to the familiar promises that helped put him into office in 2016: fighting crime, rebuilding the economy, stemming the flow of fentanyl and other deadly drugs, reducing dependence on foreign oil, and protecting America from foreign threats. But the former president faces a threat of his own: a party that may be losing confidence in him. The 2022 midterm elections didn't produce the hoped-for "red wave," and the candidates Trump endorsed made a disappointing showing, per Forbes. Instead of cheering a potential second term, major Republican supporters are said to be looking for a more moderate name to back.
At the moment, however, it looks as though Trump has reason to hope that he'll be the one tapped to lead the nation once again. A new poll is offering a glimpse into Republican voters' preferences.
Donald Trump is still the Republicans' top choice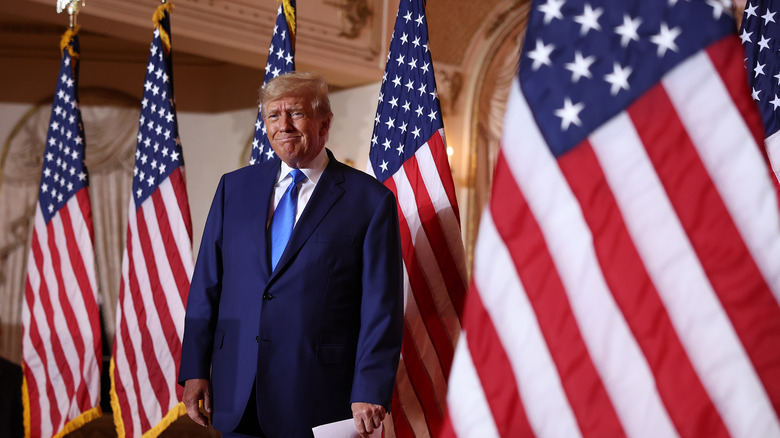 Joe Raedle/Getty Images
Despite Donald Trump's failure to help Republicans take control of the Senate, his party still believes he's the man to beat in 2024. A new poll by Morning Consult/Politico taken just after the midterms shows that 47% of GOP voters would support the former president if the primaries were held today. The number represents a drop of just 1% from his pre-midterm numbers. More worrisome for Trump, however, is the result of a follow-up question. Asked whether they thought Trump should run for another term, just 61% said yes — down from a more rousing 71% in August 2022 and his lowest rating in the past 13 months.
The poll also revealed another startling trend: A full 33% of Republican voters said they would throw their support behind Ron DeSantis if he were to get the party's nomination. This is a 7% jump for the Florida governor since the days before the midterms, and it could spell bad news for Trump in the long run. The two conservatives were formerly allies, but in recent months DeSantis has distanced himself from Trump, and the former commander-in-chief isn't taking it well. Trump attacked DeSantis by calling him disloyal and referring to him as "Ron DeSanctimonious" (via CNN), which even his fellow conservatives criticized as being divisive.
During his speech on November 15, Trump declared, "America's comeback starts right now." It remains to be seen whether his comeback will be as successful.