Get The Look On A Budget: Selena Gomez's Bermuda Shorts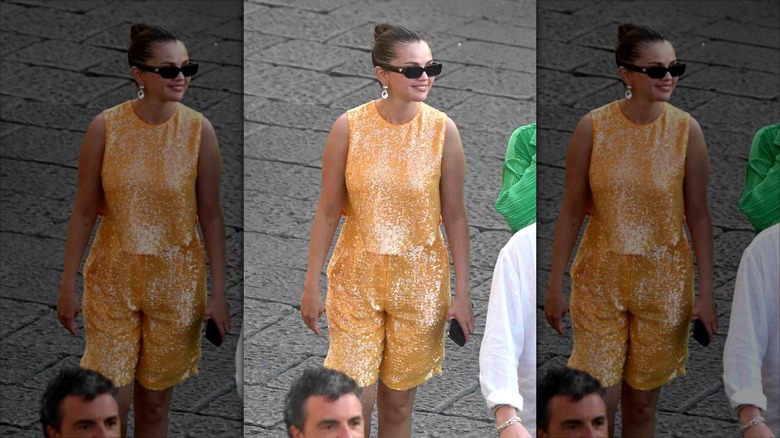 Cobra Team/BACKGRID
It's been over a decade since "Wizards of Waverly Place" ended and Selena Gomez retired from Disney Channel. Since then, she's gone on to build a storied career as a singer, producer, actress, and mental health advocate — like many of her Disney peers, Gomez has worked to distinguish herself beyond child-star origins. In 2021, she began starring in Hulu's "Only Murders in the Building" alongside comic actors Steve Martin and Martin Short.
On November 4, 2022, "My Mind & Me" was released on Apple TV+. The documentary follows the A-lister through six years of physical and emotional ups and downs. "You know, I love my job, but at the end of the day, I do want to be impactful in some way," Gomez told Vogue in an interview prior to the documentary's release, adding, "and if that's by sharing a part of myself that isn't necessarily pretty and put together, there are hopefully people that can look at that and think, Oh, maybe I feel this way, or, I didn't know that you could get this kind of help."
Aided by celebrity stylist Kate Young, Gomez's wardrobe has evolved from early 2000s pop star to high-powered business mogul — though she's always been the queen of comfortable fashion. On an Italian vacation, the star hit the streets of Capri in a loose-fitting sequined Bermuda short set (via Who What Wear). Here's how to replicate her look on a budget.
Selena Gomez isn't afraid to stand out in sequins
During her Italian vacation, Selena Gomez sparkled in a matching Lapointe set. The crop top sells for a staggering $690 on Nordstrom and the shiny Bermuda bottoms retail for another $950 — steep prices if you're not a movie star. Not to worry, however. It's possible to put your own spin on Gomez's stylish Italian fit without her multi-million-dollar salary. Since Lapointe is known for their monochromatic fashion, it's essential first to pick a single color as your base. Though you can stick with Gomez's bright yellow, Asos sells lilac Bermuda shorts for just $22, a small fraction of Lapointe's bank account-draining price tag. Pair these longline shorts with a $20 lilac rib corset top also from Asos or, alternatively, a casual ruched side tee. To elevate the look, layer a matching purple blazer.
If you're hoping for a darker aesthetic, check out H&M's loose-fitting black Bermuda shorts for $35. If you don't already have a simple black top to pair with these comfy bottoms, check out the retailer's ribbed tank top — after all, it's only $6.
Finish off your celebrity-worthy street style with a pair of your favorite sunglasses — Gomez is wearing a '90s-style pair of Vintage Frame Company Soho black shades. However, you can find your own vintage pair for far less on Etsy.