Gilmore Girls' Lauren Graham Wants Women To Know About The Hidden Power We All Possess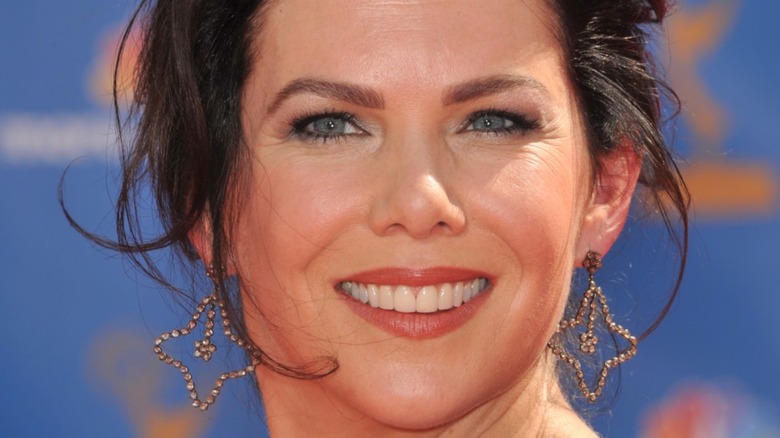 Jaguar PS/Shutterstock
She's best known for her role as the fierce and fiery Lorelai Gilmore, Rory Gilmore's outspoken mom on "Gilmore Girls," but there's more to Lauren Graham than you know. Graham recently sat down with Kelly Clarkson on "The Kelly Clarkson Show" this week to chat about one thing she believes women are good at, and how she thinks about getting older.
Graham, who was nominated for a Golden Globe for her role as Gilmore in 2002, also starred in "Parenthood," where she played yet another role as an easy-going mom, Sarah Braverman. In contrast to her on-screen roles as Gilmore and Braverman, who had each tied the knot at one point, Graham once revealed why she never got married. Though she was committed to her longtime partner Peter Krause, whom she met on the set of "Parenthood," the couple has since separated, per Us Magazine.
Graham details her breakup in her newly released second book, "Have I Told You This Already?: Stories I Don't Want to Forget to Remember," a collection of essays whose title is inspired by her longtime friendships. On "The Kelly Clarkson Show," Graham told Clarkson the title is, "sort of a nod to the age I am," Graham said, "which is an age where I've had such good friends for so long that in some cases I can't remember if I've told them the story already, if they were there with me when it happened."
Lauren Graham speaks out about a double standard
During their interview, Kelly Clarkson reads a quote from Lauren Graham's book: "Maybe turning fears about aging and mortality into contemplation and comedy is just one of those things women are better at." Clarkson asks Graham to elaborate. Graham cites writer and filmmaker Nora Ephron as an inspiration, who "wrote a number of essays on aging," but realized during her research that there seemed to be fewer men writing about aging in a similar way.
Clarkson adds on to Graham's statement, suggesting that there is a double social standard between how women age and how men age.
Graham responds, "I think it's like one of those things that women are good at, which is turning a potential negative into something that we can learn from or something that's funny we can share, we can feel positive about, we can laugh about with our friends. I just think it's a uniquely female thing — at least in my limited Google research."