Women Find One Lipstick Color The Most Attractive, And It's Not The Same As Men's Choice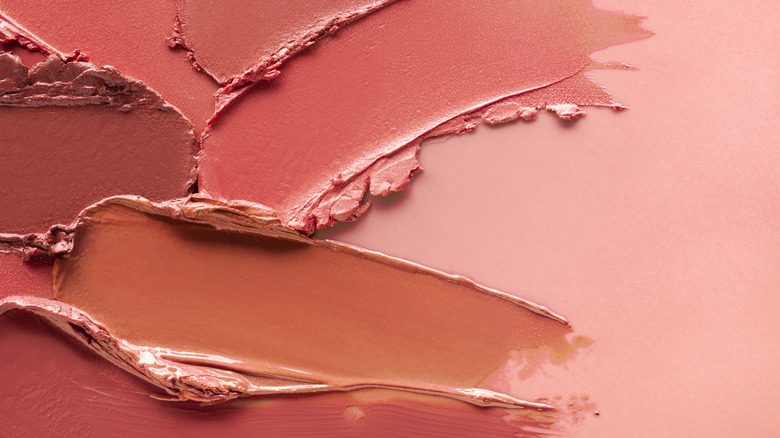 Tanyarow/Getty Images
We may receive a commission on purchases made from links.
If you could only take one makeup product with you to a deserted island, what would it be? That's a tough question because, unless you don't care about makeup, you probably have a few items, and it could be really hard to choose just one. Some people can't live without concealers, while others feel naked without mascara.
You might be surprised to know that the most popular makeup item in the world — according to Google searches — is lipstick (via Look Fantastic). It's actually MAC lipstick in the shade Velvet Teddy, which was number one in 46 countries, closely followed by Benefit Cosmetics They're Real Lengthening Mascara and Anastasia Beverly Hills Dipbrow Pomade.
Nowadays, you can find countless lipstick colors, and though most people probably think of red as the most popular color, it's actually not. As Professional Beauty reported, Perfect Corp — the creators of the YouCam Makeup app that has over 280 million people trying virtual lipsticks — showed the most popular lipstick color in the world is millennial pink. While shades of pink are very popular in the U.S. and U.K., people in China, Japan, and South Korea prefer classic red. Similarly, the West prefers matte lipsticks, while the East prefers more sheer or satin textures.
It's a whole new story regarding the color that men and women find most attractive because they're not the same shade, and there are reasons behind both.
Women find this lip color the most attractive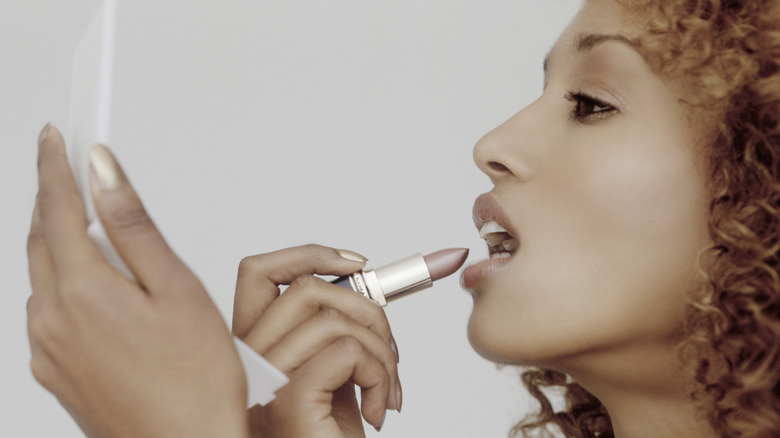 Jupiterimages/Getty Images
The most popular lipstick in the world is MAC Velvet Teddy which is a nude shade that flatters all skin tones (via Evoke). That probably explains why it's the number one lipstick in the world. And it makes sense, the lipstick color that women feel most attractive in is nude.
According to a SkinStore study, nude lipstick that makes women feel empowered, "'more attractive, and "prettier."' You probably think of red when you think of a power color, but it seems that women feel pretty eloquent in nude lipstick.
There are many reasons women are drawn to the nude hue — you can go lighter or darker without looking over the top or like you have too much makeup on. It comes in various shades, the color makes your lips look more luscious and it's the perfect way to complete the no-makeup makeup look.
Finding the right nude for your lips can be challenging with so many options. One of Australia's leading makeup artists, Michael Brown, told Byrdie, "Once you recognize the undertones of your skin, whether on the cooler or warmer side, choose a lipstick with an undertone opposite to this. If you have warm, olive skin, a nude needs to lift your overall tone, so try a cool shade. Whereas if your skin is already cool and has a pink undertone, it needs neutralizing, so try a warm option."
Men think this is the most attractive lipstick shade
Andry5/Getty Images
According to SkinStore's survey, women felt most powerful in nude lipstick, followed by pink, and then dark red. Most men, on the other hand, love red lipstick on women more than any other color, and many studies prove it.
A 2010 study in Perception showed that wearing red lipstick creates a contrast between the facial features and the skin making it appear more luminous, resulting in the woman appearing more feminine and attractive. This, in turn, draws more men to women wearing red lipstick.
A couple of years later, a study was published in the International Journal of Psychological Studies. Conducted by Nicolas Guéguen, he found that women wearing red lipstick were approached more at a bar than when they were wearing brown, pink, or no lipstick. Red is bold and can quickly grab attention compared to other colors.
There are too many red lipsticks, and it's not always a one-size-fits-all. New York City-based makeup artist Marni Burton recommends choosing your perfect red lipstick based on your skin tone (via Self). Burton's secret tip? "The darker your color, the darker the red. The lighter? The brighter the red."
You'll be glad to hear that there's one red lipstick that is universally flattering. Celebrity makeup artist Latisha Nicole Rankin said MAC Ruby Woo is "a perfect, universal red" (via Byrdie). Rankin noted, "It truly looks great on every complexion, as the blue undertones in this lipstick are just right."