Ivana Trump's Former NYC Townhouse Has Twitter In A Tizzy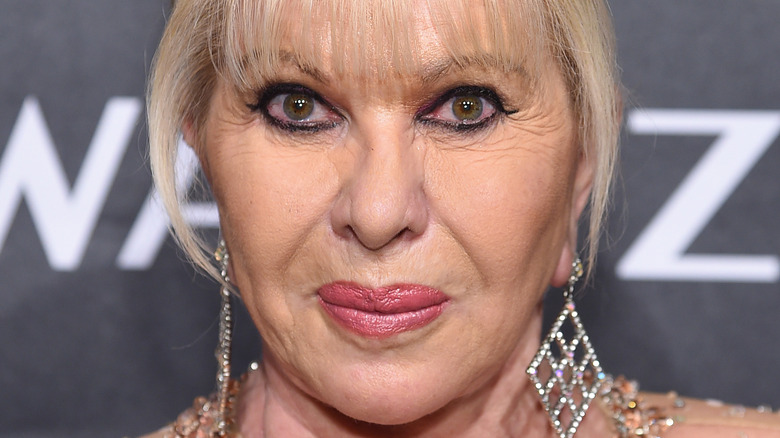 Jamie Mccarthy/Getty Images
It's been months since Ivana Trump, the first wife of former President Donald Trump, died at the age of 73 in July 2022 after falling down the stairs at her Manhattan home.
Born in the Czech Republic, Ivana came to the United States in the 1970s, where she met her future husband. From 1977 to 1992, the mother of Donald Jr., Eric, and Ivanka Trump was married to the 45th President (via ABC News). After the New York-based elite couple divorced, The Atlantic reported that Ivana walked away with a hefty sum of $14 million, not including alimony and two lavish homes: one in Connecticut, the other in Manhattan's Upper East Side.
When Ivana died, Trump had kind sentiments to say about his ex-wife, and even attended her New York City funeral alongside the former couple's children, according to Politico. 
Now, months after her death, her luxurious townhouse is up for sale, and Twitter has explosive reactions in response to the elaborate interior.
Ivana Trump's stunning townhouse is priced at over $26 million
Ivana Trump's NYC townhouse is on the market and at almost 9k sq ft it's as Trumpy as you'd think it would be. She bought the home in 1992 for $2.5 million. Furniture also available if you want. Currently listed for $26,500,000. pic.twitter.com/aOvZu8iTEK

— Zillow Gone Wild 🏡 (@zillowgonewild) November 17, 2022
Zillow Gone Wild, a Twitter account dedicated to posh, on-the-market homes, just posted the late Ivana Trump's New York City townhouse, which she purchased in 1992 for $2.5 million. 
Pictures from the tweet illustrate the insides of the nearly-9,000 square foot home, which includes a whopping 6 bedrooms and 5.5 bathrooms. Racking up nearly 5,000 likes, photographs show a sprawling staircase with red accents, and animal print-clad furniture in a study.
Twitter had some ... thoughts, to say the least. Some marveled at the design, while others found it to be more gaudy. 
"ZGW [Zillow Gone Wild] shows that there are plenty of middle-class people with questionable taste too; it's just that rich people have the means to build things to their questionable taste," one user tweeted. 
On the flip side, another said: "...I hate saying this, but this is my style."
Twitter seemed to agree, though, that the home definitely reflected Ivana Trump's taste. "As bling as you'd expect," one user quipped.
We'll be keeping our eye on who snags this gold-encrusted gem off the market.