The Tender Moment Kate Middleton Shared With A Young Ukrainian Refugee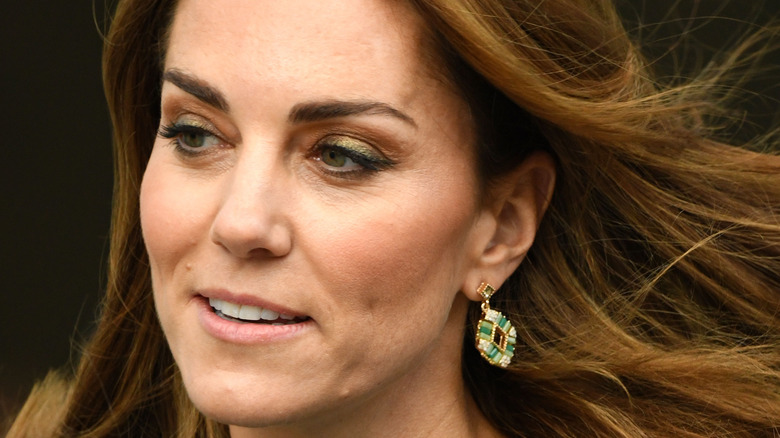 LINGTREN.COM/Shutterstock
With Russia's invasion of Ukraine in February 2022, the United Nations estimated in May 2022 that at some 12.8 million people had to leave their homes in Ukraine, with over 5 million seeking refuge in other countries while others have moved to other parts of Ukraine. A number of countries around the world are on the side of Ukraine in the conflict, including the US and the UK. The UK for its part pledged £2.3 billion for military aid to Ukraine in 2022 and at least £220 million for humanitarian aid. The Migration Observatory at the University of Oxford noted that there are 115,200 Ukrainian refugees in the UK.
And while the royal family is traditionally apolitical, a number of members have spoken in support of Ukraine. Queen Elizabeth didn't directly address the conflict, but the monarch showed her support of Ukraine by donating money to the Disasters Emergency Committee (DEC) Ukraine Humanitarian Appeal, People reported. And early in the conflict, William, Prince of Wales and Catherine, Princess of Wales publicly spoke about backing Ukraine and wanting to help, per Independent. That support hasn't waned, and Kate Middleton recently visited with Ukrainian refugees and had a sweet exchange with a five-year-old girl.
Kate Middleton is working to help Ukrainian children's mental health
Kate Middleton visited Reading's Ukrainian Community Centre and spent time with some displaced Ukrainian families, and five-year-old Zlata Yeromenko sat on her lap and gave her a drawing that read "Kate I love you," according to Daily Mail. The Princess of Wales was on a solo trip to the community center, and while there, she joined in on an art session with the kids. Kate also listened to the stories of the families having to flee their homes. Galina Bolebrukh, understandably, began tearing up when explaining what they'd gone through as a family to get out of Ukraine, and Kate consoled her and said "I wish we could do more," per Express.
Of their conversation, Bolebrukh said "She tried to make me feel better and said everything was all right and said here we can get a job and live because we can't go back to Ukraine," per Daily Mail.
This isn't the only way that Kate is helping Ukrainian refugees. The Royal Foundation of The Prince and Princess of Wales are supporting the work that Olena Zelenska, Ukraine's first lady, is doing to help with Ukrainian children's mental health, Town & Country reported.