What's The Secret Praline Recipe From A New Orleans Noel?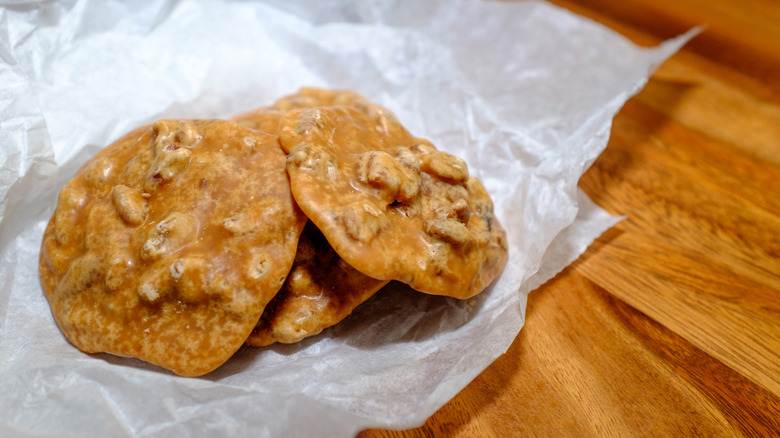 Jamsedel/Getty Images
Lifetime's new holiday movie, "A New Orleans Noel," features legendary singer Patti LaBelle, who plays a successful business owner famous for her delicious pralines. Per Urban Hollywood 411, LaBelle's character, Loretta, was based off of Loretta Harrison, who was known in New Orleans as the Queen of Pralines. Her community lost Harrison in 2022 to breast cancer, but Lifetime has honored her memory by supporting the Breast Cancer Research Foundation.
LaBelle also released a statement communicating her respect for Harrison. "I had the pleasure of meeting Loretta while we were filming and was so heartbroken to learn a few short months later, she had lost her battle with breast cancer," the star shared. "So when Lifetime asked me to lend my voice to this year's campaign, it was an easy yes. Research and early detection are key in helping people survive a breast cancer diagnosis. And I want to do everything I can to continue to spread awareness."
LaBelle participated in a PSA sharing that breast cancer is the most common cancer for women in the U.S., and Black women are 41% more likely to die of breast cancer. Though she is missed, Harrison's contributions to her community shine through Patti LaBelle's character in "A New Orleans Noel," especially as her on-screen grandson, Anthony, tries to crack her secret praline recipe. And there's no better way to celebrate this new holiday movie than with its delicious pralines. 
These are the staple ingredients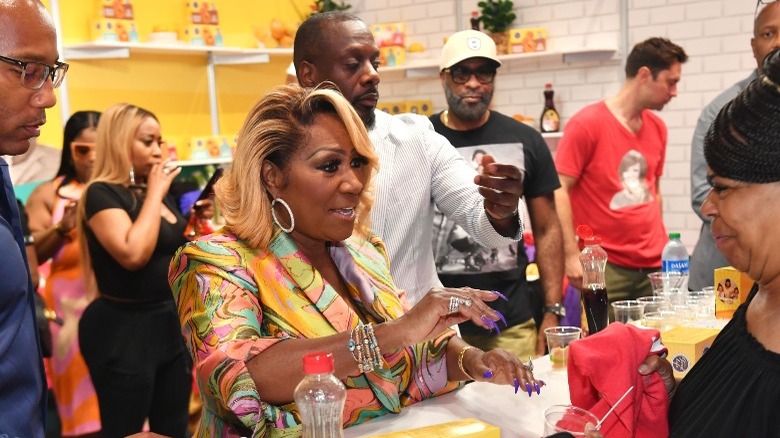 Paras Griffin/Getty Images
Pralines were originally introduced in New Orleans via France's colonial influence, per Spruce Eats. According to the New Orleans School of Cooking, bakers first used almonds to make pralines, but the candy was transformed through Creole cuisine, which used the pecans that grew locally. New Orleans is known for its sweet treats, but pralines are easy prep goodies that only require a pot, stovetop, and a candy thermometer. 
Butter, evaporated milk, brown sugar, salt, and vanilla extract are the ingredients that make pralines a perfect balance of sweet and salty. The Kitchn warns against messing with the amount of butter in your chosen praline recipe, since it could result in ingredients separating. The outlet also advises that you keep your batches small to avoid the mixture cooling before you've added all the ingredients. 
If you're looking for an in-person praline-making lesson, you can check out the New Orleans School of Cooking. You can even attend classes over Zoom, or head to their site for their go-to praline recipe. Unlike Anthony in "A New Orleans Noel," you don't necessarily need to stick to a classic praline recipe: You can add chocolate, make it without nuts, or add peanut butter. Loretta Harrison would add chocolate, coconut, rum raisin, and peanut butter to her recipe, per Nola.
The New Orleans School of Cooking explains that there are countless recipes for the iconic candy. Every cook can have their favorite, just like the Queen of Pralines herself.
There's more than one perfect recipe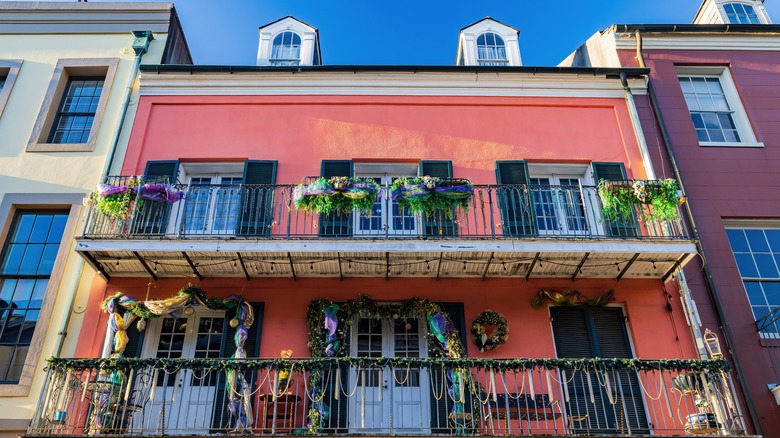 Kit Leong/Shutterstock
In 1984, Loretta Harrison was the first Black woman to own a praline business in New Orleans. However, she told Saveur, "While mine may have been the first brick-and-mortar store here, many other entrepreneurial Black women preceded me." Through the years, her business has grown. So much so that if you can't visit her storefronts, you can order from Loretta's Authentic Pralines online.
Harrison told Nola she started making pralines with her mother and grandmother at 8 years old, using the same recipe that had been in her family for five generations. In her pralines how-to video, Harrison wouldn't divulge the exact recipe, but her video includes the ingredients and helpful tips for baking pralines at home. "Watch the pot like you would watch a baby. You cannot walk away, or the sugar may start to burn," she told Saveur. 
Unlike home chefs, Harrison used a six-gallon copper pot and professional grade agitator for stirring. Plus, she didn't need to take the mixture's temperature to know when the candy was done. "I've made, literally, millions of them," she explained. However, for new bakers, she said that after stirring the candy, you should be ready to scoop at 235° F. 
"With all the praline makers in the city of New Orleans, everybody can make pralines and their mama," Harrison told viewers. "But when you have the community, the people who rally behind your business, then you have a wonderful product." Loretta Harrison's legacy is honored through "A New Orleans Noel," and the Queen of Pralines continues to inspire her community.
"A New Orleans Noel" premieres on Lifetime on December 3 at 8/7c.