The Fragrance Line You Never Knew Michelle Pfeiffer Started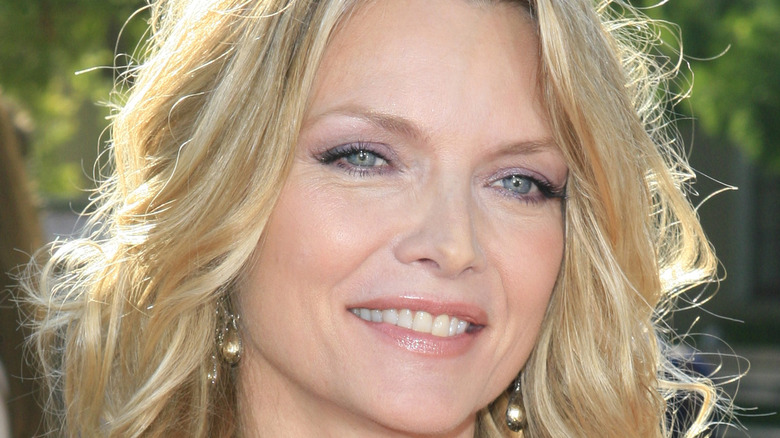 Joe Seer/Shutterstock
It's no secret that celebs love creating product lines on the side, especially in the beauty and skincare space. It can be hard not to question if their intentions are authentic, especially when a launch coincides with the release of their latest movie or album. It makes us wonder if celebrities are better off left in the background.
Sometimes celebs are super subtle with the branding and advertising of their products, leaving us surprised to discover a star working behind the scenes. It isn't like the early 2000s when every pop star had a fragrance line with their name plastered across the label. Today there are celebs whose intentions are wholehearted. They want to create product lines to fill a gap in the market and help improve people's lives, and Michelle Pfeiffer is one of them.
We don't blame you if you haven't heard of the acclaimed actress' fragrance line. Pfeiffer isn't one to command the spotlight in her personal life, nor her business, letting the gorgeous smelling products speak for themselves. Here are the details of Michelle Pfeiffer's fragrance line you never knew she started.
Henry Rose Fine Fragrances
Henry Rose creates fine fragrances with transparency and safety at the top of mind. When Michelle Pfeiffer became pregnant decades ago, she quickly discovered the unregulated and potentially toxic world of fragrances, eventually giving up on them altogether. But she missed using perfume and realized if she wanted safe and sophisticated scents in her life, she needed to create them on her own, per Henry Rose.
A handful of fragrances claim they are "clean" on the market, but Henry Rose was one of the first. The brand's main differentiator from other nontoxic perfumes is its dedication to transparency and unique genderless aromas. After years of working with talented luxury perfumers, Pfeiffer launched the industry's first collection of fine fragrances that are both EWG Verified™ and Cradle to Cradle Certified™,  via Henry Rose.
The collection consists of 11 aromas channeling Pheiffer's favorite memories, but Henry Rose's best-selling scent, Jake's House, is a favorite among beauty influencers. Andrea from the blog Organic Beauty Lover calls it a "perfectly unisex scent that's neither too masculine nor too feminine." The line sells sample sets so you can test out which aroma suits you best or take their handy online scent quiz. If you'd like to test the products in person, you can find Henry Rose fragrances at Nordstrom and Credo Beauty stores.
What's next?
Next on deck for Michelle Pfeiffer's fragrance company, Henry Rose, are new body care and home fragrance collections. Just like the perfumes, these new products were also created using the highest standards in safety and quality and are EWG verified™. Henry Rose takes its level of transparency even one step further by listing out the function and origin of each ingredient within each product page.
The body care collection begins with a rich body cream containing shea butter, vitamin E, and vitamin B5, with the choice between two aromas. A hand and body lotion, a moisturizing bar soap, and hand sanitizer in the popular Jake's House scent round out the assortment.
The home collection consists of five nontoxic, fine-fragrance candles housed in chic black vessels. The beautiful aromas are mixed in small batches with a blend of coconut, soy, and vegetable waxes and finished with a 100% cotton wick.