The List's Exclusive Survey Uncovers Fans' Go-To Lip Color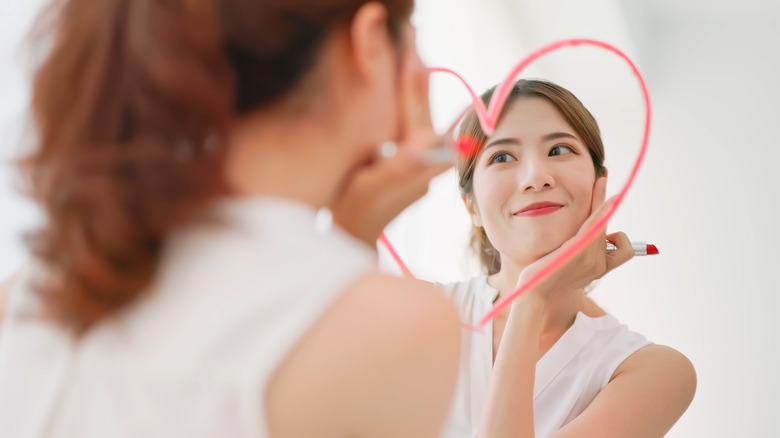 aslysun/Shutterstock
Lipstick: you know it, you love it, you might have a little bit smudged on your teeth every now and then, but that's okay! Lipstick is a powerful cosmetic that practically transforms a look with a simple twist of the cap. Whether you prefer something subtle and soft or bold and loud, everyone enjoys a little lip color every now and then.
According to StyleCraze, the waxy tube lipstick we recognize today was invented in the 1880s, but the trend of coloring our lips actually dates back to the time of the Mesopotamians and ancient Egyptians. The powerful history of red lipstick may have started with Cleopatra, who would use "a mixture of crushed carmine beetles and ants" to achieve her iconic bold red lip, per ThoughtCo. 
Thankfully, you won't find any bugs in the many lipsticks that are on shelves today, but you will find a ton of different colors and shades to choose from. To find out which lipstick colors are totally trending, The List conducted a survey of 602 people that asked, "What's your go-to lip color?"
Nearly 30% of voters agree that this lip color looks great with practically everything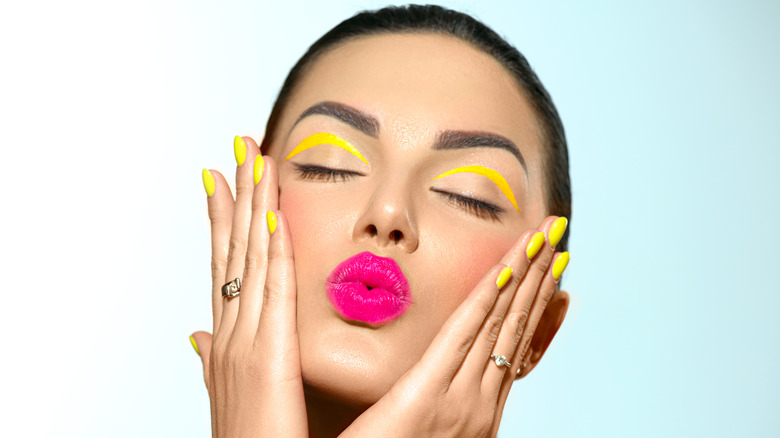 Subbotina Anna/Shutterstock
According to The List's survey, the most popular lip color is pink, with 29.24% of the vote. This classic shade pairs well with practically any look. Whether you pick a bright fuchsia or a soft rose, pink lipstick is always a good choice.
In second place, with 24.58% of the vote, is red lipstick. This bold look is practically synonymous with romance. From Hollywood starlets like Marilyn Monroe to iconic symbols like the Rolling Stones logo, red lipstick was born for the spotlight.
Next, 22.92% of voters love the naturally sultry look of brown or beige lipstick, while another 20.1% prefer the dark undertones of berry shades to make their lips stand out. To our surprise, the bright and bold shade that received some love amongst voters was orange, with 3.16% of people voting for the hue.
If you're still not sure which lipstick is right for you, check out this guide to our favorite lipsticks in the 2022 List beauty awards.
What your lip color says about your personality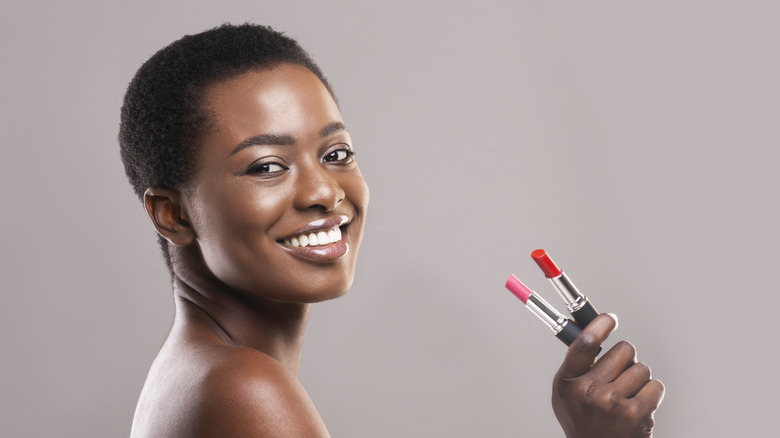 Prostock-studio/Getty Images
Picking a shade of lipstick might not seem like a big deal, but the colors we wear say a lot more about us than you'd think. According to Color Psychology, "color can evoke emotions, inspire reactions, and change modes of thinking." If you find yourself reaching for mauve over a bright red lipstick, it could speak volumes about your personality.
Reader's Digest reports that those who wear pink lipstick are usually "bubbly and energetic" with a playful personality (and, let's be honest, they love to flirt). People who prefer plum lipstick stand out in the best way, unafraid of the attention that their bold demeanor attracts. 
People who opt for more subtle shades of pink and nude may not seek out the spotlight, but their sweet and caring nature attracts all the best people. Per Little Things, lovers of dark lipsticks like reds and mauves are full of passion and mystery — and it'll take some convincing to get their beautifully painted lips to spill the tea.
So, if you're looking to shake things up, try out a new lip color. You might find that you carry yourself differently. Feeling nervous about that first date you have planned later this week? Try slapping on that new shade of dark red lipstick you bought on your last shopping spree. Who doesn't feel sexy and confident with a bold hue on their lips?