Royal Biographer Details Meghan Markle's About-Face Attitude On Suits Set After Meeting Prince Harry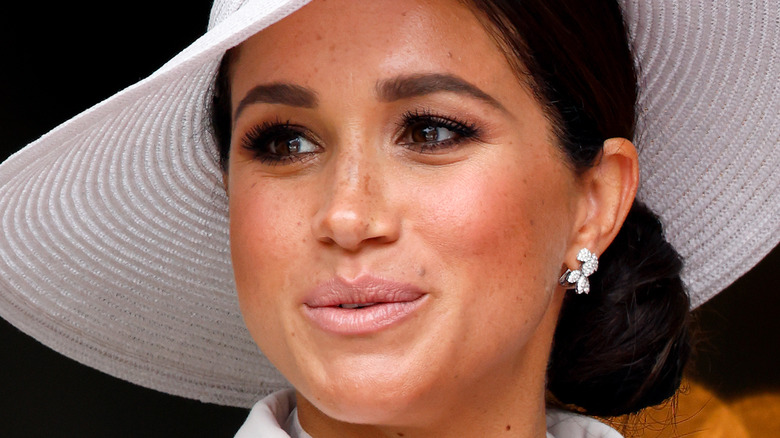 Max Mumby/indigo/Getty Images
When Meghan Markle married Prince Harry and joined the British royal family, she had to give up her acting career. The former "Suits" star, who had been working consistently on the small and big screen alike for years, confirmed in the couple's first joint interview that she was committing to being a full-time royal instead. As Harper's Bazaar reported at the time, the Duchess of Sussex shared her excitement to team up with some of her favorite charities. 
As for how she felt about stepping back from acting, Meghan explained: "I don't see it as giving anything up. I just see it as a change. It's a new chapter. And keep in mind I've been working on my show for seven years. We were very fortunate to  have that sort of longevity on a series. For me, once we hit the 100 episode marker, I thought, I have ticked this box and I feel really proud of the work we've done there and now it's time to work as a team with [Harry]."
Royal biographer Andrew Morton claimed during an appearance on the "Royally Obsessed" podcast (via Vanity Fair) that the duchess was given clearance, by the queen herself, to continue acting if she so wished. But suffice to say, Meghan didn't step on set again during her short time as part of the monarchy. And it now appears she had one foot out the door since first hooking up with Harry. 
The Duchess of Sussex reportedly turned on her co-stars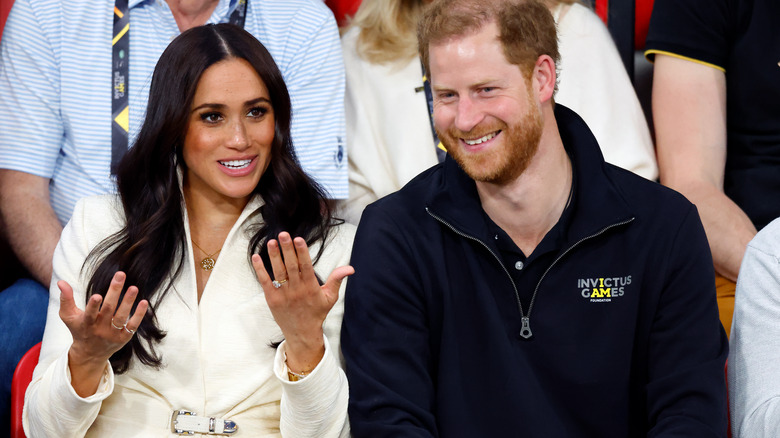 Max Mumby/indigo/Getty Images
Meghan Markle's time on "Suits" might have been up sooner than she realized, if Tom Bower is to be believed. The royal biographer alleged in his latest tome "Revenge: Meghan, Harry and the War between the Windsors" that the Duchess of Sussex's attitude to her cast-mates changed drastically since she became romantically involved with Prince Harry. Bower reported: "Some actors and staff discovered that Meghan's attitude occasionally stiffened. Sometimes she arrived late and her empathy occasionally morphed into near-arrogance" (via Express).
The actor, who exited the hit legal drama in 2018, reportedly went from being super-close with the rest of the cast to giving them the cold shoulder. However, she might have been under serious pressure at the time, since Bower also claimed that the palace intervened to change certain dialogue and even whole scenes towards the end of her stint there. "Fearing the worst, from bitter experience, the palace stepped in to control Meghan's life," he wrote, noting that during the couple's engagement, all scripts had to be approved by Kensington Palace.
Weirdly, while filming her onscreen wedding, the duchess had to wear a jacket over her dress between shots to ensure no photos leaked of Meghan in a wedding gown. According to the queen's biographer, Sally Bedell Smith, she ultimately regretted giving up her career especially since "what she was expected to do in the royal family didn't compare with what she had been accustomed to" (via Vanity Fair).
Meghan Markle's Suits co-stars have always defended her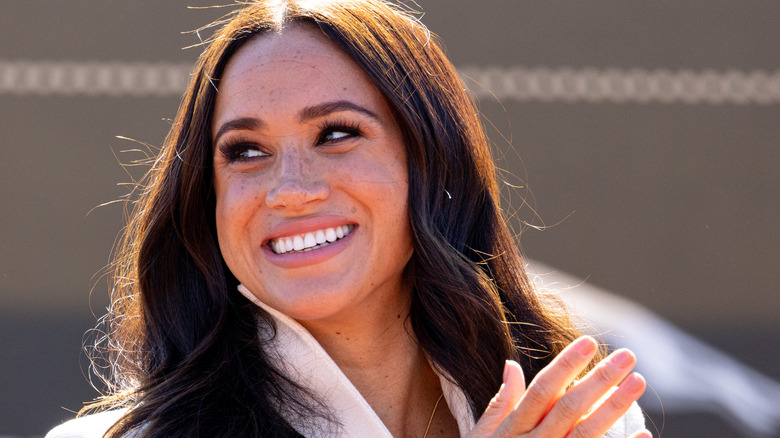 Patrick Van Katwijk/Getty Images
It's worth noting that, amid Meghan Markle's bullying controversy, several of her former "Suits" colleagues publicly rallied to the duchess's defense. Per The Guardian, following a shocking report about Meghan allegedly treating royal staffers terribly, which was published in The Times, Buckingham Palace launched a full investigation into what really happened only for the report of their findings to be buried (Newsweek's chief royal correspondent reasoned that they were trying to cover up their own mistakes, too). 
When the allegations first emerged, many of the royal defector's co-stars released statements directly contradicting what had been written about her. During an appearance on "Inside Edition," Eric Roberts confirmed: "She's not a bully in my experience, at all." The actor added that working with Meghan was always delightful, echoing what D.B. Woodside told Entertainment Tonight. As Woodside recalled, "Meghan went out of her way to always see how I was doing, to just talk to me when we didn't have any scenes together." 
Likewise Patrick J. Adams, who played her onscreen love interest, tweeted: "Meghan Markle and I spent the better part of a decade working together on 'Suits.' From day one she was an enthusiastic, kind, cooperative, giving, joyful and supportive member of our television family." In fact, Adams also noted, "She remained that person and colleague as fame, prestige and power accrued" (via Vanity Fair).