Deborah Ann Woll Spills On New Movie Deborah And Her True Blood Podcast - Exclusive Interview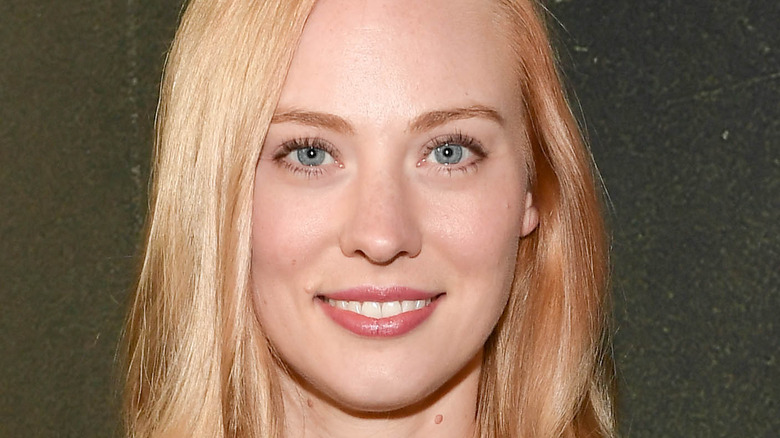 Matt Winkelmeyer/Getty Images
Deborah Ann Woll has done it all. The actress hit it big as Jessica Hamby on "True Blood" and stayed with the drama through 2014. After that, she shifted gears to the Netflix series "Daredevil" alongside the likes of Charlie Cox. Woll's career has continued to evolve. This year, she hit the stage in a production of "The Taming of the Shrew" and made her video game debut in "God of War Ragnarok." Don't forget her "Truest Blood" podcast, which she works on with former co-star Kristin Bauer. 
In the midst of the pandemic, Woll also filmed a newly released movie called "Deborah." The project features a star-studded ensemble cast, including Sophia Bush and Scott Michael Foster, and serves as something of a cautionary tale about the risks of messing with time. In it, a group of friends gets together for a weekend of fun. However, things start to go awry when they fiddle with an A.I. device that allows them to rewrite moments in the past.
In an exclusive conversation with The List, Woll opened up about "Deborah" and revealed an unexpected positive side effect of filming during the ongoing pandemic. She also spilled some tea about an upcoming moment on "Truest Blood," which sees her reuniting with an important actor from her past. Woll revealed if she had heard anything about Disney+'s plans to revive "Daredevil" as part of the Marvel Cinematic Universe and also opened up about the interesting experience of working on a video game.
Deborah Ann Woll would not mess with time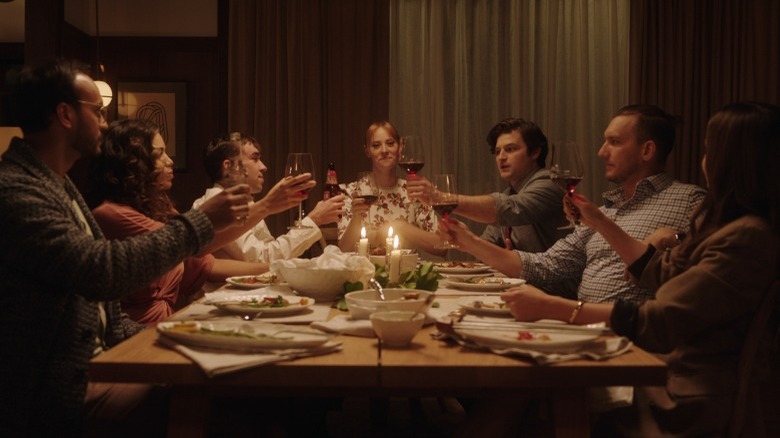 1091 Pictures
The idea of a movie like "Deborah" is really unique. What would you say was your biggest takeaway from it?
It had this idea of, what would you do if there were no consequences? What is it that keeps us in line? Is it society? Is it our own morals? This is a movie where there are no consequences. You can do and say whatever you want and erase it, and that's fascinating to see what is it that keeps us in line.
Can you talk a little bit about what drew you to the role in the first place?
I'm starting to get interested in people who are tightly wound and then what happens — those tight, taut strings within someone and what happens when you start to cut them. That's a much more violent bounceback when you have someone like that. In reading Ava, I got this sense of there [being] tension in her everywhere, and I liked the ideas of plucking those strings and seeing what would come out.
If you were in a similar situation, would you manipulate time?
I'm very much a good girl. I follow rules. I read terms and conditions — I skim them, but I think I would be too scared. I definitely am that kind of person [who's] quite risk averse because of possible consequences. I wouldn't do it so much to take back embarrassing things. I have very little desire to put myself out there, but maybe for work, things like that. [If you're] trying something really big as an actor, you might be afraid people would laugh at you, but it might be interesting to do that and be able to see how people respond without being afraid.
The pandemic turned filming Deborah into a major bonding opportunity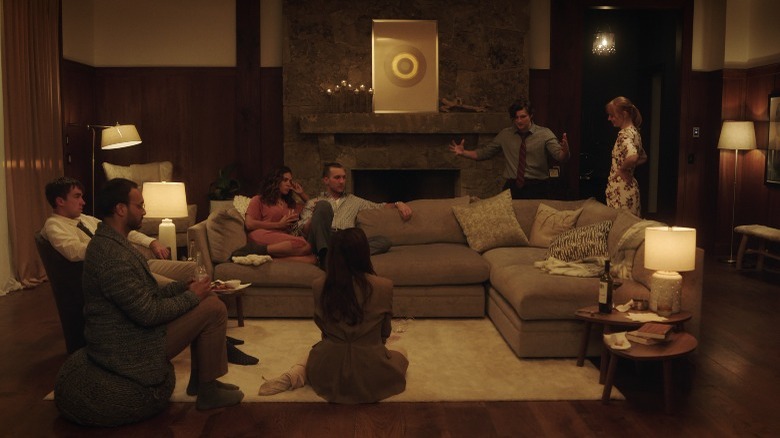 1091 Pictures
"Deborah" is a little different from some of your other notable roles. How would you say that the movie differs from "True Blood" or "Daredevil"?
"True Blood" is probably the furthest out there. "True Blood" is our big gothic soap opera thing, so that was very big choices. It was much more like doing Shakespeare than anything else.
Between this and "Daredevil," the difference in this is perhaps it felt quite strong as an ensemble. Certainly on those other shows, I got fantastic storylines and, as an actor, your character is always the main character, as Sophia Bush's character says. While that's always true in terms of your preparation of it, you also understand that on a very basic structural level, you're there to support the main characters' storylines [and] the main themes of the writers. 
And this one had a much stronger ensemble vibe, I feel — one, because that's how it was written, [and] two, because it was COVID [and] we were all quarantined together in this house in Utah. We were tested every day, and we didn't have to wear masks because we weren't going anywhere. We weren't allowed. We were bubbled in a really strong way. We called it "Deborah Dorm" in our messaging. ... It was a way to bond in a quick way and be able to play friends like this that have been together for so long. That would be the strongest feeling — this really quick ensemble feeling.
Do you think that you would've been able to do the same thing as a cast if it wasn't for COVID?
It was helpful, for sure. We probably would've had to do it because where we were shooting was so in the middle of nowhere that probably we would've had to live there anyways, but we could have gone to get groceries or gone out to the movies by ourselves. The way that it was structured, because we couldn't leave, board game nights, movie nights, karaoke nights, those things were all just us in this house. We went on hikes together. You wouldn't have had that same motivation to hang out with each other if that wasn't your only option, so I do think it added to the story.
Deborah Ann Woll currently has no connection to the Daredevil revival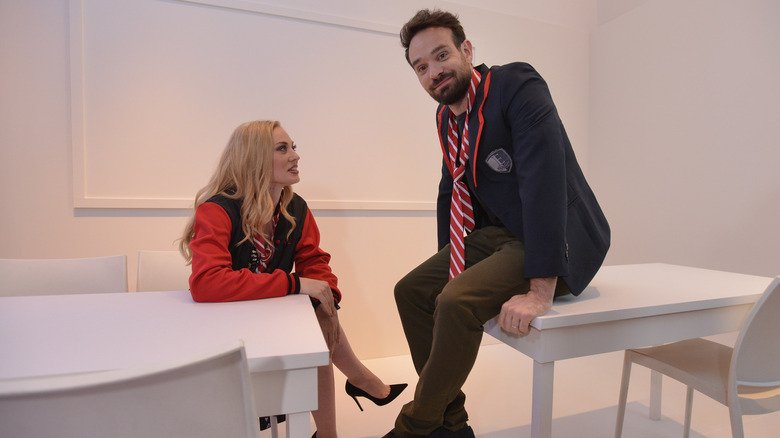 Gabriel Aponte/Getty Images
Switching focus a little bit, there has been a lot of talk about a new "Daredevil" series at Disney+. Is there any chance that you'll be involved in some way?
I don't know. They have not yet reached out to me, so that's up to Marvel. Charlie [Cox] and Vincent [D'Onofrio] are spectacular actors, and they know these characters inside and out. The fact that they're a part of it means it'll be an amazing series, but as of this point, no one has reached out to me to be a part of it.
I know that Charlie has made a couple of Marvel MCU appearances. What's it been like for you to see the character reappearing?
I haven't seen it yet, so I can't fully speak to that. My husband watched his "She-Hulk" stuff and said it was spectacular, and I greatly trust my husband's judgment, so I want to. I've been so busy. I haven't had a chance for much personal TV time, but it's on the list. For him to be able to explore this character in different genres a little bit — because each of these different Marvel shows has [its] own vibe, and "She-Hulk" is a very specific point of view on this MCU world — for him to get to explore that, I'm sure, is a blast.
Another thing you're working on is your "True Blood" podcast, "Truest Blood." Can you also talk about what inspired you to start recording that?
Janina Gavankar. She played Luna in some of the later seasons of "True Blood," and she's remained a close friend since she was on the show. She had this idea of doing a look-back podcast. She approached Kristin Bauer and [me], and after some conversations about what this would look like, we decided to give it a shot, and it's been amazing. We ended up selling it to HBO. HBO was like, "Great. We'll pay you to do this." That was amazing that they were willing to throw their support [behind] this idea. 
It's been amazing to reminisce and go back and look at that old series and meet up and interview our old castmates and crew members and production department — everybody. I enjoy lifting the curtain on this industry a lot, so I hope that this podcast can help people understand a little better exactly what it takes to make a show like that.
True Blood co-star Jim Parrack will make a Truest Blood appearance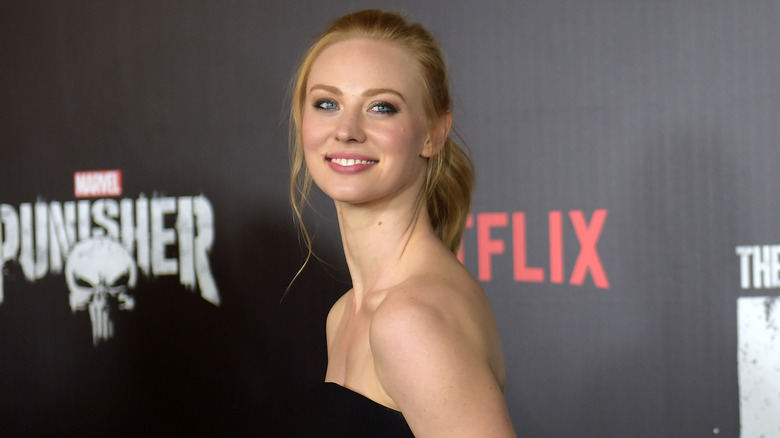 J. Kempin/Getty Images
Is there a moment that has happened so far on the podcast that you're most proud of lining up or accomplishing?
There's quite a few, actually. To start with, in the very beginning of our podcast, we interviewed our set designer. We interviewed the musicians who create the music. We did the man who wrote the theme song. Especially speaking with Suzuki [Ingerslev], who was our set designer, that is fascinating to me. We spent so much time on those sets, but her job happens months before we show up, so there's not a lot of cross work there. So [when I was] speaking with her, [for] all of my questions, I genuinely didn't know what the answers were. I love learning. I'm a giant nerd. So that was really fun for me.
Then this season ... It's coming up; the episode hasn't come out yet, but we had Jim Parrack, the actor who plays Hoyt Fortenberry. He and I, our characters had a romance in the first half of the show, and it'd been a long time since Jim and I had spoken and shared. When we were telling that story, [I spoke about how] it was so meaningful to me at the time, and it was nice to be able to say that to his face and hear him say that it was meaningful for him. It ended up being lovely and a little healing [to] look back and be like, "I'm so glad I wasn't the only one thinking that was special."
It seems like we're on a little bit of a vampire renaissance right now. Do you have any other favorite shows or movies that are vampire related that you're a fan of?
I do watch "What We Do in the Shadows." I think that's hilarious and wonderful. I'm an old Universal Monsters fan too. [For example,] the original Bela Lugosi "Dracula" is so spectacular and cinematic and scary. 
I haven't watched it yet, but I'm really interested in "Cabinet of Curiosities." Again, my TV time is so limited right now, but that is on the list to check out. I have not seen "Let the Right One In" or the new Anne Rice pieces yet, but I'm sure they're great. The vampire archetype, I think, will always be timely.
I just watched the new "Vampire Academy" on Peacock [from showrunners Julie Plec and Marguerite MacIntyre]. ...
That's great. All right. That's on the list. There we go.
Working on a video game was a totally new experience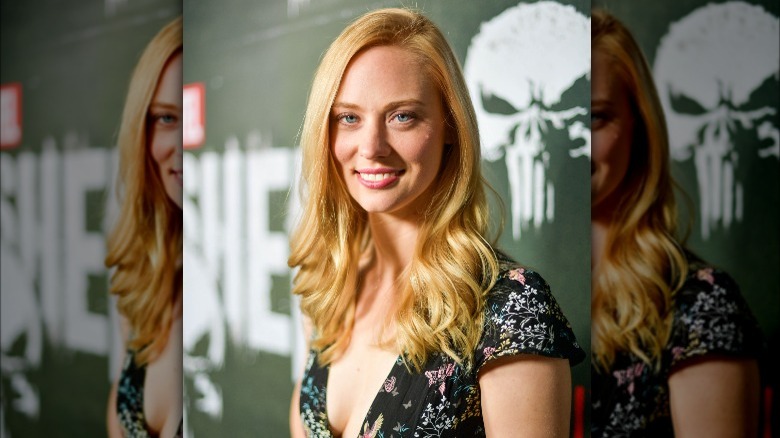 Matt Winkelmeyer/Getty Images
You just made your video game debut in "God of War Ragnarök." How did that project differ from typical movie or TV work?
It's fascinating. And this is not going to be across the board — I think lots of different studios work different ways. I had this idea in my head that performance capture work would be like black box theater, where, because there's a camera everywhere, you get to act and have that total freedom of space and imagination. But the fascinating and amazing thing about "God of War" is they do this single-cut thing or one-shot thing where they never cut. It's just one shot for the entire game. Amazing. 
They have things where mist will pass by, and I'm sure that they're generating places to cut in there, but in terms of your experience of the game, it's as if the camera never cuts, which means the staging is extraordinarily specific. So when I get in, marks matter. ... This was very specific. And the amazing thing about video games [is] you are just the tiniest brick in the massive wall that is this game. You try to be the most interesting and strong brick that you can be, but you are a support system for the thousands of animators and engineers who are then going to turn this into a piece of content.
It was an amazing little puzzle to come in and say, "I have these very specific marks to hit. I am a tiny piece of this 80-hour-long story that is being told or something like that. How can I most interestingly and authentically fill this bubble that I've been given?" Sometimes constraints [lead] to incredible inspiration, because you know exactly what your boundary is, [so] you can get more specific. 
It's like painting without a border. If you had an endless canvas, where would you start and where would you end? You could do anything, so what's the point? But once you give me a border, I know the waterfall goes here and then two happy trees over here. There's something about that that is actually freeing. It was a great little experience.
Deborah Ann Woll wants to take creating to the next level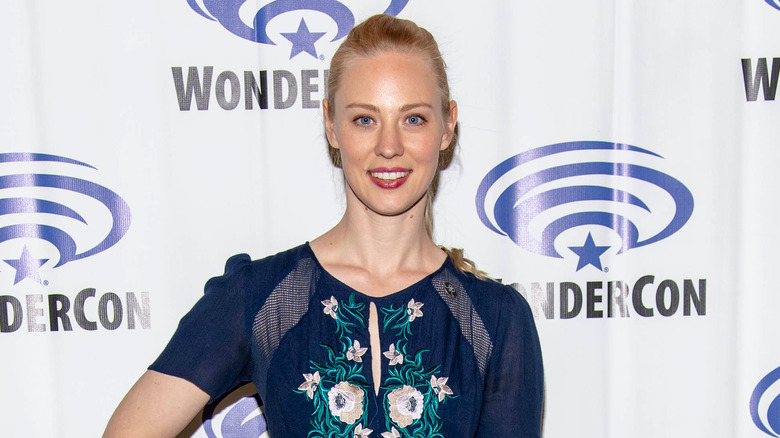 Eugene Powers/Shutterstock
You've already talked about so many different things that you've done so far in so many different realms. Is there any sort of project that you haven't gotten to do yet that you would like to in the future?
This has been an interesting year for all of that because I'm a theater actor. That's where I started. That's where my love is. This summer I got to do "Taming of the Shrew" at the Old Globe, so I just did Shakespeare treading the boards. Looking back, having done this film two years ago, done the video game, done TV, done some theater, it's been a pleasure, a real privilege to be able to have had the experiences in each of those different spaces. 
For things coming up, the next step for me ... I am a storyteller. I'm big into Dungeons and Dragons, so writing [a] story and coming up with [a] story is a huge space of joy for me, and it's something that I'm only just beginning to dip my toes into. So when it comes to film and television, what I haven't gotten to do yet that I'm excited to do is be a creative from the start of a project, be there from its conception, from its ideas, build it from the ground up and see it through to the end. That's my dream for the next couple of years — to find something to do that with.
"Deborah" is available to watch on Digital.
This interview has been edited for clarity.