Celebrity Hairstylist Explains Why Hair Gets So Dry And Staticky In The Winter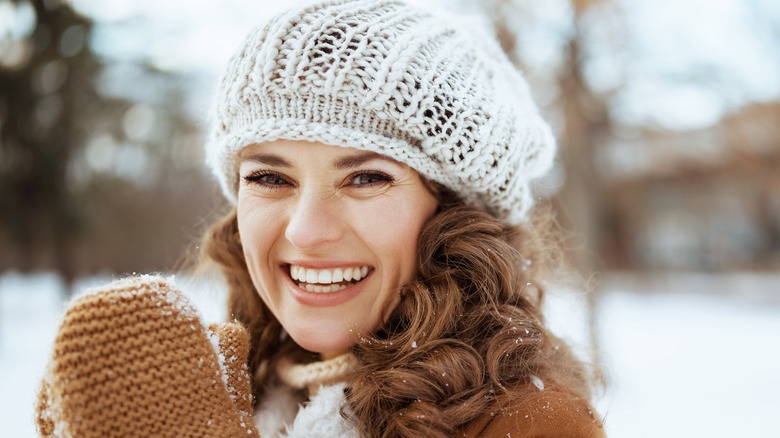 Alliance Images/Shutterstock
We may receive a commission on purchases made from links.
Hair is as individual as the person. While some of us are blessed with healthy, luscious hair, others struggle with hair problems like thinning hair, lack of volume, or too much frizz. To combat all our hair woes, countless products in the market promise us amazing results because, ultimately, all we want is healthy, beautiful hair.
Hair products aren't enough because lifestyle choices such as nutrition can also affect hair health. "Make sure that you are eating a healthy diet including lots of leafy vegetables and sources of iron," board-certified dermatologist Ainah Tan told Byrdie. Dr. Tan added that the iron and vitamin D in the greens make your hair stronger.
Hair thinning is a major issue, and though some of us can blame our genes for it, sometimes it can be a health issue. People with thyroid problems (such as hypothyroidism) cause extra hair shedding, resulting in thinner hair, per Everyday Health. Get a thyroid-stimulating hormone (TSH) test done to know.
While we work on our diet, take medication, and use strengthening hair products to get healthy hair, some hair problems are out of control; such as the ones caused by weather. In winter, we see a lot of dry, staticky hair. To learn why it happens and what we can do about it, The List spoke exclusively with Hollywood's finest celebrity hair stylist Marco Pelusi. Pelusi helps us put an end to those pesky hair issues, so we have a little less to worry about this winter.
Marco Pelusi says you can blame the changing temperature for dry and staticky hair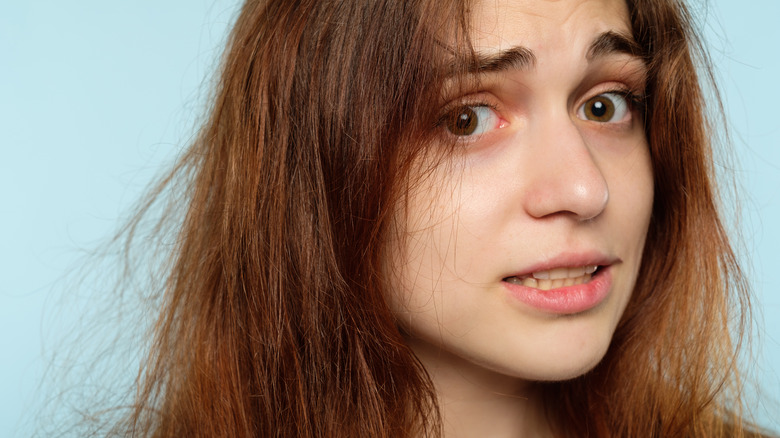 Golubovy/Shutterstock
Previously, celebrity hairstylist Marco Pelusi told us all about how to keep your summer hair color looking fresh, and now, he's shifting gears and telling us about winter hair care.
Pelusi told The List, "The hair and its moisture content will try to mimic whatever environment it is in. If your hair is in the cold, damp winter weather, it'll try to match that. Then, if you walk into a dry, heated home, it'll become drier." So, it's not your fault that your hair feels a little blah or extra-frizzy in winter, as you can blame the frigid, cold air outside and toasty indoor heat for that.
He also told us, "The hair's moisture content typically reflects whatever environment it's in. This environment can help contribute to dry hair and static in the hair." As your skin needs extra hydration in the colder months, so does your hair. Always use a conditioner to combat dryness and "seal the hair cuticle" so it's less staticky, per Self.
But what if you have an oily scalp? Pelusi added, "Regarding an oily scalp: it can't be all bad, during these months, to have some oil on your scalp; unless it's causing a scalp problem." He added that you might need to see a dermatologist if it's a scalp condition. Otherwise, Pelusi says it's good to have some natural oils on the scalp as they can combat dry, staticky hair.
Best products for dry, staticky hair
We love wearing wool hats and scarves to keep us warm in winter, but then, the moment we take those off, it's hello static hair. Though your hair can be dry and staticky all year round, it's worse in the winter, and the lack of humidity might have a lot to do with it. Hairstylist Miko Branch told Mind Body Green, "Electric charges don't flow through water, so atmospheres without any humidity will result in much more hair static," and that's exactly how the air is in the winter — dry.
No one wants dry, staticky hair, but it happens. Unfortunately, we don't have much control over outdoor humidity. Thankfully, some hair products can give you smoother and hydrated hair. For instance, try switching to moisturizing shampoos and conditioners in the winter because "dry hair equals static" (per Good Housekeeping). They recommend Pureology Hydrate Shampoo and Conditioner, which are safe for color-treated hair and don't have any sulfates, parabens, silicones, or dyes that can cause dry, static hair. Plus, your hair will feel extra moisturized after every wash. Regarding the conditioner, one happy reviewer on Amazon said, "My hair has never felt softer! [...] My hair is not frizzy or staticky anymore!"
For even more help, Bustle recommends trying the R+Co Foil Frizz & Static Control Spray because it has panthenol that helps your hair hold on to moisture, so it's frizz free for longer. It's also so light that it won't weigh down even thin hair.