How To Nail Your Fall Wedding Guest Style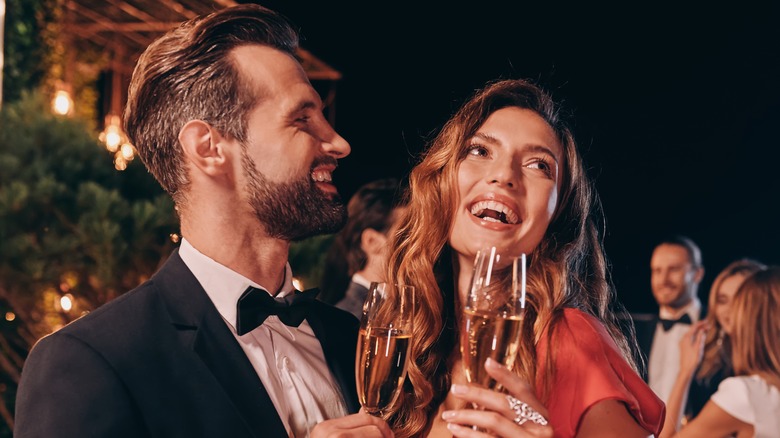 G-Stock Studio/Shutterstock
Wedding season traditionally falls between late spring and early fall, with October being one of the most popular months to get married, according to Zola. The mild weather, beautiful colors, and seasonal harvest foods make it an ideal time of year to tie the knot. According to Kerline Docteur, Lead Planner at Joie de Vie Weddings & Events, LLC, via Wedding Wire, "Fall works for many of our couples because it doesn't compete with family vacations, reunions and holidays over the summer and winter." On top of that, according to California-based event planner Amy Greenberg, "Flights can be less expensive in the fall compared to holiday weekends, summer vacation time, or other breaks from schools across the country that could serve as a financial barrier to some out-of-town guests."
Given the sheer number of fall weddings — October took three out of the five most popular wedding dates in 2022 so far (via the knot) — it's important to know how to dress for the occasion. As noted by Brides expert consultant Alicia Mae, CEO of ILÈ Events, formal wear is the most requested dress code. Before you go shopping, it's important to familiarize yourself with the venue, consider the weather, and (of course) never wear white.
Stick to autumnal hues for a fall wedding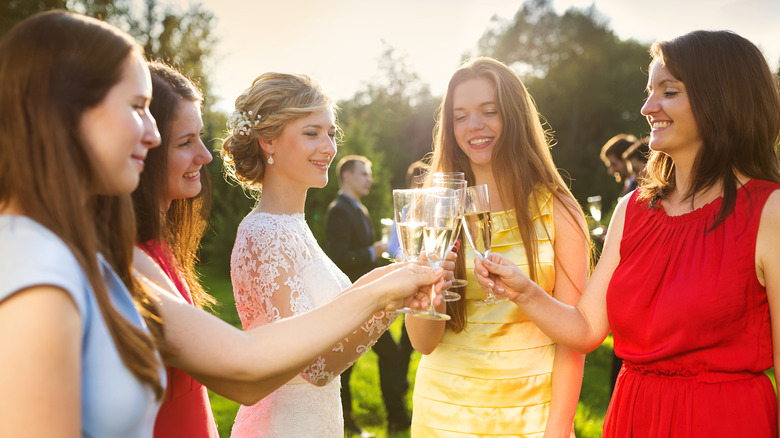 Halfpoint/Getty Images
For starters, pay homage to the season when choosing your wedding guest fit. This means opting for warm, solid colors like coppers, deep reds, and golden yellows — really, anything that reflects the fall foliage. Alternatively, find a subtle fall pattern like this flora midi from asos or even something like Cider's paisley pattern maxi dress. According to Brides, fabrics like silk and tulle are perfect for formal weddings, whereas chiffon is ideal for a more casual affair. Don't be afraid to add a pop of fall-inspired color with accessories. Lulus recommends accenting your outfit with a statement handbag, which is also a great place to keep your phone and lip gloss throughout the night. Jewelry, too, can be a great way to dress-up a casual fit. Sparkling, statement earrings will turn something like this floral-embroidered Lulus maxi dress into a formal gown.
According to Birdy Grey CEO Grace Lee via Wedding Wire, "Fall is a time for richer tones that mimic what we're seeing outdoors." However, if you're not interested in buying a seasonal gown, consider a clothing rental services like Rent the Runway. These services can be a great way to spend less on one-time-use formal wear.
"An essential tip is to know yourself as a guest," Alicia Mae told Brides. "As the saying goes, 'If you look great, you feel great!' Make sure you're confident in your attire to not feel under-or overdressed."
Keep temperature and venue in mind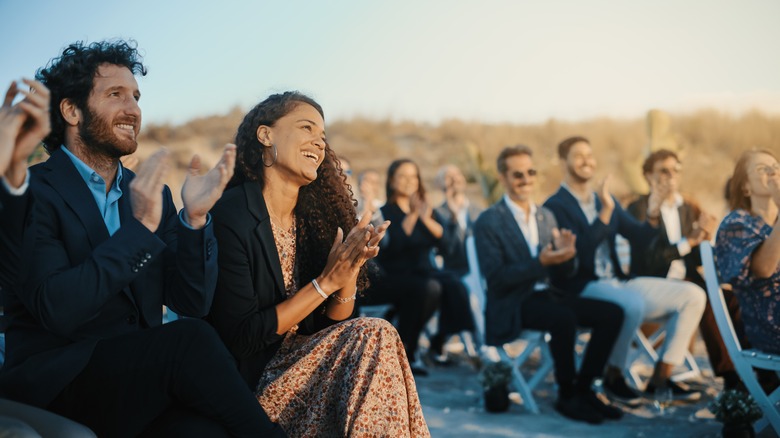 Gorodenkoff/Shutterstock
When in doubt, dress for the venue. "As a guest, I would first think of the wedding location as the background that sets the tone," New Jersey wedding planner Alicia Mae explains to Brides. "A quick Google search of the venue can give you a feel of the wedding style, and the venue will have photos of past weddings that can inspire you." An upscale hotel, for instance, will require more formality than an orchard or barn wedding. As well as dress, choose your footwear with the location in mind. A casual outdoor wedding may require chunky heals or even cowboy boots, shoes that won't sink into grass or stick between wooden panels. For an black tie event, wear your favorite fancy heals.
Temperature is also key to consider when determining how to style yourself. Brides recommends choosing a high-necked, long sleeve fit if you know the evening might get a bit chilly. Certain fabrics, too, will keep you warmer. For instance, a capped sleeve velvet jumpsuit like this Lulus design will add some much-needed insulation during an outdoor, tented reception. Alternatively, a double-breasted velvet suit will keep you extra-warm (and set you apart) throughout the festivities.
Use outer layers and accessories to dress-up or dress-down your look. For instance, a leather jacket can add a much-needed layer of warmth to casual fall wedding, whereas a faux fur stole will keep your outfit black tie-formal.