All The Best-Dressed Stars At The 2022 AMAs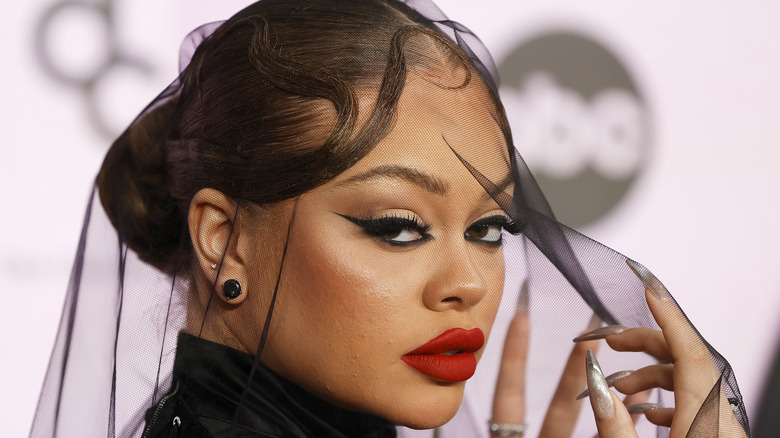 Frazer Harrison/Getty Images
If you love fashion, you are sure to love the AMAs red carpet. The American Music Awards are the prime time for spotting fabulous, whimsical, statement-making looks on the red carpet, and this year's show was certainly no exception. This year's red carpet looks ran the gamut from totally worth the risk to classically cool. While we were thrilled to see so many stars grace the AMAs, a few musical VIPs stood above the rest not only when it comes to their musical chops, but also with their red carpet style.
Sabrina Carpenter
Amy Sussman/Getty Images
Actor-turned-musician, Sabrina Carpenter, lived up to her starlet status when she arrived early on the AMAs carpet. Sabrina served us with the epitome of Hollywood glamour and looked like pure gold . . . literally. Sabrina's entirely beaded two-piece is exactly the kind of showstopper you want to see on the red carpet. Plus, her curtain bangs, voluminous blowout, and two-toned lips are utterly on-trend and very 2022.
Tomorrow X Together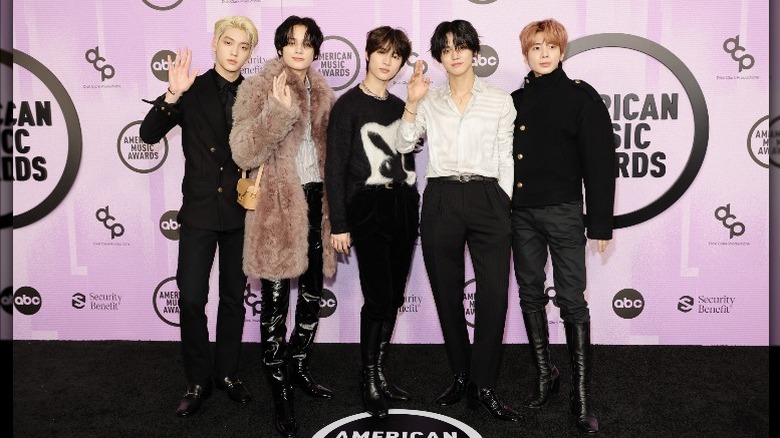 Amy Sussman/Getty Images
Tomorrow X Together is definitely the best band on the red carpet. We love the way this boy band coordinated their 'fits flawlessly while still looking individual, fashion-forward, and fresh. This group sported Saint Laurent, and from head to toe — or should we say hair to heels — these guys all looked put together and trendsetting whether they're posing all together or alone.
Latto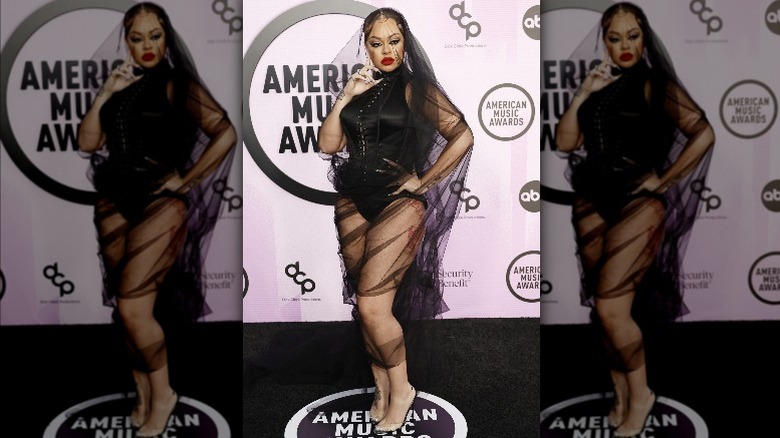 Frazer Harrison/Getty Images
Latto got the "anything goes at the AMAs" memo, and she knew how to put that freedom to good use. From her all-black lingerie-inspired outfit to that stunningly classic-with-an-edge makeup, Latto looks like a piece of art in a way no one else on the red carpet dared to do. Her veil and draped, mesh black fabric gave her an ethereal, light vibe and untouchable elegance. Whether she takes home the Best New Artist award tonight or not, she's the best new artist on the red carpet in our book.
Dove Cameron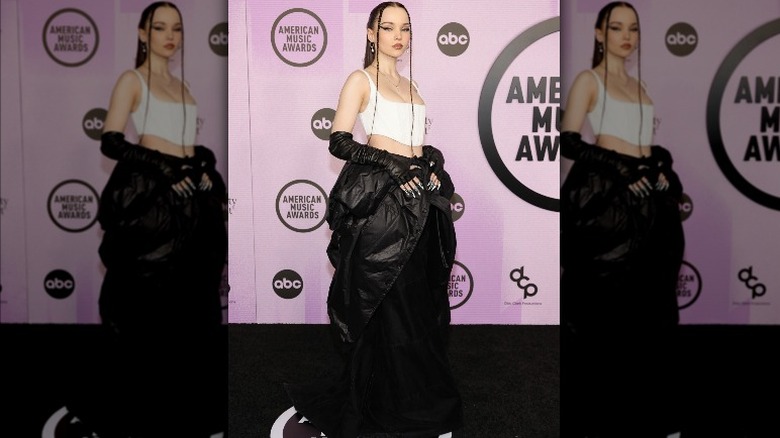 Amy Sussman/Getty Images
Dove Cameron opted for a black and white and Gen-Z all over look for her Best New Artist red carpet debut. Her sleek makeup and hair lean into her uniquely beautiful features, and her two-piece outfit manages to be both simple and bold. We also love those long fingerless gloves paired with that jacket around her waist that adds a little 2022 casualness and AMA-ready edge to her outfit.
Carrie Underwood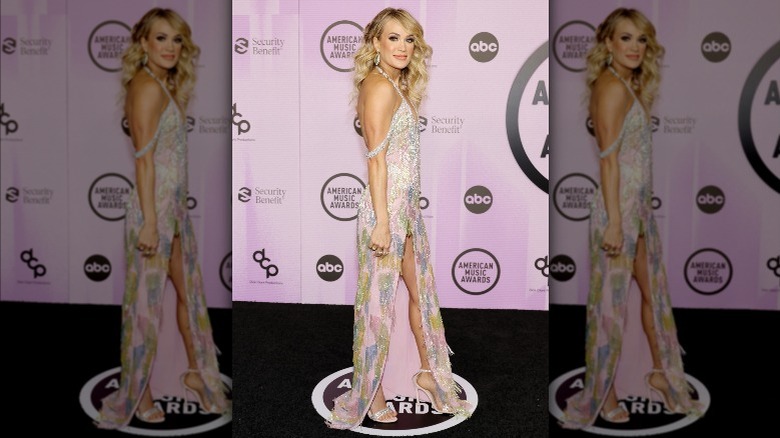 Amy Sussman/Getty Images
Carrie Underwood is a musical icon, and she's not afraid to look like one. Underwood is certainly no newbie to the AMAs, and this look proves that she's a red carpet veteran. Her gown is both delicate and sultry and complements her beautiful makeup and voluminous locks. The pastel palette adds a whimsical to the otherwise full-glam gown, and it also happens to coordinate perfectly with that pale pink backdrop.
Becky G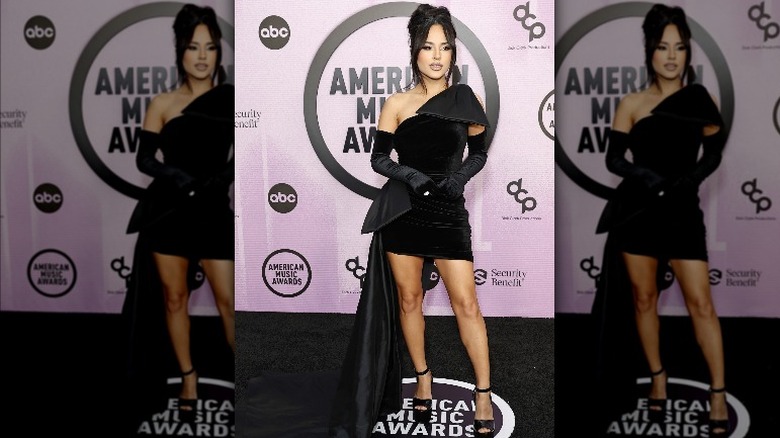 Frazer Harrison/Getty Images
"Fulanito" singer, Becky G, simply has to make it onto every best dressed list with her dramatic asymmetrical mini dress. She married classic Hollywood glam with drama and sassiness with her short skirt and big added bows. Paired with '90s-inspired hair that is super on trend, this look is a winner.
Karrueche Tran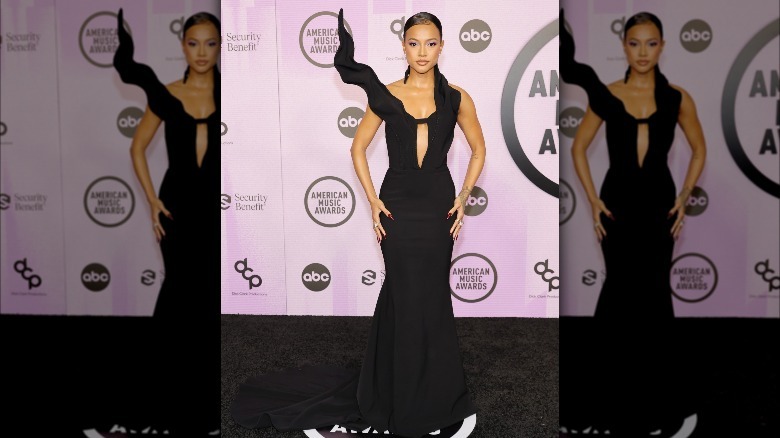 Amy Sussman/Getty Images
Karrueche Tran may not be music royalty, but her AMAs look certainly proves that she's a star. This high-drama dress is giving hot Maleficent vibes, and we are definitely here for it. It also doesn't hurt that this bold gown is paired with stunningly sleek hair and makeup. If balance is key, then Tran certainly has the key with this look.
Gayle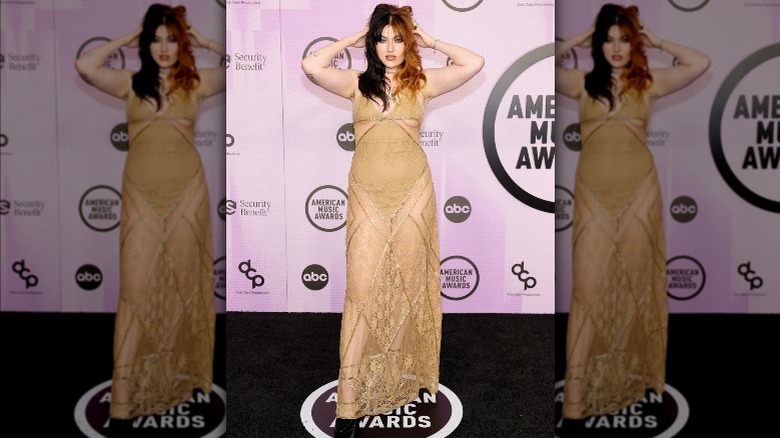 Amy Sussman/Getty Images
Gayle went for pure slinkiness and sultriness and for her walk down the red carpet and potential snag of the coveted Best New Artist award. Gayle's beige, baring-it-all gown and two-toned hair may not be everyone's cup of tea, but we think her subtle sexiness and understated glam make her look like a truly fresh, modern starlet.
Carolina Gaitán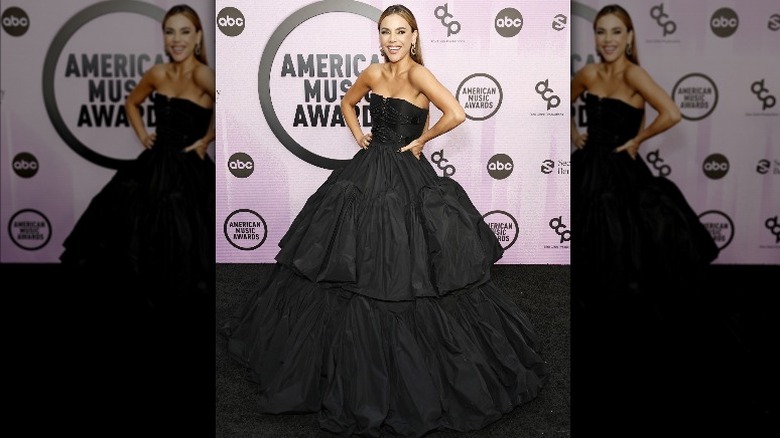 Frazer Harrison/Getty Images
Some may argue that the AMAs is a place for taking risks rather than going with classic looks, but come on. Perfection is perfection, and this look on Carolina Gaitán is certainly that. Her understated hair and simple makeup has her glowing in this massive yet simple black gown. She managed to make a statement with something simple, and that is not an easy fashion feat.