How To Create The Perfect Camera-Ready Makeup Look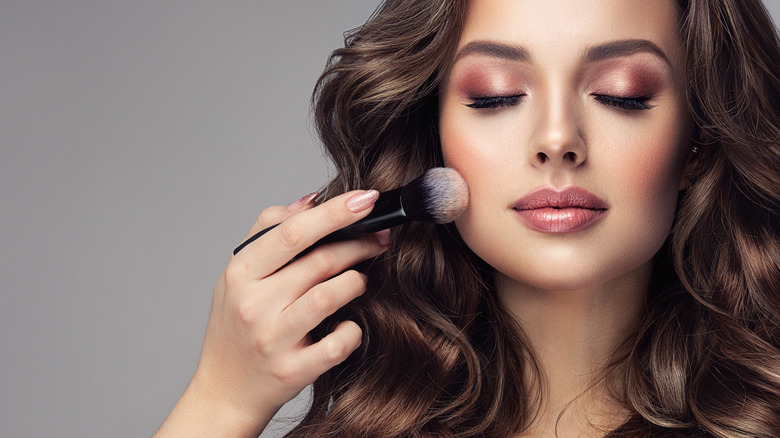 Sofia Zhuravetc/Shutterstock
If there is one thing that all beauty lovers know is that makeup doesn't always translate well from real life to photographs. Light conditions can really alter the way your makeup is perceived, especially its colors of it, so make sure to take those into account too. Here is some expert-vetted advice on how to make sure your makeup looks flawless on camera, along with some highly-rated product recommendations to add to your shopping cart.
A perfect makeup look begins with well-prepared skin, which usually means deep cleansing and applying moisturizer. According to The University of Tennessee Medical Center, "moisturizing every day can reduce the chance of developing extreme dryness or oiliness." In turn, balanced skin can hold long-lasting makeup and make it look even without flaking. For an affordable option, consider the E.L.F. Holy Hydration! Face Cream Fragrance Free, as recommended by Allure in their 2022 best facial moisturizers roundup.
These are other products to include in your camera-ready makeup look. 
Choosing the right foundation is key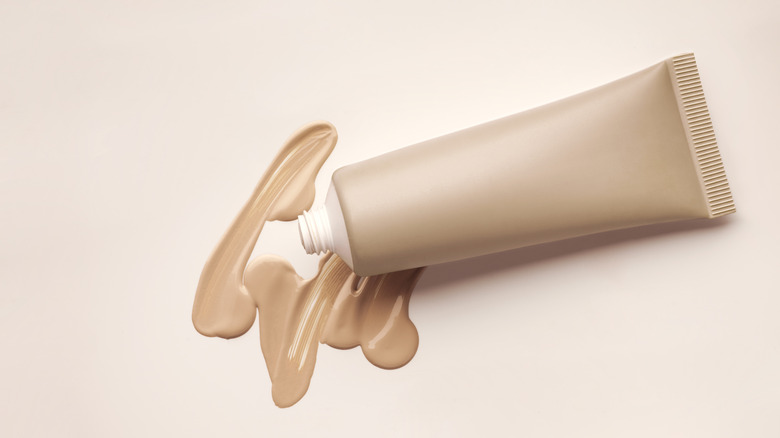 Tanyarow/Getty Images
After moisturizing your skin, you should go for a good primer that takes your skin to the next level, smoothing it out even more for the best camera-ready look. Byrdie's top 10 best primers of 2022 list features Milk Makeup Hydro Grip Primer as the winner because it has a "natural finish" and is "lightweight and hydrating."
Now, it's time for foundation. M3 Beauty recommends avoiding foundations with SPF because the "ingredients tend to look white-ish on camera." Some non-SPF foundation options with natural finish include Make Up For Ever HD Skin Foundation and NARS Light Reflecting Foundation, considered two of the best foundations in the market by Cosmopolitan.
To make sure your skin remains flawless, you should apply setting powder. Indeed, this is the perfect opportunity to use a setting powder with SPF since you didn't apply an SPF foundation. Seventeen recommends Physicians Formula Mineral Wear Talc-Free Mineral Airbrushing Pressed Powder SPF as one of the best powder sunscreens.
Make blush and bronzer your best allies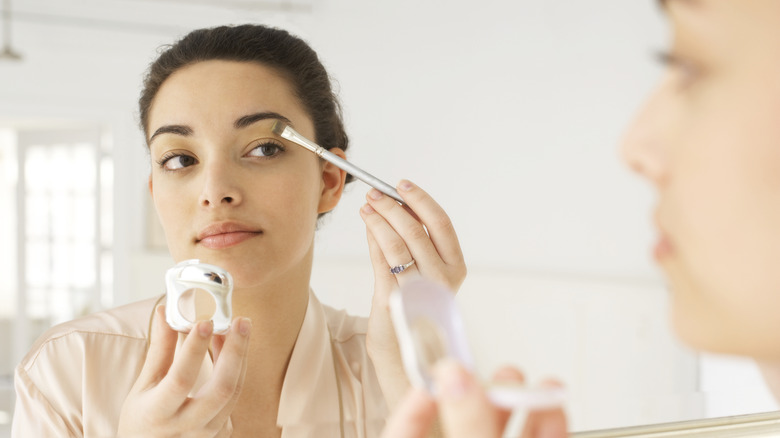 Christopher Robbins/Getty Images
Photographers often use flash to illuminate their subjects. While extra light is welcomed in photography, harsh flashes can make faces look one-dimensional, especially if the makeup isn't optimized for the camera. Therefore, the right shade of blush and bronzer will be your best allies to make sure your face looks multi-dimensional. 
You might want to add a bit more pigment than you would usually do for everyday makeup but make sure to blend well because the camera will catch everything. Nars Liquid Blush and Wet n Wild Color Icon Blush are among CNN's favorite powder blushes and come in a wide variety of shades. As for bronzers, Glamour recommends Benefit Cosmetics Hoola thanks to its beautiful matte finish.
Finish off by applying a setting spray as it will help your makeup last longer while still looking fresh. Consider using the Rare Beauty Always An Optimist 4-in-1 Prime & Set Mist, named the best setting spray of 2022 by People. 
If you're afraid any oiliness will show up on camera, you might want to carry some face oil absorbent pads to tap right before the shoot. And that's all, you're camera-ready now!