The Most Important Place To Use Blush That You're Probably Missing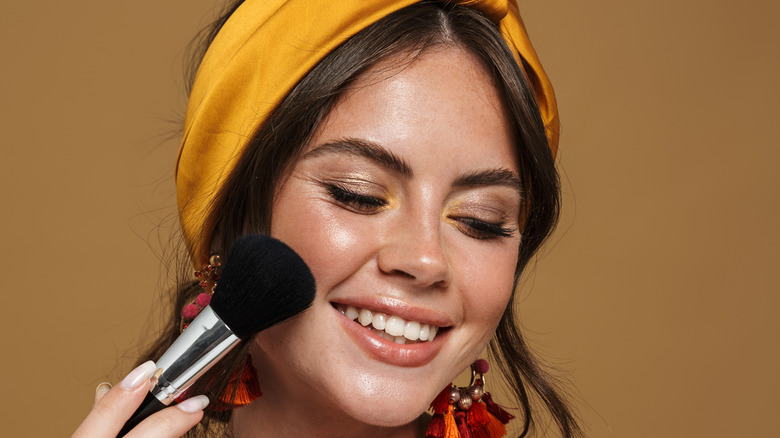 Dean Drobot/Shutterstock
Once a product in our makeup routines that was seen as a "love it or leave it" item, blush has exploded in popularity lately. Liquid blushers like Rare Beauty's Soft Pinch Liquid Blush and Glossier's Cloud Paint have paved the way for this beauty product to be used in ways other than its primary function. Without knowing it, you could be making a few blush mistakes, one of which is only using the color on your cheeks.  
As the high pigment of liquid blush tends to last longer than its powdered counterpart, many of us are often left wondering how to use up the tube before it expires. Brydie states that most people use blush to achieve a fresh glow. The aim is to look natural, though blush can be built up for a more obvious style, too. Blush can also bring an energizing glow to your face and prevent any dullness. It will give you that gorgeous sun-kissed rosy glow without accidentally getting a sunburn on your face. 
You may know how to apply blush for your face shape, but did you know that you're probably missing one important place where you should be applying this product?
The pigment in blush makes it a useful product for many areas of the face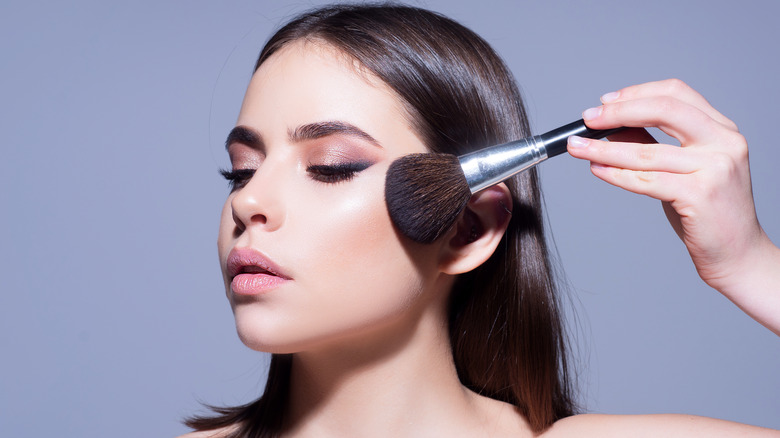 Volodymyr TVERDOKHLIB/Shutterstock
According to L'Oreal Paris, blush isn't just for bringing color to our cheeks, but is instead a super versatile makeup product. Firstly, you can use your blush as eyeshadow. The high-scale pigment in blush makes it the perfect product to add a bright wash of color to your lids. If you want a slightly less pigmented finish, use a brush to blend out the color. Otherwise, use your fingers for an eye look that will pop beautifully.
Using blush as eyeshadow isn't a new thing — back in 2014, celebrity makeup artist Beau Nelson spoke to Glamour about how he used blush to create a beautiful eye look for Kat Dennings. He revealed that he was inspired by the soft shades of classical paintings and the "beautiful skin colors" of Dennings' face. If you want a bolder eye look, shimmer blushes will make your eyelids sparkle — day or night — and give you some extra glow.
The many warm shades of blush can help you create versatile looks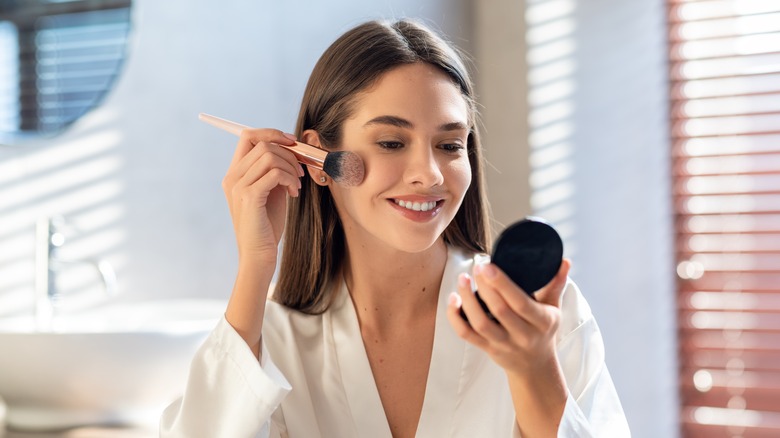 Prostock-studio/Shutterstock
If using blush on your eyelids doesn't sound like the thing for you, Cosmopolitan suggests turning your blush into a lip tint instead. It may sound a little odd, but the pink and peach shades of most blushers actually make for a stunning and unique lip shade. Simply scoop out a little bit of the blush pigment and mix with a tiny bit of eye cream. This will create a paste-like substance you can then easily apply to your lips. 
For a glossy, nightclub-ready look, follow the same steps as above but swap out the eye cream for a clear lip gloss. To prevent persistent sticky gloss residue on your fingers, apply with a cotton bud or slim makeup brush. Another popular alternative use for blush is to apply it as contour. Speaking to Allure, several makeup artists shared the lifting effect of blush, stating that peachy shades are the best blushers to achieve a subtle, sun-kissed look even if you've been sitting in your house for a week.
Don't throw away that blush palette you bought impulsively at Sephora! Use it to create stunning eye, lip, and contour looks instead of letting the added product go to waste.