Red Carpet Looks That Missed The Mark At The 2022 AMAs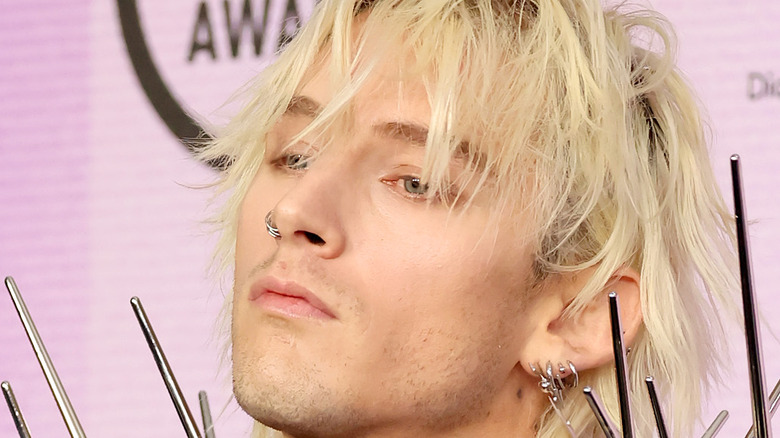 Amy Sussman/Getty Images
We can't all be winners –- not at the AMAs or on the AMAs red carpet. Just as we loved some of the looks at the 2022 American Music Awards, there were a few outfits that we weren't so crazy about. From the way too wacky to the seriously strange, plenty of stars whose music we love gave us outfits that we don't feel quite so impressed by.
Bebe Rexha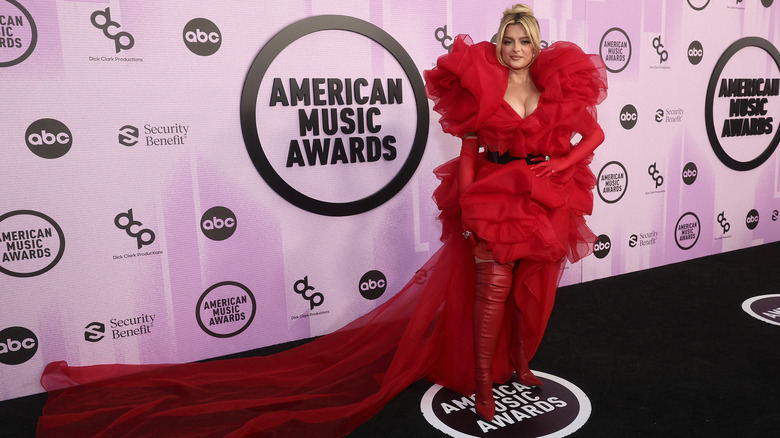 Emma Mcintyre/Getty Images
Bebe Rexha went for a red showstopper on the red carpet. The way it stopped the show, however, wasn't a good thing. It's a widely understood truth that accessories can make or break an outfit, and this is true even when the outfit is a totally out-there ball gown. We actually believe that this dress could have worked as a major statement if it wasn't for the belt, the gloves, and those exceedingly superhero-esque over-the-knee boots. The whole look, though, is heavy and over-the-top, and it overwhelms her cute hair and makeup that would have shined without the long train and accessories.
Machine Gun Kelly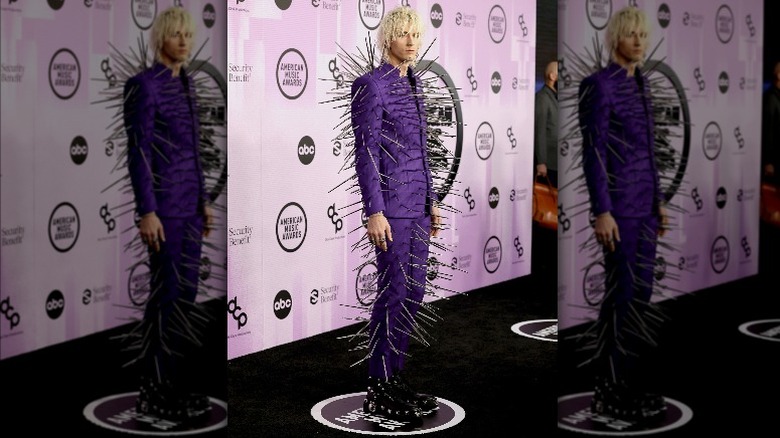 Frazer Harrison/Getty Images
Everyone had something to say about this look, and it's certainly attention-grabbing . . . or should we say attention-stabbing. There's something pretty threatening about MGK's look here, and if you can ignore the spikes — which, to be fair, are very hard to ignore — he's wearing a purple suit that has big Willy Wonka energy. Whether you like Machine Gun Kelly and this particular look or not, it's safe to say that we all hope he doesn't trip and fall in that suit, because that would be pretty painful.
Kim Petras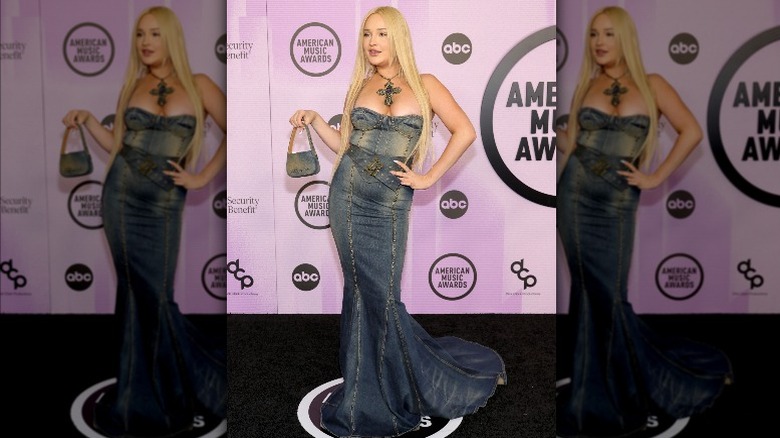 Amy Sussman/Getty Images
We love Kim Petras, but we do not love this look. To be fair, we think this get-up is a reference to that classic Britney Spears and Justin Timberlake Canadian tuxedo red carpet moment. Despite any level of camp or irony, though, we think this full denim dress and the huge cross and tiny bag all need to go back to the early aughts.
Dencia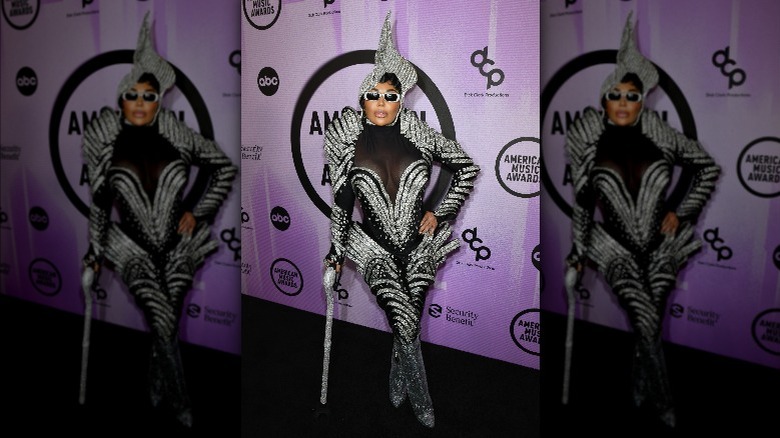 Jerod Harris/Getty Images
We love a fashion risk on the red carpet, but not every risk pays off. With talent and beauty like that, Dencia stuns no matter what she's wearing. In our opinion, though, this chainmail Hershey's kiss look is definitely not the way to do it. A daring, whimsical 'fit on the AMAs red carpet is a great idea, but not when it totally overpowers the stunning starlet who's sporting it.
Nessa Barrett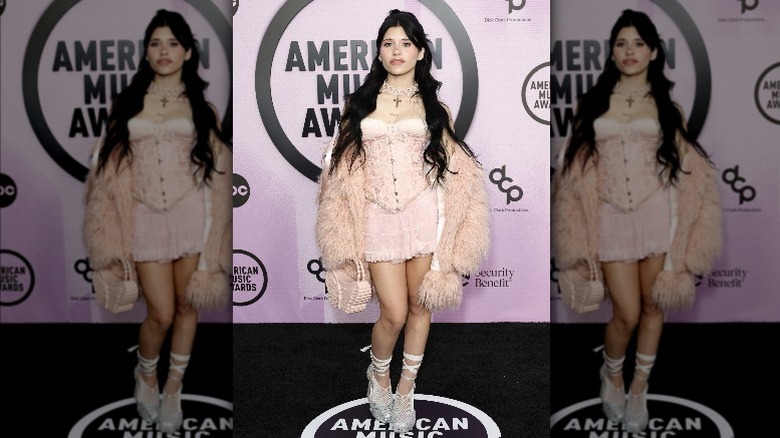 Frazer Harrison/Getty Images
Nessa Barrett must have used a ballerina doll as her outfit inspo for this red carpet. While we don't totally hate this idea, we don't love the way she did it. The look has way too many details, washes her out, and doesn't make an interesting statement.
Pink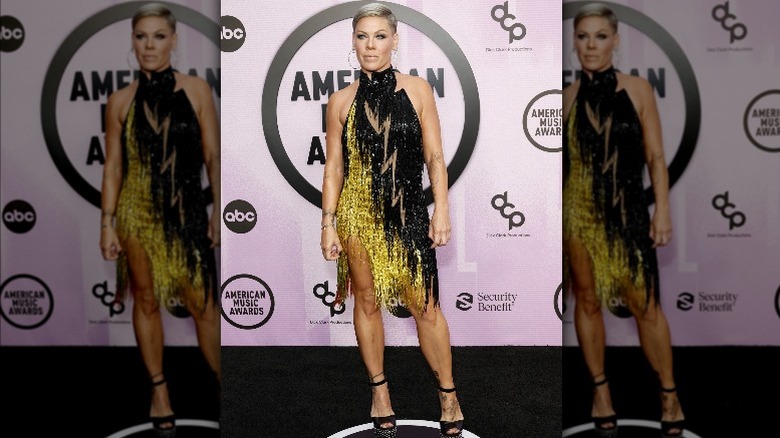 Frazer Harrison/Getty Images
Who doesn't want to hang out with Pink? No one. Who wouldn't want to hear that tribute she sang for Olivia Newton-John over and over again? No one. Who would want to replicate this look? Well . . . let's just say –- not us. The silhouette, colors, and overall vibe of this outfit are all way off. Of course, her hair and makeup look as stunning as her voice sounds, but this dress was definitely not it.