How Ida B. Wells Was Essentially Erased From History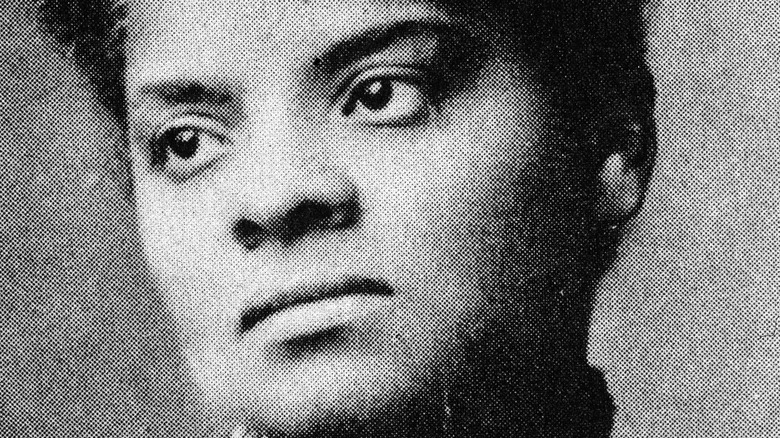 R. Gates/Getty Images
Surface-level research into Ida B. Wells would tell you she was an investigative journalist and educator. You may have to dig deeper, however, in order to find mentions of her being a leading voice in the women's suffrage movement and against racial injustice of the 19th century (via Twin Cities PBS). She was also a strong and radical force when it came to reporting on lynchings, which launched her as a pioneering journalist in her time, according to History. 
Wells was born into slavery on July 16, 1862, in Holy Springs, Mississippi, per TED-Ed. She and her family were freed by the Emancipation Proclamation in 1863, but her childhood was still challenging, to say the least. When she was 16, Wells lost her parents and a brother to yellow fever, leading her to take on the role of guardian to her remaining five siblings. 
Wells had a passion for education, perhaps fuelled by her own father being a founder of Shaw University, per All That's Interesting. She found teaching jobs to support her siblings, and even though she faced obstacles while pursuing her own education, she made every effort to do so. Much like Edmonia Lewis, who was essentially erased from history, there are many ways in which this influential woman's great efforts toward women's suffrage and racial injustice remain largely untold. 
Some activists sidelined Ida B. Wells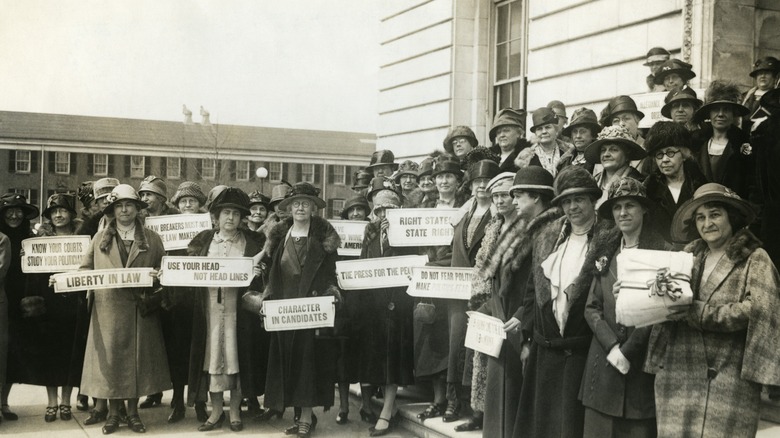 Everett Collection/Shutterstock
Author and sociology professor Eve Ewing, who was part of a Chicago Humanities Festival panel discussing Ida B. Wells' legacy in 2018, shared that one reason Wells' efforts were erased from history was that she was a Black woman who was championing the cause of women's suffrage, per South Side Weekly. Wells ended up butting heads with white heads of the movement (via TED-Ed). According to Ewing, activists Susan B. Anthony and W.E.B. DuBois tried to sideline Wells.  
A Chicago Oak Woods Cemetery grave marker is one of the rare monuments left among the many memorials dedicated to white male leaders that honor the memory of this brave advocate for equality, who died in 1931 (via Chicago Tribune). 
One of the most notable events in Wells' life happened when she wrote an editorial in response to the white mob that lynched her friend Thomas Moss and his business associates for the newspaper she co-owned, per History. The headquarters for the newspaper, The Free Speech and Headlight, located in Memphis, Tennessee, was burned down on May 27, 1892, as retaliation for the piece. Wells also received numerous death threats, according to Equal Justice Initiative. Wells traveled a lot after that within the U.S. and Europe, bringing awareness to lynchings. She eventually settled in Chicago, where she met and married a fellow supporter of the women's suffrage movement, Ferdinand Barnett. 
There's been a resurgence of interest in Ida B. Wells in recent years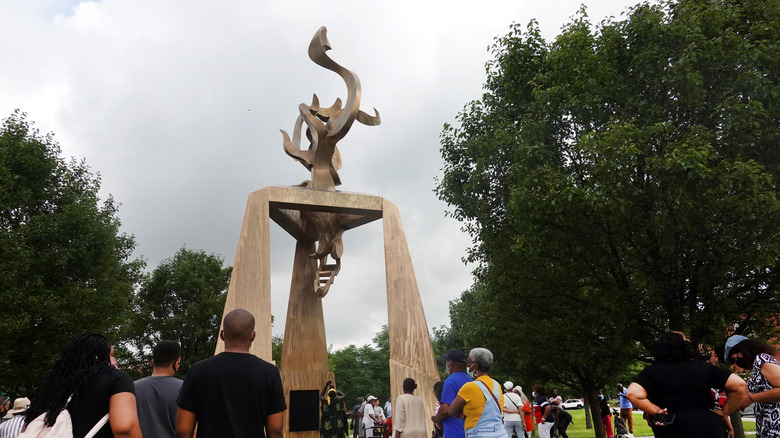 Scott Olson/Getty Images
Despite a lack of widespread recognition for her many forms of activism, Ida B. Wells' descendants have collectively made sure her name will not be forgotten, according to WTTW.
There may have been a paltry number of memorials to her name in the years after her demise, but there has been a more keen interest in the life of Ida B. Wells in recent years, according to The Guardian. An artistic sculpture, officially termed The Light of Truth Ida B. Wells National Monument, was unveiled in Chicago in 2021, per National Public Radio. Wells' great-granddaughter, Michelle Duster, told National Public Radio that she hoped the sculpture would become a "point of pride to Bronzeville." 
In a series titled "Overlooked," The New York Times published 15 stories of unsung female heroes as a way to correct their largely white male narratives since 1851. The collection included Wells' obituary, which they failed to publish when she died. The brave investigative journalist is also the first Black woman to have a road named in her honor in Chicago (via Essence). It might seem that these attempts are being made a little too late in time, as with Zelda Fitzgerald, who was also essentially erased from history, but they're welcome recollections of a life fiercely and boldly lived.