The Beauty Trend Kesha Was Doing Well Before Euphoria Repopularized It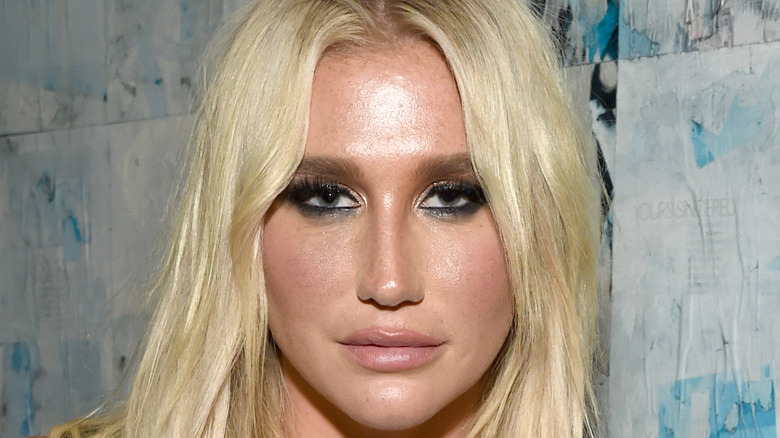 Michael Kovac/Getty Images
Team Cassie or Team Maddy has been a popular debate since the former bestie's massive fight in Season 2 of HBO's "Euphoria," and that's probably because the show has such a powerful hold on people (via Highsnobiety). While the show's drama kept the audience eagerly waiting for every new episode, we can't deny its influence on beauty and makeup trends and its overall impact on popular culture. #euphoriamakeup has 2.2 billion views on TikTok.
Every character on this critically acclaimed show has their own style, whether it be mountains of glitter, drool-worthy rhinestones, or bold neon eyeliners to let their eyes do the talking. It's impossible not to notice Alexa Demie's character Maddy's eyes because she takes the classic cat-eye to a new level in unexpected colors like the purple-orange combination and strategic placement of rhinestones on her eyebrows, as Insider noted.
The show's makeup artist Donni Davy told Byrdie, "Conceptually, Euphoria makeup is self-celebratory and self-expressive, evocative of any emotion—not just the positive ones. It's makeup that makes you feel like you're wearing armor or are a superhero version of yourself." Davy added that it's not the first time makeup like this has been done, but the show certainly motivated people to go a little extra with rhinestones, glitter, and neons. Though Gen Z might be a little young to know, there's a particular beauty trend that "Your Love Is My Drug" singer Kesha was rocking way before "Euphoria" even existed. 
Kesha was the poster child for graphic eyeliner in the late 2000s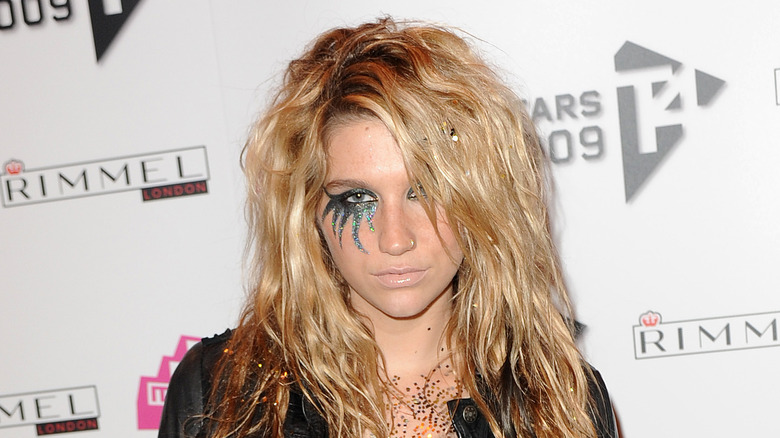 Samir Hussein/Getty Images
Season 2 of "Euphoria" gave us more makeup inspiration and the looks got edgier and bolder with exaggerated lines and colors; the show never disappoints by giving us enough glam while serving us enough teenage drama. Speaking of graphic eyeliner, we often saw Maddy rocking all-out graphic eyeliner, whether it was a reverse cat eye or sharp double wing, per Seventeen.
If you thought "Euphoria" was the modern-day inspiration for over-the-top graphic eyeliner with glitter and colors, Kesha had been rocking the look since the late 2000s. In 2009, Kesha attended an event with her signature graphic eyeliner in blue-black with glitter tears under one eye (via Seventeen). Could this be the inspiration behind Rue's glitter tears? A year later, in 2010, she attended the MTV Movie Awards with an exaggerated cat eye in black eyeliner with an extra wing on one side. Another striking look came in 2011 when Kesha used black eyeliner to accentuate the inner corner of her eyes and draw larger-than-life wings with gold glitter makeup.
It seems the "Blah Blah Blah" singer was the pioneer who challenged makeup norms and redefined the beauty trends that we see Maddy, Jules, and Rue wearing on the show. Kesha was way ahead of her time and loved to shock the world with her never-before-seen makeup that people are copying all over TikTok, which was also the name of her first hit single, as Biography reported.
Graphic eyeliner is timeless and edgy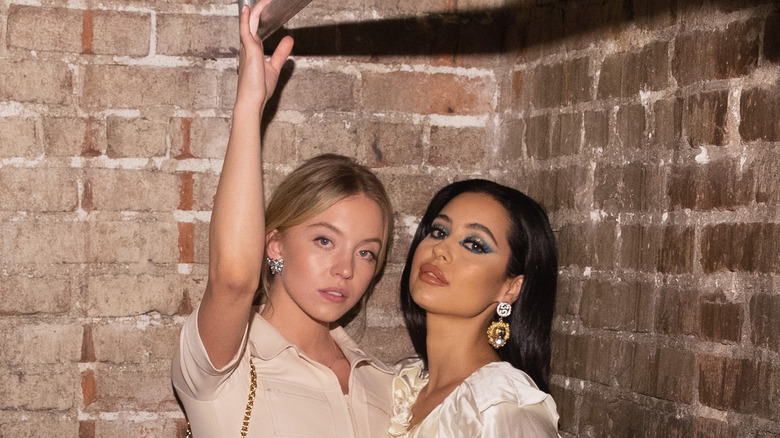 Mat Hayward/Getty Images
Graphic eyeliner has been popular way before "Euphoria," but now it's one of the biggest beauty trends of the year, with over 298 million hashtag views on TikTok.
"Euphoria has inspired a lot of makeup trends recently with its use of color, glitter, and graphic eye shapes, but the beauty TikTok community has also made graphic eyeliner a big trend, allowing people to have fun with eyeliner," global makeup artist for Urban Decay Cosmetics, Steve Kassajikian, told Glamour. Even in the 1960s, supermodel Twiggy used the power of eye makeup by drawing lines over her eyes to express herself, making it her signature look.
Graphic eyeliner is versatile because you can use various geometric shapes in bright colors to make your eyes the focal point, and you can go as subtle or as dramatic as your heart desires. You need a long-lasting product to draw the smoothest lines for an edgy effect. "The most important thing is pigment and that [the eyeliner] easily glides onto the skin," makeup artist Delina Meldin explained to Allure. It's up to you whether you want to use a liquid liner, pencil, or gel to pull off the graphic eyeliner look.
While "Euphoria" might be the modern-day inspiration for graphic eyeliner, we can't forget Kesha, who was rocking those eye-catching looks using all the sparking rhinestones and glitter in the brightest colors when no one else was. Now, it's a favorite of celebs too.