The Hilarious Way Tyler Hynes Cleanses His Palate After Working On Christmas Movies - Exclusive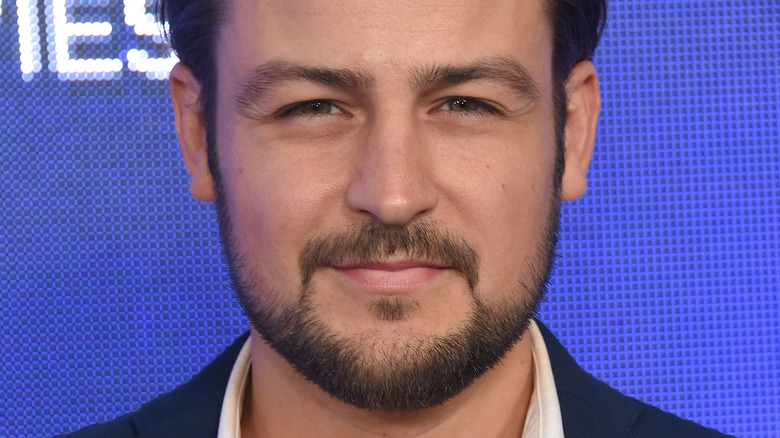 DFree/Shutterstock
Tyler Hynes is holly and jolly most of the year — even when it's not Christmas. The actor has done a plethora of Hallmark Christmas movies, so it's only natural that the actor would need a bit of a palate cleanser between projects. Even Santa needs a break from his sleigh every now and then. 
Most recently, Hynes starred in the Hallmark movie "Three Wise Men and a Baby" as Tyler alongside Andrew Walker (Luke) and Paul Campbell (Stephan). The actors comprise a hilarious trio of brothers in the movie topped off with a baby and more than a few hijinks along the way. So, how exactly does Hynes decompress after a round of new Christmas movie shenanigans? 
The List spoke to Walker, Campbell, and Hynes for an exclusive interview, where Hynes joked about his method of cleansing his palate after a heavy bout of Christmas love. Campbell and Walker also discussed how the movie differs from typical Christmas movies and why comedy fans will enjoy it even if Christmas films aren't their jam.
Going back to evil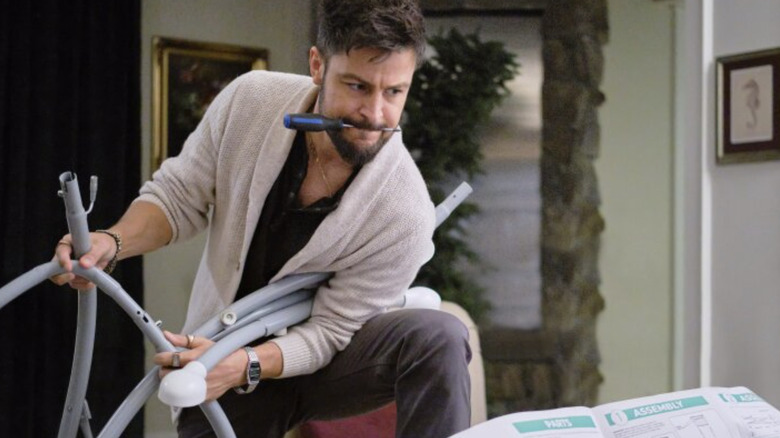 Hallmark
Campbell shared his proclivity toward wholesome content, explaining to The List, "We're all familiar with wholesome content. 'Turner & Hooch' is a story about family struggle and there are dogs, so I guess I see some similarities, but aside from that, this is its own thing unto itself." He added, "I personally gravitate towards these types of movies, towards shows like 'Turner & Hooch.' I have a 6-year-old son. I want to be able to show him what his dad does for work and not feel [bad] about it."
Campbell is all about the holiday love, noting, "I love the types of movies that we make. I love what Hallmark does. I love the feeling that it brings people and the feeling that it brings me making them. That's why I do what I do."
Hynes has a different niche, interjecting with, "I watch serial killer documentaries." Meanwhile, Campbell joked, "You are what you eat."
Hynes responded, "You are. You know what I do when I finish these movies? There's a song that I play every time I wrap a movie on the way home, and the lyrics [go] something like this —" Campbell interjected by jokingly singing "Baby Shark," and Hynes responded with, "Close. The lyrics are, 'I'm going back to evil now.'" And, well, if that isn't just a whole mood. Campbell remarked that Hynes' choice of songs was interesting, while Hynes added, "Says it on repeat."
Real bromance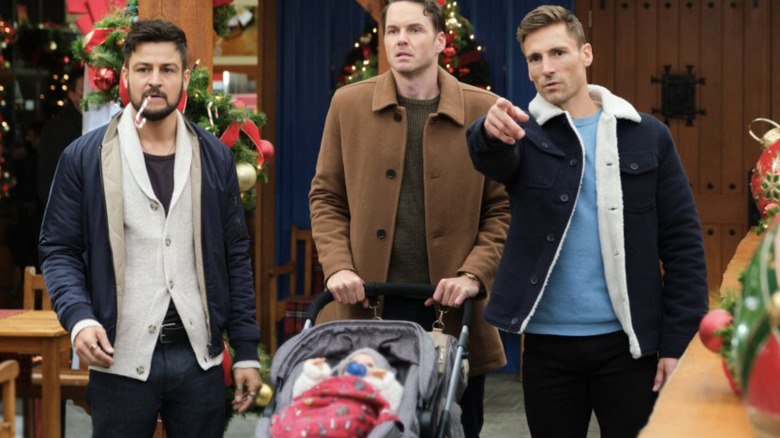 Hallmark
And while the actors joked about how they "exorcize" after finishing a heart-warming film, Campbell explained how the movie strays from the Christmas movies we've come to expect, noting, "This is where we differ from a traditional rom-com. It's a love story with three brothers rediscovering each other, and there's a beautiful harmony that we find at the end."
Walker added, "There's [a] big contrast with the brothers' relationship too. There was one scene that I flew off the handle more than I ever have in any Hallmark movie. [...] We were given the ability to go in all different [directions] with this, as a family dynamic who are still working through trauma from a young age, and it's all come to a head. You're finding us in this moment in time that's initiated by the baby coming into our life."
Rather than a romantic plot, Campbell explained it like this: "It's a rom-com about a family falling back into love. And we have an adorable baby. So if you're a fan of babies, you're going to like this movie."
Fans can watch "Three Wise Men and a Baby" on Wednesday, November 23, at 8/7c on Hallmark.