Julie And Todd Chrisley Are Sentenced For Tax Fraud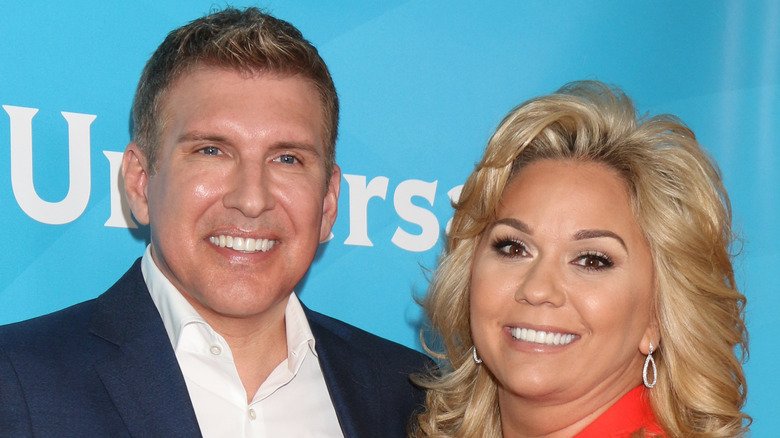 Kathy Hutchins/Shutterstock
When "Chrisley Knows Best" first aired in 2014, fans tuned in by the millions to watch the guilty-pleasure show. It followed the lives and squabbles of Todd and Julie Chrisley, an ostentatiously rich Southern couple, and their five children. Over the years, their first-world issues included Todd and Julie's attempts to hire a nanny, daughter Savannah's quest to win the Miss Teen USA beauty pageant, and Todd's mother, Faye, spending too much on a diamond ring (via IMDb).
But behind the scenes, there were many tragic things you never knew about the Chrisley family. Though Todd bragged about his family spending six figures a year on just clothing, his income didn't quite match up with his lifestyle. In 2012, the Chrisleys filed for bankruptcy, claiming that their assets weren't enough to cover their nearly $50 million in debt (via People). Then in 2019, the reality couple faced even worse trouble when a federal grand jury indicted Todd and Julie on numerous counts of bank and other frauds, per the U.S. Department of Justice. They were accused of falsifying information when applying for millions of dollars in loans, which they then used to finance their indulgent purchases. Julie and Todd were also charged with evading taxes on their earnings.
Although the Chrisleys denied any wrongdoing — even claiming that a former employee had actually committed the bank fraud in Todd's name — the judge wasn't convinced. They were found guilty of the charges in June 2022, and now they know their fate.
The Chrisleys are trading their designer duds for prison gear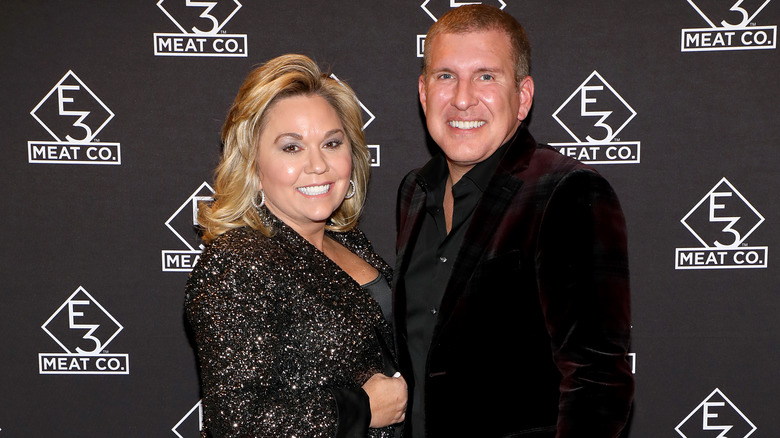 Danielle Del Valle/Getty Images
On November 21, 2022, a federal judge handed down a stern sentence for the Chrisleys on their tax evasion and fraud charges. According to People and other sources, Todd Chrisley was given 12 years in prison with 16 months probation to follow, while Julie Chrisley received 7 years in prison plus 16 months probation. Their lawyer, who was also convicted on charges of aiding in their fraud, will serve 36 months in jail. Per Insider, they might actually have gotten a harsher sentence if not for their ages and the fact that they care for Todd's ailing mother, Faye.
During the sentencing hearing, the reality stars pleaded for leniency, arguing that their two youngest children, Grayson and Chloe, needed their mother. But the judge pointed out that as sad as the situation was, it didn't excuse their actions. "I have no reason to doubt that both Chrisleys have good hearts," she said. "[But] I cannot ignore the greed and flamboyance in this case."
Amid their legal woes, Todd and Julie Chrisley have answered their fans' burning question about how they have managed to hold on: through faith. In September, Julie posted a quote on Instagram: "God is NOT through with you yet. God is ALWAYS the God of the comeback." Todd has posted a snarkier comment: "After gossiping about me, please pray for me. I want to be perfect just like you."