Where To Find A Dupe Of Kate Hudson's Dress From Bride Wars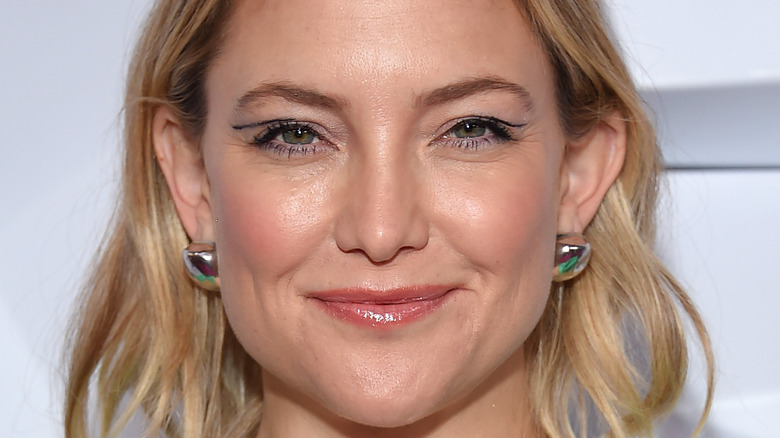 DFree/Shutterstock
We may receive a commission on purchases made from links.
Everyone knows that Kate Hudson is the queen of the romantic comedy genre. Between kissing Matthew McConaughey in "How to Lose a Guy in 10 Days" and portraying the superficial Darcy in "Something Borrowed," we can always count on Hudson to make us laugh while getting into various situations in these humorous yet romantic movies. And of course, we can't forget "Bride Wars," the hilarious romantic comedy where Hudson's character and Anne Hathaway's character went from besties to enemies because of their upcoming weddings, per IMDb.
We all remember the recurring issue in the film about how Hudson's character struggled to fit into her Vera Wang wedding gown due to her best frenemy's sabotage (via YouTube). But even more so, we remember how beautiful that dress was. From the chic strapless neckline to the poofy ball-gown style, this princess wedding gown likely became the dream wedding dress for many people after watching the movie, and it looked great on Hudson. And believe it or not, we know where you can find a dress just like the one you saw the actress wear in "Bride Wars."
TheCelebrityDresses has a dupe of Kate Hudson's dress from Bride Wars
Anyone who fell in love with Kate Hudson's wedding gown from "Bride Wars" is in luck; you can buy a dupe from TheCelebrityDresses. The Kate Hudson Wedding Dress Bridal Gown in Movie Bride Wars TCDO209 is available at TheCelebrityDresses for a surprisingly low price of around $270. And yes, this dupe looks just like the gown in the movie — it features that strapless sweetheart neckline, the poofy A-line bottom, and even the purple sash belt. No, it's not a Vera Wang item like Hudson repeatedly talked about in the movie, but why pay designer prices when you can get a gown that looks so similar to the one you saw on your screen for a significantly lower price?
This gown is from 2015 and is made of organza and satin and has a backless design, per TheCelebrityDresses. While you can certainly order the dress to look as close to what you saw in "Bride Wars" as possible — in white with a purple sash belt — you have some other options, too. For instance, you can opt to order the gown in burgundy or pink for a bolder look, and the sash belt comes in many colors, including black, dark green, and lavender. Ordering this dress can help you transform into the movie star's character from "Bride Wars." And why not try Hudson's beauty routine to look naturally flawless, too?
You can find another similar style on Amazon
If you'd prefer to purchase an even more affordable "Bride Wars" wedding gown look alike, you should check out the Likedpage Women's Ball Gown Bridal Wedding Dresses; the product is available for less than $110 on Amazon. This rayon gown features a sweetheart neckline similar to the dress in the movie, a poofy ball gown style like Kate Hudson wore, and a sexy lace-up detail at the back. Unlike the gown in the film, this dress has a lot of beading for a more glamorous touch, but what's wrong with some sparkly glamour? 
This wedding gown has 4.6 out of five stars on Amazon with more than 1,800 ratings, and 81% of reviewers gave it five stars at the time of writing. For instance, a happy reviewer wrote, "This dress was gorgeous and the fit was perfect. I felt like Cinderella. I purchased the ivory color and the corset portion was comfortable. Best purchase and price for my day on the beach." Meanwhile, another pleased customer described the item as "The perfect gown," writing, "This wedding gown was everything I hoped for! I couldn't believe I found it on Amazon at such a beautiful price."