Get The Look On A Budget: Hailey Bieber's Bold Puffer Jacket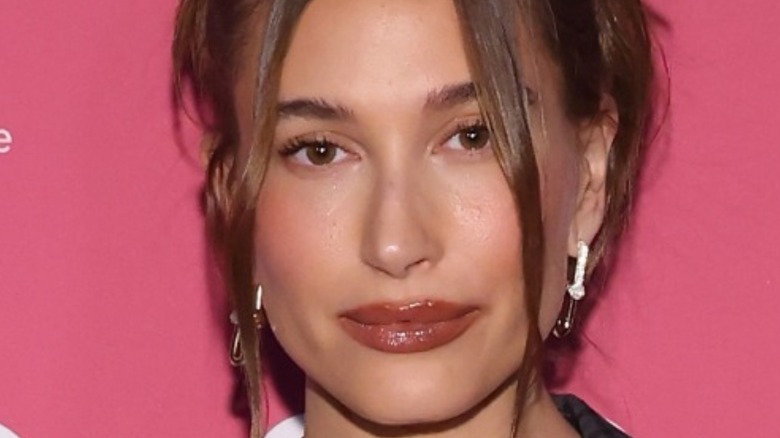 Taylor Hill/Getty Images
Puffer jackets are a seasonal favorite. Anybody who has ever put one on knows that wearing a puffer jacket is like wearing a marshmallow. They just make you happy! The best strike a balance between comfort and cute, and Hailey Bieber has the formula down.
Aside from her relationship with pop star Justin Bieber, the model is known for her massive campaigns with fashion brands such as Tommy Hilfiger and Ralph Lauren. Her sense of style has influenced many trends, including the perfect puffer jacket. A photo of herself on Instagram sporting a bright red puffer paired with a classic pair of jeans and what appears to be a matcha latte in the foreground garnered millions of likes and sparked a wave of adoring fans wanting to mimic the look.
While Bieber's puffer is vintage Chanel, per The Zoe Report, the good news is that fun, affordable puffer jackets aren't too hard to find. Taking Bieber's look as inspiration, here are a few puffers sure to give your outfit that daring splash of style. 
Hailey Bieber's puffer jacket look is timeless and affordable
Should you be searching for that perfect pop of color in your puffer like Hailey Bieber, look no further than this cropped red puffer from H&M. This eye-catching jacket might be the closest version to Bieber's out there; it features an elastic waistband, stand-up collar, and has front pockets to keep your mitts warm on a cold day–all for $34.99. The jacket also comes in classic black.
For another option bursting with color, Zara sells a darling fuschia puffer jacket, complete with a high-collar, hood, and zip-up front pockets like Bieber's jacket. As a bonus, the jacket boasts 100% recycled polyester padding, making this a more sustainable option — sustainably-minded fashion is the way forward, and it's easier to buy ethically-made clothes without breaking the bank than you might think. All things considered, this puffer is an affordable splurge at just $69.90.
Puffer jackets are perfect for layering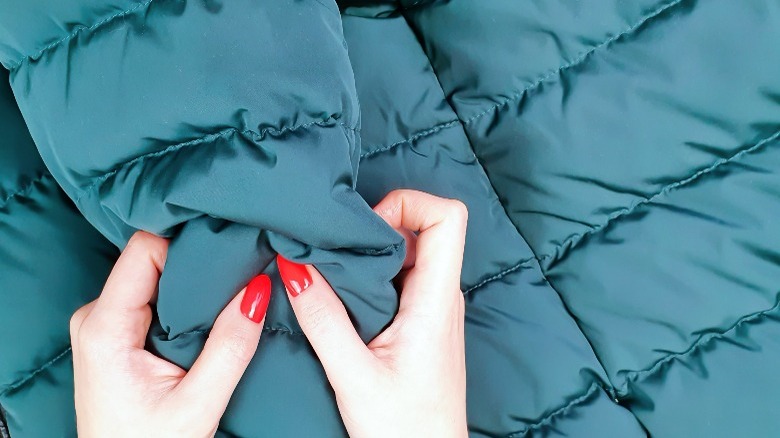 vittoria_vittoria/Shutterstock
Target also sells a puffer jacket that comes in five different colorways, including a beautiful berry red lined with pink trim, for $28. While this jacket is slightly more quilted than a true puffer, it would be perfect for layering either over a sweater like Hailey Bieber did in her viral IG pic, or for a peek of color under a larger winter coat. It features a stand-up collar, a full-length zip-up, and, one of the best parts: its insulation is made from 100% recycled polyester.
For a more matte look, Pretty Little Thing offers another cropped puffer made with "peach skin material," for $55. This version features an elastic waistband and wristbands, a stand-up collar, and pockets that snap in the front. Smart and chic, this jacket was made to stand out, even in three neutral colorways.
No matter which puffer you go with, you really can't go wrong; every puffer is padded with cuteness.