How To Recreate Vanessa Hudgens' Cat Eye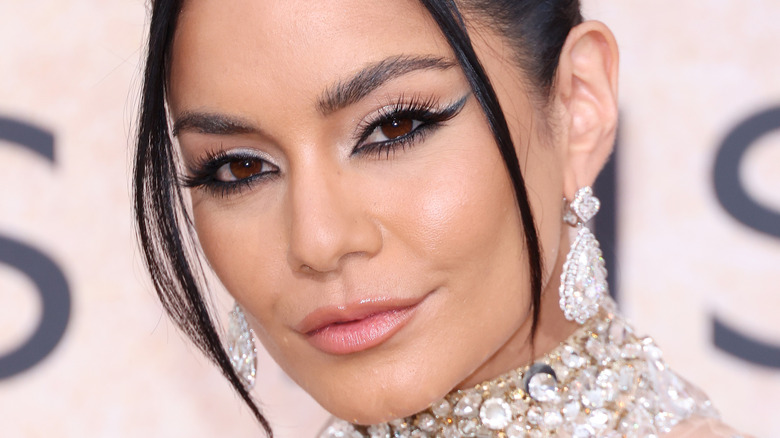 Daniele Venturelli/Getty Images
Vanessa Hudgens appreciates a good cat eye — she even said it herself on Instagram in 2021. But her adoration for winged liner goes much further back than that, as seen in further posts from 2018 and 2019 when she was rocking the makeup look with captions that read, respectively, "That cat eye tho" and "Oof this cat eye." It's safe to say Hudgens hasn't shied away from sporting a feline-inspired beauty look. And, at the 2022 amfAR Gala, "The Princess Switch" star walked the red carpet with, you guessed it, a sultry cat eye. 
However, the specific style is what makeup artists refer to as a "reverse cat eye," which has gone viral on TikTok because of its unique twist on a beauty classic. The reverse cat eye wings out at both corners of the eye, creating an elongated and ultra-sexy effect (via Glamour). However, the product is heavily applied and smoked out on the bottom instead of the top lid, hence the term "reverse cat eye."
Hudgens definitely slayed this look, which was crafted by celebrity makeup artist Tonya Brewer using 100% Pat McGrath makeup, at the amfAR Gala (via the Daily Mail). Brewer explained the focus was on "seductive black-rimmed eyes and divine luminous skin." And even though some may struggle with getting their winged liner to look perfect, recreating Hudgens' reverse cat eye look is surprisingly easy. 
Focus on the bottom lash line and smoke it out
Courtesy of TikTok beauty creator Victoria Lyn (aka @victorialyn), who recreated this look in a video and shared it with her 5.3 million followers and counting, we have a step-by-step guide to achieving Vanessa Hudgens' supremely beautiful reverse cat eye. As Lyn admitted, after applying a subtle white shimmery shadow to the eyelid, "A reverse cat eye does something for me." 
From there, she grabs a dark pencil liner and runs it along her bottom lash line, pulling it out slightly on the outer corner to give a winged look. "It's smokey, so you want to smudge it," Lyn advises, as she runs a small amount of liner on the outer corner of the upper lash line as well. Be careful not to overdo the liner on the top lid, though, as the focal point of Hudgens' look is the smokey bottom lash line.
Taking that pencil liner, run a bit of product on the inner corner, making sure you smudge and smoke it out with your finger or a small blending brush. To help blend the liner and take that smokey look one step further, reach for a small, precise blending brush and apply black eyeshadow on top (via Ipsy). Hudgens' cat eye is topped off with a glamorous set of false eyelashes, so feel free to either pop some on or use tons of mascara.
Mistakes to avoid while creating the perfect cat eye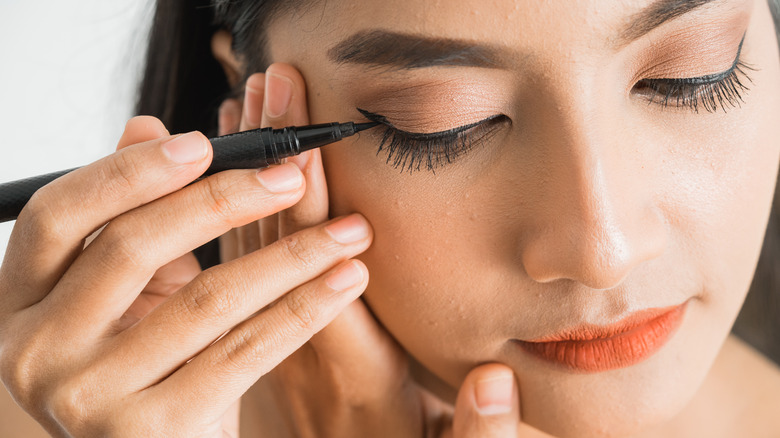 Odua Images/Shutterstock
A cat eye is a gorgeous and popular makeup look, but successfully achieving it on the first try is an impressive skill worthy enough to be added to a résumé. Whether you want to achieve a simple cat eye or the smoldering reverse cat eye is calling your name, there are mistakes you may not know you're making that are stopping you from achieving the vixen-eyed look you desire.
One of the biggest mistakes people make when painting on a cat eye, according to Glamour, is attempting to apply the entire wing with only one swipe of liner. Sure, it looks mesmerizing when beauty influencers do it perfectly in one, but you should take your time and use multiple small strokes if necessary. Remember, you can always add more product, but if you go in too heavy-handed with one giant stroke, it's hard to dial it back.
Likewise, "you need an eyeliner that works for you — not against you," warns beauty brand Flekk Cosmetics on their blog. To find the best eyeliner for creating the perfect cat eye, try experimenting with several different brands. While liquid eyeliners are a go-to for winged looks, they can get messy and frustrating during the application process. Try a gel formula or felt-tip liner if you're struggling. Plus, smoking out a cat eye is a surefire way of achieving that sultry feline look, especially if you feel like you've messed it up.