Here's Why You Should Try A Reverse Cat Eye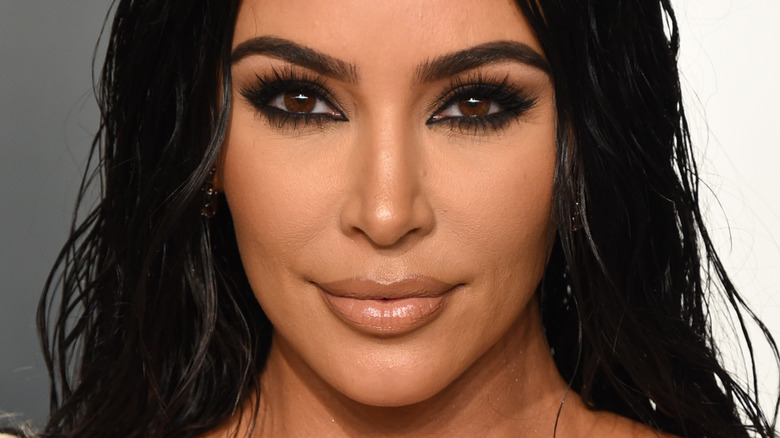 John Shearer/Getty Images
Due to the Delta variant, several places are seeing a return of mask mandates. And with masks coming back, it's all about the eyes when it comes to the latest makeup trends. One trend that is taking over TikTok is the reverse cat eye, per Seventeen. The Cleopatra-inspired look is a sultry take on the flattering, traditional cat-eye and was popularized by LA makeup artist Spencer. Celebrities like Rihanna and Kim Kardashian have also previously rocked the trend. 
What makes it "reverse" is the fact that the cat eye is applied on the bottom lashline instead of the top lashline. The key to the look is to make it appear soft and smoky, rather than intense, by using a kohl pencil instead of a liquid or gel eyeliner that you would use for a traditional cat-eye. The end result is a look that lifts and elongates the eyes, per Look Fantastic. And because the look is on the lower lashline, this is a technique that is universally flattering on all eye shapes.
Do reverse cat eyes work in real life?
While reverse cat eyes can look cool in "reel life" on Instagram Reels and YouTube shorts, the real question is whether you can pull off this look in real life for your next brunch date with the girls. According to Refinery29, it isn't an easy look to replicate in the first place. Additionally, because the look depends on a kohl pencil, reverse cat-eyes are not particularly long-wearing.
However, Refinery29 still recommends trying the trend out for a quick outing like brunch or dinner/drinks, rather than relying on the look to last through long and/or important events like a festival or a gala. It's guaranteed to get plenty of compliments from your girlfriends the next time you go out for bottomless mimosas. 
To replicate the look, start out by using a creamy pencil eyeliner like Marc Jacobs Highliner Gel Eye Crayon in Blacquer and line your lower lid with it. Use an angled eyeliner brush to smoke out the end of the line into a soft cat-eye. Use a liquid eyeliner to add a mini flick to the inner corner of the eye, and finish the look by tightlining the upper lashline with a thin line of eyeliner. If you tend to get oily undereyes, then setting the liner with black eyeshadow will help prevent any smudging. Apply false lashes or mascara, and you're all set with a glam look that is 'gram-worthy.