Try One Of These Fun Alternatives To A Pricy Christmas Tree Skirt In 2022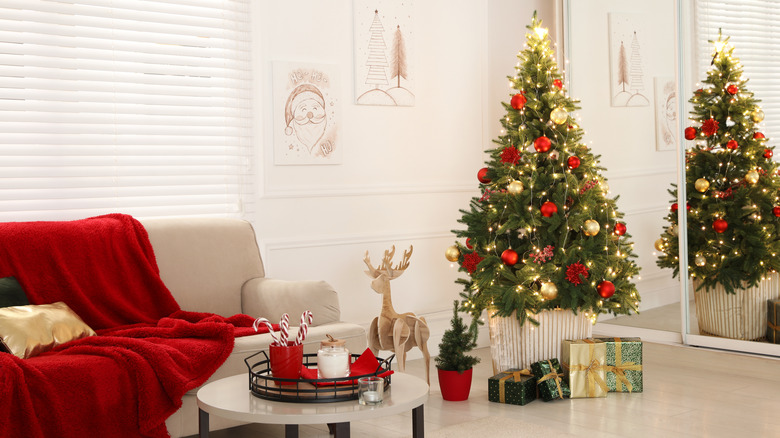 New Africa/Shutterstock
For most of us, it's about time to decorate for the holidays, and plenty of folks have a Christmas tree as a centerpiece of their holiday decor. If you're putting up a Christmas tree this year, you're probably planning on using a tree skirt. It may surprise you that people have been using tree skirts to cover up Christmas tree bases since 1879 (via Family Handyman). Consequently, it's really no wonder that many of us are looking for an updated answer to an age-old question: how can we cover up our ugly Christmas tree base?
Whether concealing the metal base of your artificial tree or hiding your fresh tree's water source, tree skirts are a type of holiday decoration with a very specific purpose. Still, whether it's because of price or style, many people want an alternative to the traditional tree skirts you might have had while growing up. There are actually quite a few cool and unique solutions to the tree skirt conundrum, and you just may want to decorate your Christmas tree with one of them this holiday season.
Inexpensive alternatives to a tree skirt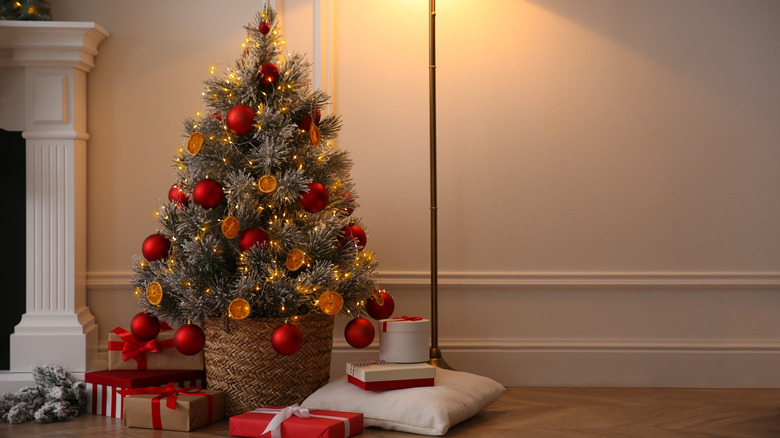 New Africa/Shutterstock
Tree skirts can be expensive, and no one needs another reason to spend money during the holiday season. Since tree skirts are around pots of water, live trees, and lots of Christmas festivities, opting for a lower quality option means that it's likely to get ruined easily and require replacement after a few holiday seasons. Consequently, the holiday decor innovators of the world have created some less expensive options that probably look way better than your old tree skirt.
A simple gift basket is one of the easiest, least pricey ways to conceal your tree's base in style (via HGTV). Whether you have a real or artificial tree, a basket of the right size and maybe a bit of propping up on the inside is all you need to make this trend work for you. If you're not afraid of a little DIY, a live root ball can also be a great way to decorate your tree's base — that's when a tree looks like it's planted in a little Santa Claus sack. All you have to do is wrap a square of fabric around your tree stand, fill it with polyester fiberfill, and tie a bow around the top. 
Finally, if you're looking for a really easy option, simply wrap a blanket around the base of your tree. A faux fur blanket is a great way to make it look cozy and chic, but any blanket that goes with your decor is sure to look stunning.
Stylish tree skirt replacements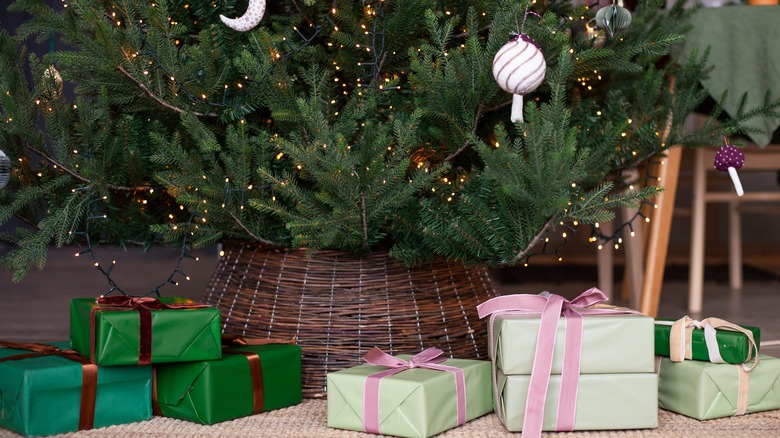 Nataliabiruk/Shutterstock
There are also some options that may not save you money now but likely will in the long run and will make your tree look way more stylish than opting for a skirt. In recent years, many people have been choosing collars rather than tree skirts for an updated way to conceal the pesky tree base (via Family Handyman). Collars are decorative pieces that fit around the bottom of the tree. Collars come in all shapes, sizes, and materials, so you can find one that perfectly fits your tree and style. Plus, since they're not made of fabric, they're easy to clean and will hold up to whatever the holidays throw at them. Thus, you'll be able to use them year after year, making them a solid investment.
If none of these options fits your needs perfectly, you may want to opt for a fake present to conceal your tree's base (via HGTV). Sure, this may sound crazy, but Christmas presents go under the tree, so what better way to camouflage your tree's base than with a present? Just get a big box to put around your tree stand, and wrap it with your favorite paper. This option is inexpensive and customizable, and it will look adorable all season long and blend right in with all the other presents on the big day.