Irreverent Star Colin Donnell On The 'Engaging' Script That Sold Him On The Project - Exclusive Interview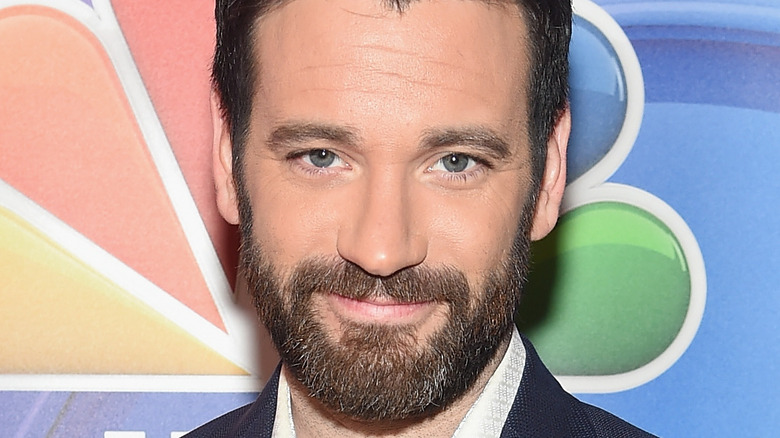 Jamie Mccarthy/Getty Images
We've all experienced rough days in the office, but what if a job gone sideways forced you to pack your bags, head to the other side of the world, and pose as a member of the clergy, all so you could evade the scope of the Chicago mob? It seems like a bit of a nightmare — and that's what Colin Donnell's character faces in the anticipated Peacock series "Irreverent," set to drop on November 30. A Chicago-based crime meditator, his life is turned upside down, and instead of facing down the mob (because who wants to do that?), he sets off for a tiny community in Far North Queensland, Australia. The catch? He poses as a reverend to truly blend in.
Adopting the persona of the real Reverend Mackenzie Boyd, "Mack" sets his plan in motion, hitting the tiny town like a car running at full speed. What ensues is a comedic yet high-stakes scenario that brings not only the crime-riddled seekers of revenge to Mack's doorstep but also a community to its brink as it adopts its newest member of the clergy. It sounds like a recipe for real-life disaster and on-screen success.
Ahead of the show's premiere, we sat down with Donnell to get the scoop on the show, what brought him to the project, and what sets "Irreverent" apart as a series. Holding nothing back in the exclusive time we got with the star, Donnell revealed that it was far more than just the exciting premise and the character that sold him on the show, but rather the community and the "engaging" script that left him wanting more.
Colin reveals what initially intrigued him about the project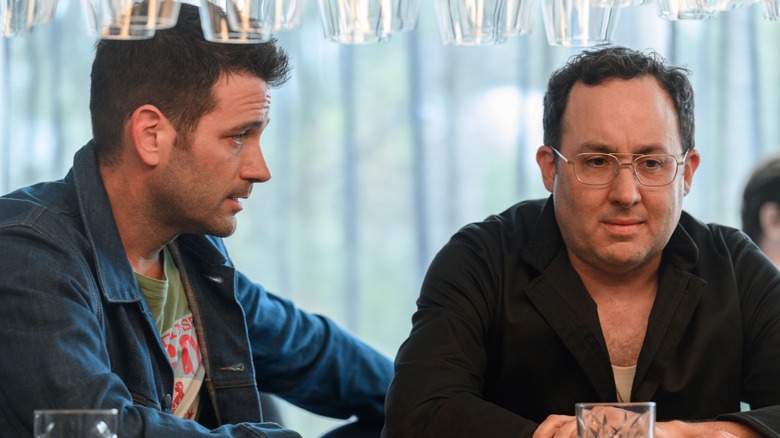 Courtesy of Peacock
"Irreverent" is such a dynamic story. You're a criminal on the run, hiding out as a reverend in Australia — it's a unique premise. What elements of the story sold you on lending your talent to the project?
It was a little bit of everything that you just described. It was such an engaging script to read in the first place, so I felt happy as a clam to be able to come over and bring Mack to life. There's so much about it — it's a funny story, but it's also full of heart, and it has great things to say about community, and it has a great story of personal redemption and trying to grow as a human being. The relationships were so deep and full at the outset of it that I couldn't wait to dive in when we first got started. I had such joy over the course of the six months that we shot bringing everything to life.
Without spoiling anything, are you satisfied with the trajectory of Mack and the story that he follows?
I am. I really am. The place where we meet Mack at the beginning of the season is entirely different from where we see Mac at the end of the series. It boils down to the effect of the relationships that he develops over the course of the episodes. In particular, the relationship that he forges with Daisy is so meaningful, and it's beautiful.
One of the highlights to me in all of the shooting was seeing that relationship take off and develop. Part of it was the writing, but also Tegan Stimson, who is wonderful. She's such a brilliant young actor, and I felt really lucky to have her as a scene partner, because it wouldn't have worked otherwise. She brings so much to the table, and I'm excited for audiences to be able to see what she's doing.
What does Colin want viewers to take away from the show?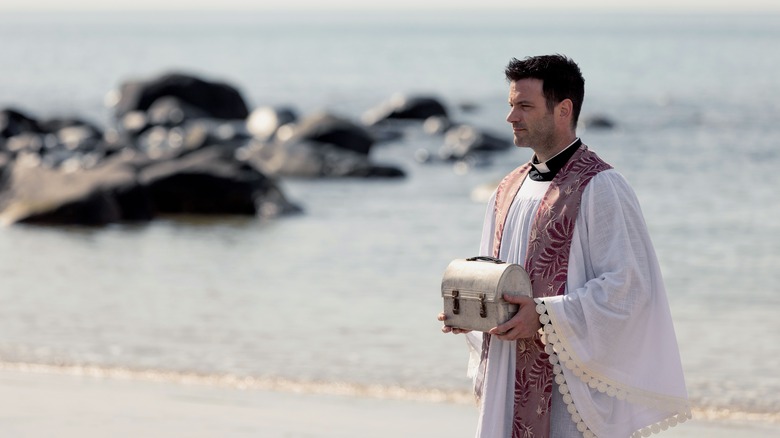 Courtesy of Peacock
Fans know you from "Chicago Med" and "Arrow." In what ways did you bring your past experiences to this show, and in what ways did you feel challenged by this character?
One of the things that I have found myself playing over the years is a character that you don't necessarily want to root for at the beginning. One of the joys for me is to find the humanity and find the bits of the character that an audience then starts to lean forward and pay attention to, and [they] end up getting on board toward the end. That was a real joy.
One of the things that I get to do in this particular role that I haven't been able to do necessarily before is bring so much humor and comedy. Paddy Macrae — our creator — and the rest of his writing team did a wonderful job of walking a fine line between absurdist humor and also [a] deep heartfelt sense of community and all of the feelings of the show.
I'm excited for people to see me being funny and goofing off and trying to push the envelope with the comedy — which is a real testament to both of our directors, Lucy Gaffy and Jonathan Teplitzky, who were on board and very encouraging of not only mining all of the comedy that we could find, but also leaning into the quieter moments of the series. Having that push and pull of the series is part of what makes it so engaging and fun to watch.
That duality between such serious topics, humor, and the quiet moments between actors is what pulls viewers in. There are so many twists and turns — without spoiling anything, what are you hoping that viewers are going to take away from the show?
I hope they have a good time, first of all. I hope they enjoy the fun of the journey that Mack is on, and they laugh a bunch, and they also grow to care about these people. That sense of community that I was talking about is a central role to our entire series. It was one of the greatest things to be able to play and bring to life, seeing how these people enrich each other's lives simply by their proximity to each other. It's the fact that they celebrate when things are good, but they lean on each other when things are bad. They have a wonderful sense of pride in not only who they are, but where they live and what makes them special and unique.
For Mack, being the complete fish out of water, he can't help but be affected by that. Whether it's against his will or willingly is part of the fun of the show, but it feeds into who he is and forces that change on him, which was awesome.
"Irreverent" premieres on Wednesday, November 30 on Peacock. All 10 episodes will drop at once.
This interview was edited for clarity.