Chip And Joanna Gaines Talk About Their Most Satisfying Renovation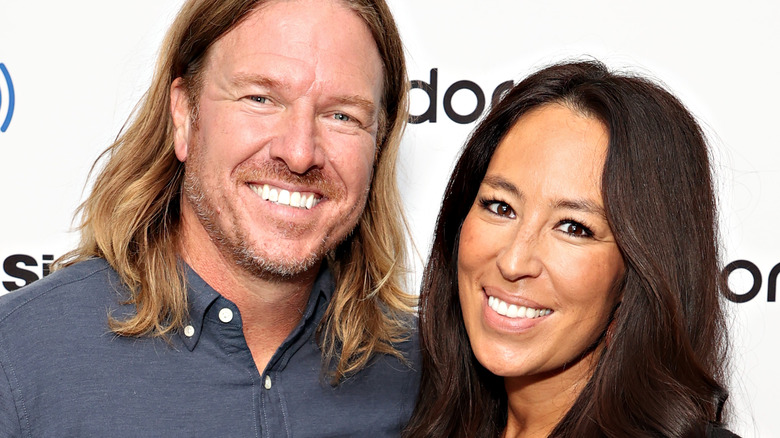 Cindy Ord/Getty Images
If you love home renovation or decor, there's a good chance you're obsessed with Chip and Joanna Gaines. The couple rose to stardom on the hit series "Fixer Upper." But Chip and Joanna left HGTV in 2017 at the height of their fame — and started building an empire. Fox News confirms the Gaines built their company, Magnolia, into a brand that includes a TV network (Magnolia Network) and a magazine (Magnolia Journal), among other ventures. 
The media moguls created Hearth and Hand products with Target and have also developed product partnerships with KILZ paint and James Hardie exterior siding. Chip and Joanna also turned their hometown of Waco, Texas, into a travel destination with Magnolia Market at the Silos. Likewise, the lovable couple turned their Magnolia.com website into a shopping destination and have each written New York Times best-selling books.
But how do the Gaines juggle so much while raising a family too? Joanna explained their work-family balance in a Magnolia Journal essay (via People). "In our current season of life, which has both Chip and me putting in a lot of hours at the office, wholeness looks like having our kids right there with us," Joanna wrote. "In and around where we work, I've carved out intentional spaces for them to spend their afternoons after school."
Joanna acknowledged that their life is wild, so they don't try too hard to separate work and family. Speaking of work, she and Chip shared their most satisfying renovation of all time. 
Cottonland Castle was the Gaines' most satisfying renovation
Chip and Joanna Gaines talked to House Beautiful about "Fixer Upper: The Castle," their biggest renovation to date. The power couple took on a larger-than-life revamp of Waco's Cottonland Castle. As Joanna told House Beautiful, "This was a good challenge for me and an opportunity to stretch myself in ways I hadn't before." The Magnolia Network series follows Chip and Joanna's transformation of the famous Waco castle.
Chip and Joanna's newest series, "Fixer Upper: The Castle," did not disappoint. The Cottonland Castle is a 1913 manor house built to look like a German castle. In the trailer for "Fixer Upper: The Castle" (via YouTube), Chip said: "The plan for the castle is to bring this beautiful property back to its original state." Joanna added: "One of the biggest things is how do we make this feel as accurate to that time period as possible."
Joanna also wrote a blog post on the Magnolia website, noting, "If you look past the cracks in the masonry, past the rotted floorboards, past the wilderness taking over the backyard, there is a lot of beauty to be found in this old castle." You can watch how Chip and Joanna worked their magic on Cottonland Castle on "Fixer Upper: The Castle," which is available to watch on discovery+, HBO Max, or the Magnolia Network TV channel.