How To Pull Off Fake Curtain Bangs Before Committing To The Haircut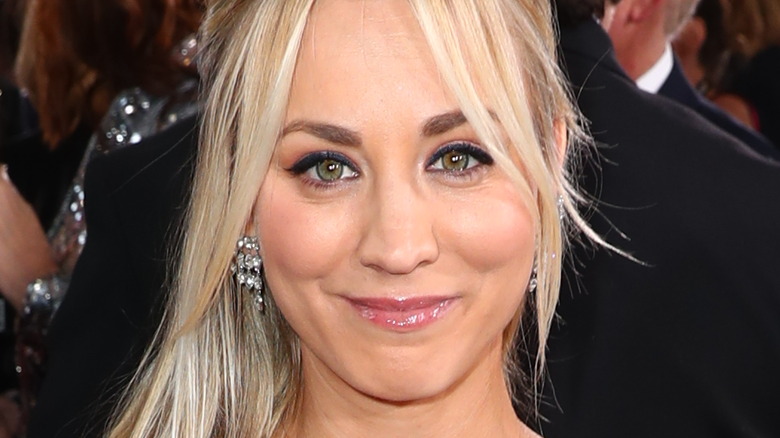 Joe Scarnici/Getty Images
How can you resist trying out a trend that was originally made famous by style icons such as Brigitte Bardot and Farrah Fawcett? The curtain bang, as noted by Oprah Daily, has been around since the 1960s, and has repeatedly popped up again and again, most likely due to the fact that it's just a hot look. "They're super sultry because you can be flirty and coquettish with them," noted stylist Juan Carlos Maciques. "You can sort of hide behind them, but people can still see your eyes."
This style of bangs is so-called because, similar to real-life drapes, they frame your face like a window. "Curtain bangs gently split open in the center, and they sit just along the cheekbones," celebrity hairstylist David Lopez explained to WhoWhatWear. Likewise, "Curtain bangs are soft, flowy, and longer than more traditional styles of fringe or bangs that sit at or above the brow." Remember Kaley Cuoco's tresses in "The Flight Attendant?" Those gorgeous face-framing tendrils? 
Well, those were curtain bangs. And, if you've been tempted to try them out yourself, but aren't sure about going under the scissors just yet, there are ways to create a similar look without committing fully. 
Grab your curling iron for faux curtain bangs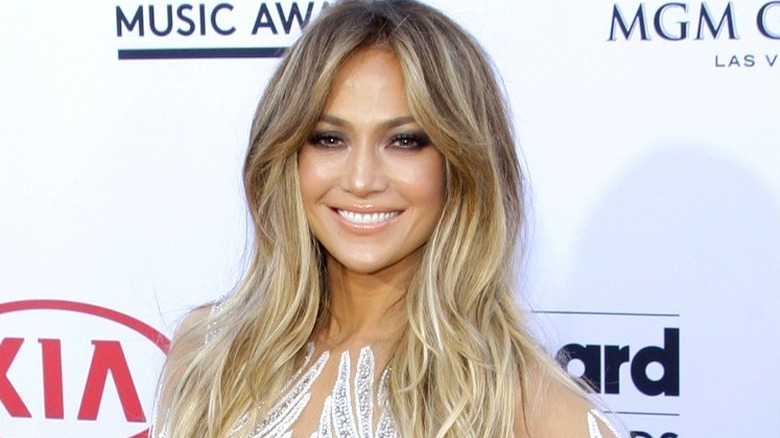 Kathy Hutchins/Shutterstock
Even though curtain bangs are long, they still obviously sit much shorter than the rest of your hair. As such, you may be a little hesitant to do the snip-snip before you know for sure you really like them. Just because they look great on Jennifer Lopez, whose hair evolution is truly something to behold, doesn't mean they'll look great on you, right? Luckily, you can try it before you buy it with this particular look.
Pro stylist Joseph Maine showed off an easy way to achieve the look on Instagram, declaring, "No need for a chop!" The hairdresser started by sectioning off blow-dried hair, leaving face-framing pieces out in front, and then parting right down the middle. Starting just above the cheekbone, he used a curling iron to curve tresses on either side of the part — the pieces that would be bangs if they were shorter — away from the face. 
Maine then clipped those two pieces together at the top of the forehead, to create the "curtain" draping effect, releasing the clip after styling the rest of the hair. You can tweak and adjust as necessary to get the perfect look thereby creating, as master stylist Paul Labrecque put it to Women's Health: "Bangs that appear to open in the middle of the face and frame it like a curtain does for a stage in the theater when it is pulled open." 
Try curving and blow-drying them into place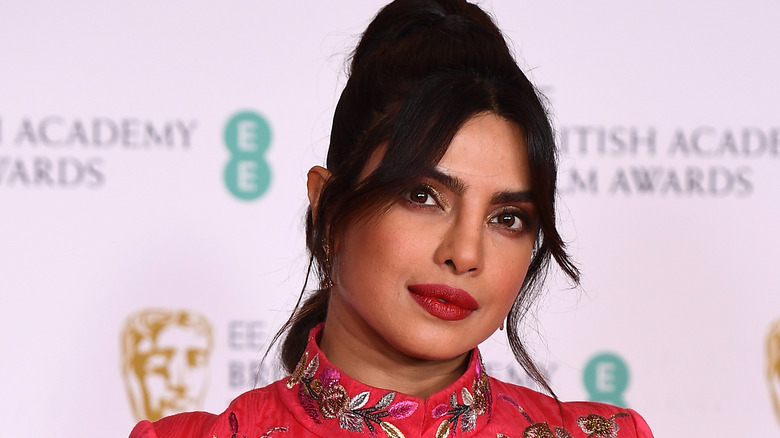 Jeff Spicer/Getty Images
No curling iron? No problem. If you're looking for another method of creating curtain bangs like Priyanka Chopra (above), L'Oréal Paris has you covered. They instruct you to start the process after washing your hair, preferably when it's still damp. Then, "Sweep the front section of your hair forward (the bits that would normally make up a fringe), and part it right in the middle." Hit that middle part with heat from your blow-dryer to secure it, while gently curving each side inward to form the faux fringe portion above each eyebrow.
Next, "Twist and tuck the lengths of hair on either side of your faux fringe behind each ear, and lightly pull the sides out a little bit so the fringe stays loose." Use a hairpin at each temple to keep the faux fringe in place as you style the rest of your hair. When you're done, you can release the pins and arrange your curtain bangs as desired, securing them with a mist of hairspray.
If you do decide you love curtain bangs and want to make them a bit more permanent, head to your favorite hairstylist for the snipping, then anywhere you want to go from there. "Curtain bangs are the gateway to bangs because they're super versatile," hairstylist Emily Heser shared with Glamour. "They're long enough to grow out or pin back if you want, but they can also be cut into a shorter look."