Where You've Seen The Star Of A Royal Corgi Christmas, And Why You'll Be Seeing More Of Her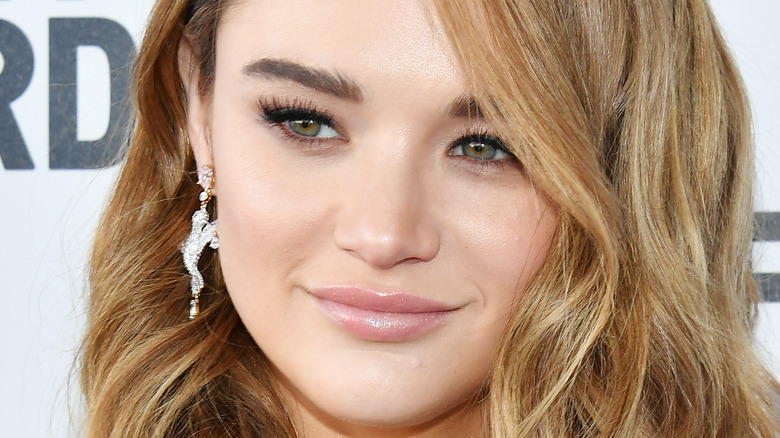 Amy Sussman/Getty Images
Once you get past all the cuteness that is corgis in the Hallmark holiday movie "A Royal Corgi Christmas," you'll notice there are also humans in the movie. In the film, the Crown Prince Edmond is about to take over the throne from his mother, the queen. To get in her good graces, he gives her Mistletoe, a mischievous corgi. To get the pup royally ready for the big Christmas Ball, American dog-trainer Cecily is hired for the task.
The prince is played by Jordan Renzo, who you may have seen in "The Spanish Princess," according to his biography on The Hallmark Channel. And while Mistletoe looks as cute and cuddly as Queen Elizabeth's Corgis, and he does hail from London, "A Royal Corgi Christmas" is actually his first public appearance as a star canine (real name Bonbon), per Entertainment Weekly.
Who you will undoubtedly recognize is the actress who plays Cecily.
Hunter King won two Daytime Emmy Awards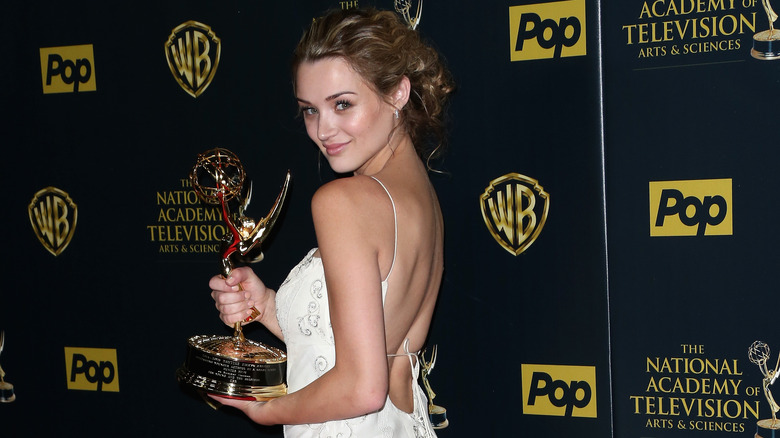 Frederick M. Brown/Getty Images
Fans of the daytime drama "The Young and the Restless" will recognize Cecily as Hunter King. In the soap, King played the character Summer Newman. The star nabbed the role in 2012, and has appeared in over 760 episodes, according to IMDb. For her efforts, she's been nominated five times for a Daytime Emmy, for Outstanding Younger Actress in a Drama Series, with two of those noms turning into back-to-back wins.
"I feel like I blacked out," King recalled on the Dishing with Digest podcast about winning her first Emmy. "[A]s soon as they called my name, I don't remember what came out of my mouth. I don't remember walking to the stage. [...] I remember feeling so grateful and almost in awe."
While doing the soap opera, she also took on the role of Clementine Hughes in the primetime sitcom "Life in Pieces." According to TV Guide she shared, "It's really fun doing both daytime and primetime. They're both totally different worlds." Luckily for audiences, King has continued to take on various projects for our viewing pleasure, with more to come.
You'll be seeing more of the actress on Hallmark
New to Hallmark in 2022, Hunter King has already starred in two projects this year prior to "A Royal Corgi Christmas." She played Addy in Hallmark Channel's "Hidden Gems" and Nikki Sullivan in Hallmark Movies & Mysteries' "Nikki & Nora: Sister Sleuths," per IMDb.
You can expect to see a lot more of the actress in upcoming projects with the company, too. King just signed a multi-picture deal with Hallmark Media, as reported by Deadline. "Hunter King brings such a spark to each role she brings to life and has been a wonderful addition to the Hallmark family," said Lisa Hamilton Daly, Executive Vice President of Hallmark Media via Deadline.
King is thrilled with her continuing relationship, and shared in a statement on the same site, "Growing up, I would drive past Hallmark's headquarters nearly every day and dream about getting the chance to be in one of their movies some day. Getting to make three Hallmark movies this year has already been so amazing and I'm so excited for what's to come. I get to be in Hallmark movies for a living! Are you kidding me? Is this real life?" She added on Instagram, "So many exciting things to come."