This Is How Many Corgis The Queen Has Actually Owned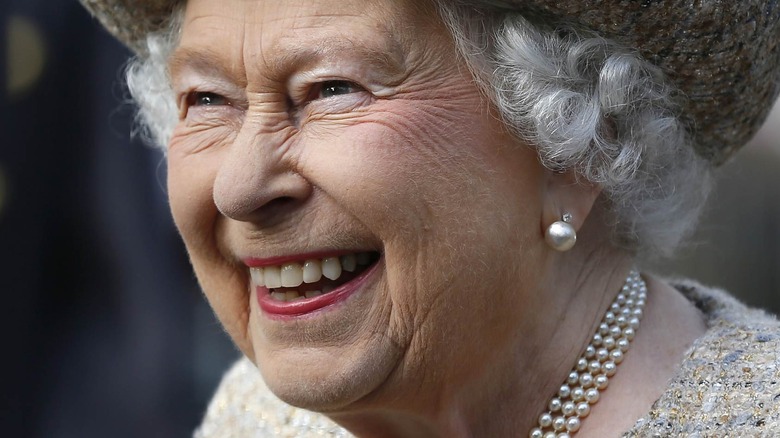 Wpa Pool/Getty Images
Queen Elizabeth II's love of corgis is legendary, lending these short and happy canines a long-lasting royal affiliation. The queen is said to have owned more 30 corgis in her lifetime, all of whom are said to be descendants of a corgi named Susan (via Metro UK). Susan the corgi was a gift for Elizabeth's 18th birthday and she subsequently became the matriarch of the royal family canine line — although it is not quite clear how all of these descendants are connected, whether through sibling, cousin, or sire. What we do know is this line ended breeding with the passing of pup Willow in 2018 (via Town and Country).
The queen's love of corgis reportedly began with the introduction to some friendly corgis at the Marquess of Bath's estate along with her sister Margaret. Elizabeth was then gifted her very own corgi for her 7th birthday, a Pembrokshire Welsh corgi named Dookie. Dookie was an affectionate adaptation of the name Duke, which he was given as a pup, as they knew he would one day belong to the little princess. He was also known for his long tail.
Queen Elizabeth II's current corgis are Candy and, in 2021, she welcomed Muick to her brood, though they are technically dorgis, or dachsund-corgi mixes (via Town & Country). Unfortunately, Muick's sibling Fergus, aka Fergie, tragically died just months after joining the royal family.
Queen Elizabeth II's lifelong love for corgis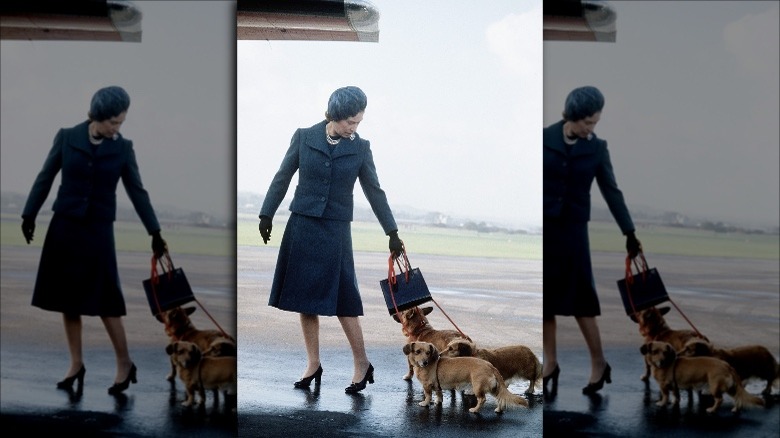 Anwar Hussein/Getty Images
In between the first pup and her current royal companions, Queen Elizabeth II had many different dogs with both traditional and non-traditional names. Beyond those named above, there have also been Monty, Holly, Emma, Linnet, Noble, and Heather (per Grazia). We must also not forget Sugar, Foxy, Bushy, Brush, Honey, Whisky, Sherry, Vulcan, Cider, Berry, Flash, Spick, Span, Tiny and Bisto Oxo. But, do not worry! Each and every pup has been loved and lived a great life (via Metro UK).
The queen reportedly dotes on her four-legged companions, making them individual Christmas stockings, having gourmet royal chefs prepare canine-friendly dinners, and even making them elevated beds so they won't be disturbed by cold floor drafts. Queen Elizabeth has been widely photographed with corgis at her side, joining her for travel, and even posing for magazine covers, and we honestly just cannot get enough.
Corgis are to the queen as tea is to England — some things are just better together (and make us happy, too).