Donald Trump Is Catching Heat Over This Mar-A-Lago Dinner Guest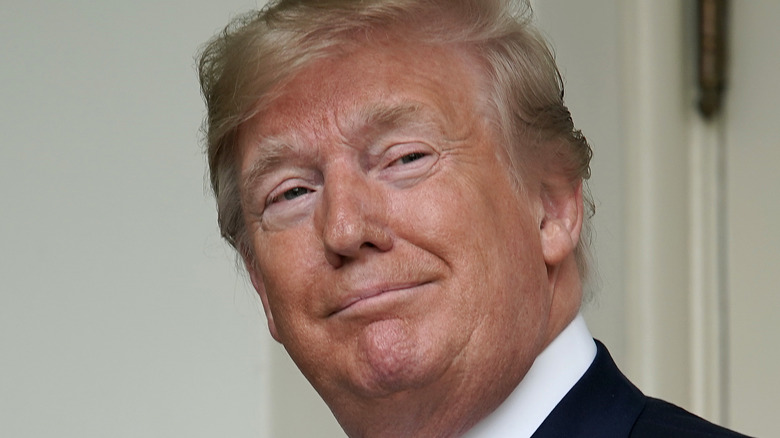 Chip Somodevilla/Getty Images
As if Donald Trump didn't have enough to worry about, it looks like he's catching heat over who he had dinner with at Mar-a-Lago. The former president created another scandal by dining with some shady companions at his Palm Beach resort, further damaging his already tenuous standing in the political world. The New York Times reported that Trump is under fire within the GOP after the party's performance in the 2022 midterms. "Strongmen" author Ruth Ben-Ghiat tweeted: "It is almost inevitable that he continues down this path. He feels cast aside by former backers and in this situation #Strongmen become more not less rogue and extremist."
There are growing signs that Trump is lurching toward dangerous extremists as his support within the Republican party wanes. The former president has embraced the QAnon movement, per PBS. Attorney Brad Moss tweeted: "MAGA will truly become the movement of fascism and antisemitism if Trump continues down this path."
Kanye West teased asking Trump to be his 2024 running mate, but Ye and another Mar-a-Lago dinner guest caused even greater controversy for the former president.
Donald Trump's dinner with white nationalist Nick Fuentes
This is who Donald Trump just had dinner with: "This is going to be the most racist, sexist, anti-semitic, holocaust-denying, speech in all of Dallas this weekend!" Elon Musk is also lifting his permanent twitter ban because free speech. pic.twitter.com/5jRRHcnafq

— Ron Filipkowski (@RonFilipkowski) November 25, 2022
Donald Trump's dinner with Kanye West and white nationalist Nick Fuentes created a scandal. The Washington Post reported that former President Trump welcomed the infamous "America First" founder at Mar-a-Lago. Karen Giorno, a former Trump aide, told the Post that the former president was "impressed with Nick and his knowledge of Trump World." The Southern Poverty Law Center wrote a summary of Fuentes, highlighting that he is an "outspoken admirer of fascists such as Mussolini." As a white nationalist, Fuentes holds to an ideology shared by the Ku Klux Klan, neo-Nazi, and skinhead hate groups.
Former Senate candidate Amy McGrath tweeted: "Even in the age of Trump, I never thought I'd live to see a day when a former American president would welcome a neo-nazi into his home and dine with him."Attorney Ron Filipkowski shared a video and tweeted: "This is Nick Fuentes, who just had dinner with Trump: 'White people founded this country. This country wouldn't exist without white people. White people are done being bullied.'" Even Trump's former ambassador to Israel, David Friedman, called out the 45th president by tweeting: "Even a social visit from an antisemite like Kanye West and human scum like Nick Fuentes is unacceptable. I urge you to throw those bums out, disavow them and relegate them to the dustbin of history where they belong."
CNN reported that Trump claimed he "didn't know" Fuentes and that Fuentes was actually Kanye West's guest. However, Fuentes is currently being investigated by the January 6th committee, so there seems to be a clear and obvious link between him and Trump that worries many.