Here's What You Should Wear For Stunning Engagement Photos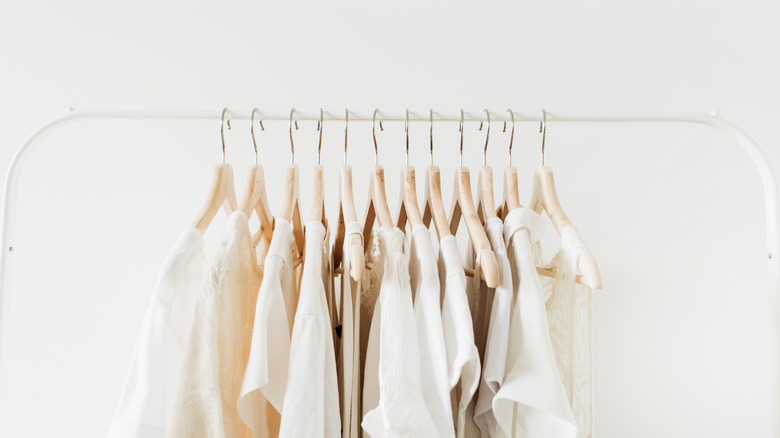 Floral Deco/Shutterstock
Engagement photos are an important part of your big day. Not only will these photos always be around to remember, but you'll likely be posting them on the internet for all to see and maybe even to announce that you'll be tying the knot. As a result, you need to make sure these photos are just right and convey exactly what you want them to. This means that the pressure is on to get the perfect set of shots.
Engagement photos come in all different styles and settings, and you want to make sure yours fit your love perfectly. Hence, you may be asking yourself the age-old question, "what do I wear?!" Choosing your outfits for these photos can be tricky, and many of us have no idea where to start, other than maybe a white outfit to aid in feeling more bridal, as The Knot noted. Luckily, there are some tips that work no matter who you are, and some ways to ensure that your photos are as picture-perfect as the happy couple (via Brides).
Look like yourself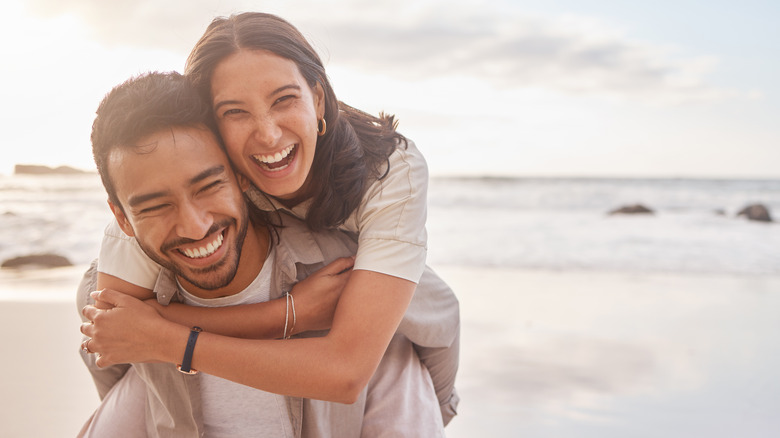 Peopleimages/Getty Images
The first thing to remember when planning your engagement photo outfit is that you want to look like you. Photographer Jessica D'Onofrio told Brides that the couple "should still look like themselves, but at their best," She continued, "wardrobe choices that are extremely outside their level of comfort will make them look and feel awkward in photos." Similarly, this isn't the time to experiment with hair and makeup you're not used to or go for a bold choice; stick with what makes you look and feel most like you.
By the same token, you should pick something that is easy to move around in (via Sheena Shahangian Photography). This probably doesn't occur to most of us, but photographers are going to try to get you and your partner in many different natural poses, and you want to be free to experiment with them in order to get the best photos. You may even want to choose two outfits that you love to give yourself more options and discover what looks best on camera.
Avoid matching or clashing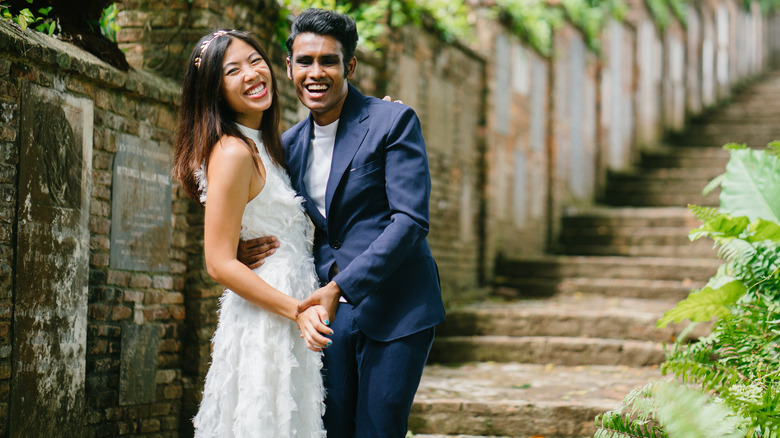 mentatdgt/Shutterstock
Of course, these photos aren't just about what you wear; they're about you and your partner as a couple. Consequently, your outfits need to look good together. Michelle Cross, an Oregon-based photographer explained to Brides that when couples are deciding how to dress, they should "look for complementary colors and solid prints. Try to stay away from anything too busy, as it can be an unnecessary distraction in photos." Choose a color scheme that you love, keeping in mind that pastels and light, cool colors will look best (via By Halie). Incorporate your color scheme, but don't commit too hard to it. Allow the color to be an accent on both of your outfits, but otherwise, stay neutral. When in doubt, remember that coordination is key, but matching is a no-no.
Ultimately, the best thing to keep in mind is that these photos will be around forever, so try to opt for classic outfits, rather than experimenting or jumping on trends. Remember that you want to prioritize capturing your and your partner's love, so dress like yourselves at your best and create some memories that will last forever.