How To Pull Fashion Inspiration From Beyonce's Renaissance Era Style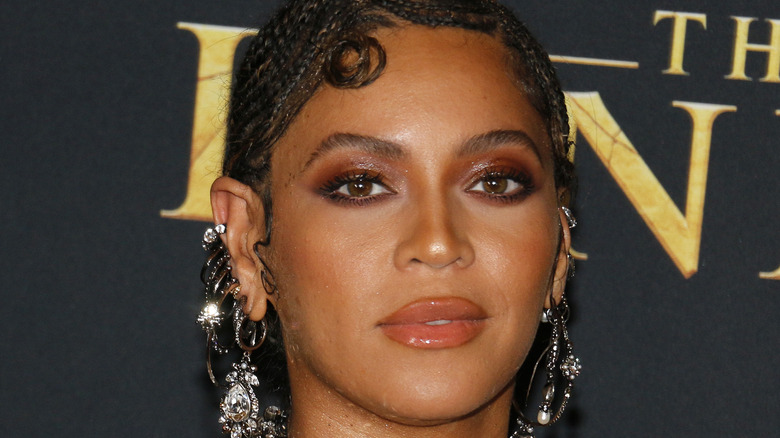 Tinseltown/Shutterstock
Much like how Taylor Swift defines each new era through her style, Beyonce expresses herself through her clothing whenever she releases a new song or album, and she pulled out all the stops for her Grammy-nominated seventh studio album "Renaissance." Never one to shy away from striking silhouettes and dazzling outfits, Beyonce's killer physique and powerful aura were on full display in the outfits she wore during this era.
Beyonce didn't just give her fans the album by itself, though. As reported by ANDSCAPE, the singer released "Renaissance"-inspired merch when the album dropped. Items included a slightly risque thong set, some on-trend opera gloves, and a pair of silver horse hoop earrings, as well as larger pieces like a hoodie with a face covering included.
Though the "Renaissance" merch is undeniably cool, you may be more interested in pulling inspiration from Beyonce herself. If that's the case, we've gathered together all of the main pieces she wore during the stunning "Renaissance" era as well as the main colors and silhouettes you need to know so you can strut around in true Queen Bey style.
She leaned into a specific palette of colors and textures for the Renaissance era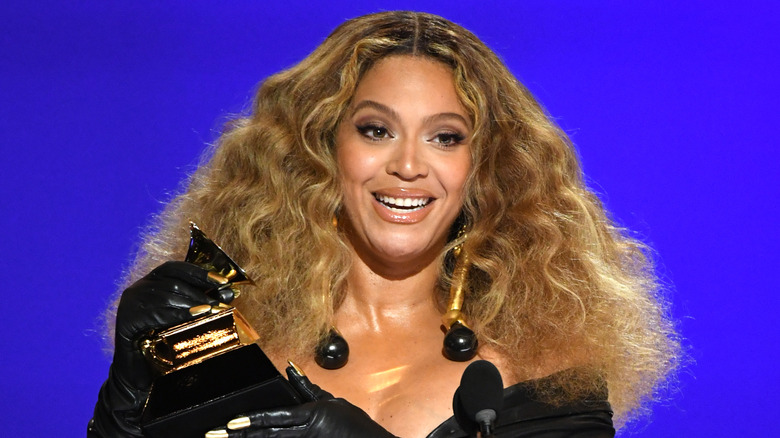 Kevin Winter/Getty Images
The first thing you'll need to figure out when pulling inspiration from Beyonce is the color palette of the "Renaissance" era. Even if you don't have the budget for the outfits she wore, you can start by understanding the colors Beyonce reached for.
One major theme of Beyonce's style throughout this time was metallics, more specifically textured metallic fabrics. Per DAZED, Beyonce wore plenty of outfits in shimmering silver and rich gold tones when promoting the "Renaissance" album, wearing designer pieces from Nusi Quero and Gucci among others. Her looks were also full of bold drama, with plenty of asymmetry and bold silhouettes on display.
A secondary color Beyonce leaned toward was green. In one of her promotional photos, the singer wore a stunning custom emerald green headpiece with netting by designer Christopher John Rodgers, a piece that helped to encapsulate the decadence of the "Renaissance" era. In another photo, she wore a lime green custom gown made of lace in a mermaid style from Maison Alaïa, complete with a matching sheer mask (via Grazia). 
Your look won't be complete without being inspired by Beyonce's gorgeous accessory choices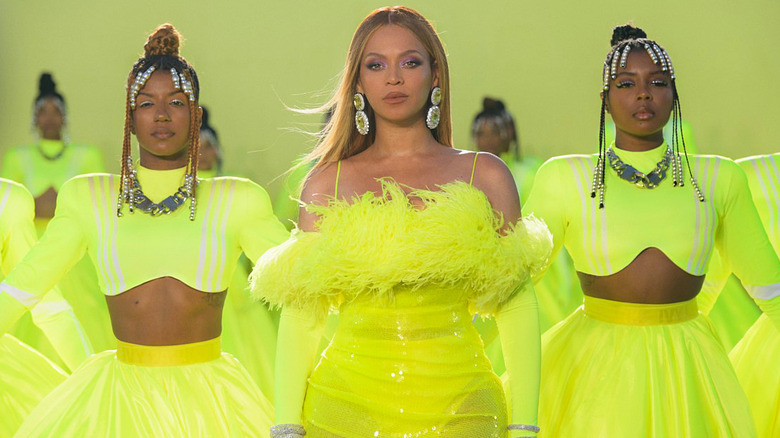 Handout/Getty Images
Don't forget accessories, either. Never content to wear a headband and call it a day, Beyonce went above and beyond to deliver a series of iconic looks accentuated by carefully chosen accessories. Her headwear game was on point during the "Renaissance" era, with a notable example being the Giannina Azar white cowboy hat she wore for the album cover (via Teen Vogue).
As well as the green Christopher John Rodgers headpiece (via DAZED), Beyonce wore several hats during the "Renaissance" era, including two from Sarah Sokol Millinery for the album art — a gravity-defying black number and an oversized beret style that was created in collaboration with Beyonce's mother, Tina Knowles. As well as hats, the singer dazzled in a custom Destree headpiece for the cover of the single "Break My Soul."
If you don't think any of the above will fit into your everyday life, instead take inspiration from the silhouettes of the "Renaissance" era. Rather than a sculptural hat, why not opt for an oversized beret? A glittering headband with a mesh front for a cocktail party would be a subtle nod to the Christopher John Rodgers headpiece, too. By adopting Beyonce's main color palette of green, silver, and black alongside interesting textured pieces, you'll be paying homage to her "Renaissance" style without breaking the bank to do so.