Winter's Most Dramatic Fashion Trend Has Arrived In The Form Of Opera Gloves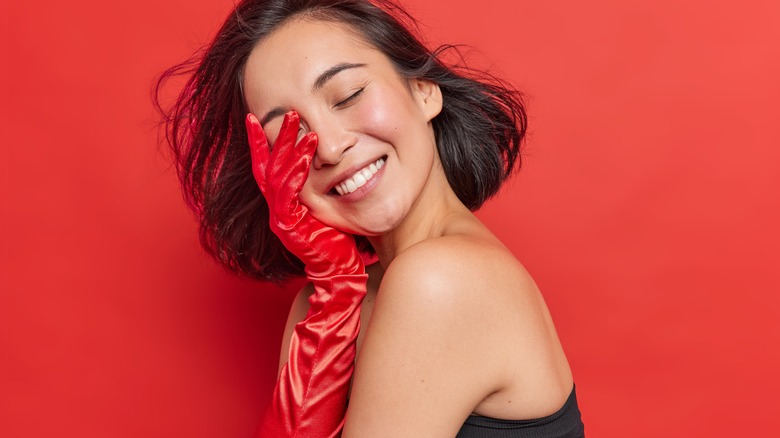 Cast Of Thousands/Shutterstock
One of winter's hottest trends has arrived, and it's definitely unexpected. Alongside typical holiday season looks like sequins and velvet, the opera glove has made its debut.
Undeniably sexy, the opera glove trend began all the way back in the late 19th century — think "The Gilded Age" – and was reserved for the wealthy elite (per Town & Country). Fashion historian Dr. Valerie Steele notes that the long gloves, which typically reach up to the elbow or beyond, were worn as a marker of class but also to cover up women's hands due to them being considered the "organ of touch" and therefore "eroticized" by the public.
Now, the trend has begun to resurface. The good news is that anyone can don a pair of opera gloves, not just the ultra-wealthy, though plenty of celebs have taken on the trend for the red carpet. Singer-songwriter Olivia Rodrigo wore opera gloves to the 2022 Grammys, as did popstar Dua Lipa and actor and singer Billy Porter (via PopSugar).
They're definitely sticking around, so how can you style opera gloves, and can they work with a regular wardrobe (i.e., one that isn't full of ballgowns)? 
The trend infuses fun, tongue-in-cheek glamour into daily wear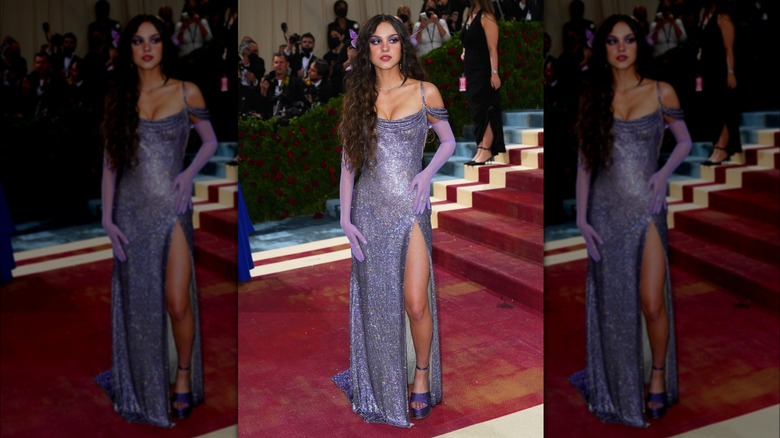 Gotham/Getty
If you have a penchant for the dramatic, the opera glove trend couldn't be more perfect for you. Speaking to Harper's Bazaar, fashion brand consultant Anna Vitiello enthused about the appeal of opera gloves. "They lend an elegance and sophistication beyond any other piece of jewelry or heel," she said. "I just love adding a touch of drama, and there's no accessory more dramatic."
Whatever form they're in, opera gloves will add an extra statement to your outfit without taking up too much room in your wardrobe. The best thing about the trend is that you can turn it to your advantage. Live in a cold climate? Go for opera gloves made of warm materials like wool and tuck them under a warm winter coat. Want to jazz up a minimalist dress? Silk or lace opera gloves are the way to go. 
You could go super sexy with these mesh dotted ones by Savage x Fenty or keep your hands warm with these wool opera gloves by Rick Owens from Ssense (via Refinery29).
Though they may seem daunting, opera gloves match a lot of outfits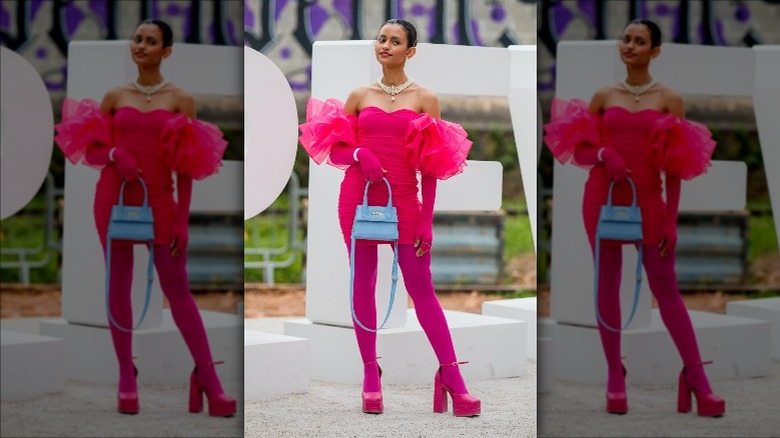 Mauricio Santana/Getty Images
If you're still struggling to figure out how to style opera gloves, no worries. Per The Zoe Report, you can't go wrong with a little black dress and opera glove moment. Chic and sophisticated, you'll be the belle of the ball. Adding gloves is also a good way to refresh outfits you feel you've worn too many times.
Per Glamour, opera gloves are best for fancier occasions, as they were intended. Though this may seem like common sense, it can be tricky to figure out the best type of dress to wear your gloves with. The answer is: all of them. Maxi, midi, or mini, opera gloves work with just about every style. 
If you're the sort of person who likes to make a daring statement, go for a bold print on your gloves and keep the rest of your look understated, or go all out and clash your prints for an unforgettable look.
The most important thing to remember is confidence. So long as you believe in yourself, you can make opera gloves work for you.