Keke Palmer Talks Doritos Dips And How She Channels Big Dip Energy - Exclusive Interview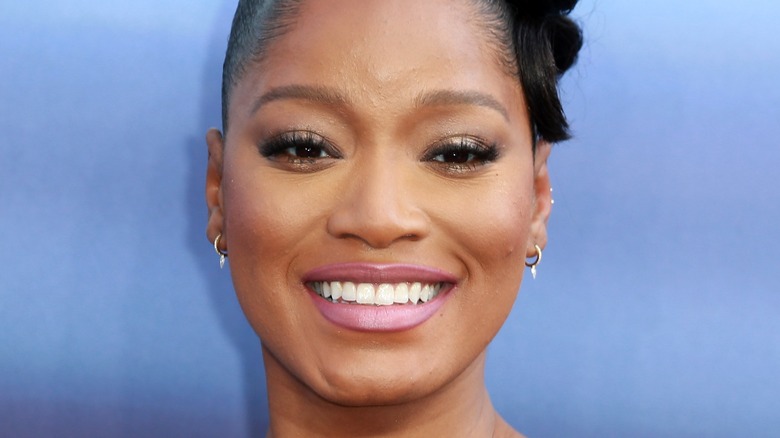 Fred Duval/Shutterstock
Queen of our childhoods Keke Palmer has ascended through the ranks of stardom with grace, from her role as a precocious speller in 2006's "Akeelah and the Bee" to starring roles on both Disney Channel and Nickelodeon. The "Scream Queens" actress has since taken on an incredible range of characters, from playing multiple comedic roles on "Turnt Up with the Taylors" — for which she received an Emmy — to the main character in "Alice," a 2022 film following a Black woman's journey time traveling from the pre-Civil War South to the complicated political landscape of the 1970s, per IMDb.
Though Keke Palmer just gave us one of her best performances yet — as the charismatic UFO enthusiast Emerald Haywood in Jordan Peele's 2022 sci-fi horror film "Nope" — the star isn't slowing down anytime soon. She's gearing up to host the winter premiere of "Saturday Night Live" on December 3 and told The List that she's excited to take on more producing, writing, and directing projects in the near future. In her exclusive interview, Keke Palmer also talked about releasing new music, launching her own podcast and digital content channel, and why she's teaming up with Doritos to share her favorite snack with the world.
She's all about bold flavors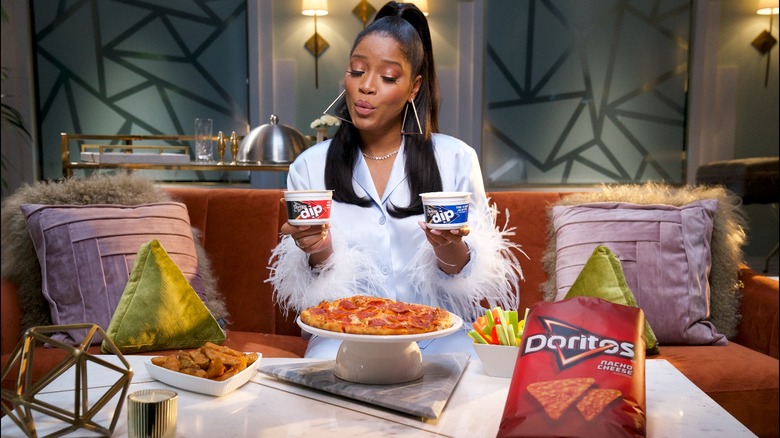 Doritos
Why did you choose to partner with Doritos? What was it about this project?
I loved Doritos, first of all. Doritos is something that we all grew up with, and if you didn't, I feel so bad for you, because they're a household name of a brand. They're around for every barbecue, family trip, car ride, whatever. 
When I heard that they're coming out with these Doritos and taking dipping to another level with some Big Dip Energy, I felt like, oh my gosh, this is a perfect mashup, because I know a little something about bold flavors. I was excited to introduce a cool ranch jalapeño, their new dip, as well as their other new dip, spicy nacho. I was really excited to be able to join the team and be able to usher in this next generation of Doritos love, and see what [everyone] can dip into this new dip. From pizza to wings to veggies, it's all the options, all the things.
What's your favorite thing to dip in the new dips, or what's your favorite dip?
When I'm trying to be healthy, I'll do a little pita, a little bit of veggie type of scenario. When I'm going all the way in with the snacking, I'm thinking some wings, some pizza. I'm very excited for people to tell me what they'll dip [into] it because I want them to get creative and give me some ideas. 
We also have an opportunity for people to win a Big Dip Energy Kit by going to the Doritos Instagram page and commenting under the dip launch post with what they would put into their dip, and I'm very excited to see [the results]. All they got to do is comment what food they would dip [into] it, and then the hashtag Big Dip Energy, hashtag sweepstakes. I'm excited for them to give me some ideas on how to upgrade my food. ...
Even French fries. I just thought about French fries too.
What's in the Big Dip Energy Kit?
It's a little bit exclusive, so you're going to have to go into the comments section in order to get it, girl, because this is a very exclusive, essential kit. It's all the things you're going to be needing and more. It's going to upgrade you, so go ahead and upgrade yourself.
Keke Palmer has major projects in the works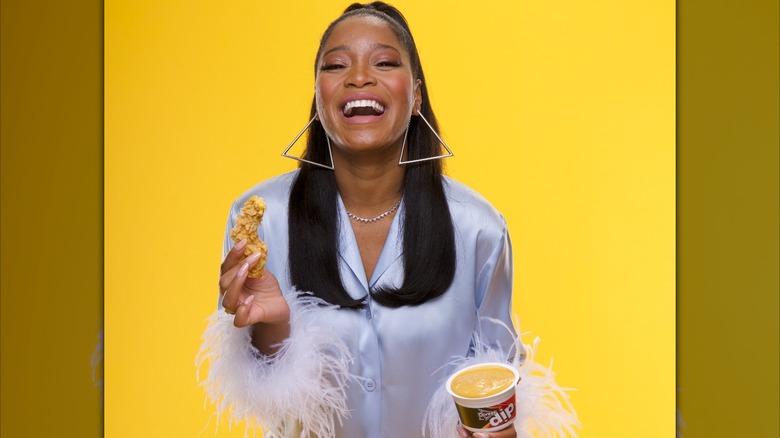 Doritos
Are we going to get a follow-up to your 2020 album?
Oh, yes. I know it seems like I've been saying this forever, but I literally genuinely do have the project done. I'm just finishing up final touches and everything, being a typical perfectionist, but you can expect it to come out very, very soon. You're definitely going to get a follow-up to some music, and the music is good.
I'm so excited. Are you a Virgo?
I am.
Okay, perfectionist makes sense. You and Beyonce have the Virgo energy going on, very cool.
Exactly. She's also bleeding us dry with impatience.
You're going to be in "Sister Act III: Kicking the Habit." Can you tell us anything?
What I can say is that I'm happy that the world has cast me in this without me getting any booking legitimately. It's literally on IMDb to the point where I feel like I am already ... I feel very much so I'm on set within seconds, and yet I haven't gotten a call from Disney at all. I'm very excited about it, I'm happy that Whoopi Goldberg wants this for me, and I'm also excited that even IMDb wants this for me. But I've yet to actually receive any real information on it. But once I do, your girl is ready to sign on.
IMDb says your name and it's in pre-production.
Isn't that crazy? I know.
If Whoopi's [an] executive producer, she's got you, and you'll probably be a producer too. I know you're getting more into the producing, the writing.
I would be looking for that. If they need me to write something, I could even write something. I'm not playing.
You write music. I bet you could write some really good stuff for the movie.
Yeah. 
[You're] hosting SNL on December 3 with SZA as the musical guest, which sounds like a dream. You're such a pro at live TV already, from your talk show to filming in front of a live studio audience and interviewing people at the Met Gala. How do you hope the week goes? Are you going to do your Angela Bassett impression?
If they ask for Angela, I can pull Angela out; it's not a problem. I'm very excited to be on SNL and to have fun hosting. Like you said, I love to host, and [for] this, I get to host and I get to play. It's a combination that is really comfortable for me, and I'm excited to get to know everyone and see what the writers have in mind and have a good time. I'm expecting it to be a fun experience.

Keke Palmer is creating opportunities in front of and behind the camera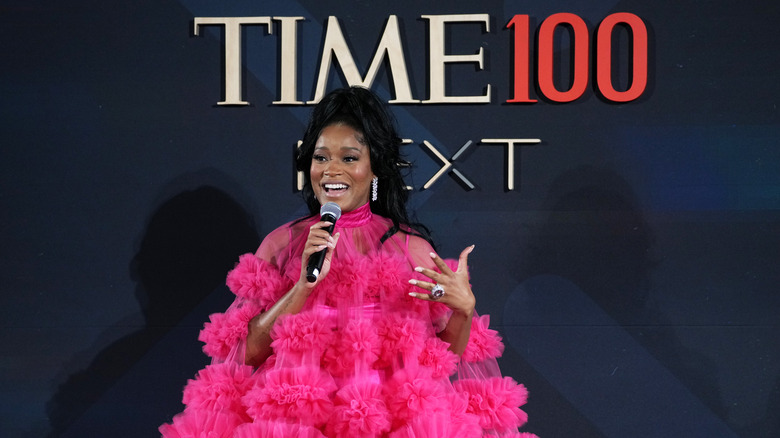 Kevin Mazur/Getty Images
You've talked about your new digital channel, KeyTV, as a way to open doors for other people in the entertainment space, and specifically as a platform for Black voices and creators. What has it been like since it launched in November?
It's been so exciting, and we're slowly continuing to show people our new content. We just had "Heaux and Tell," which is our first scripted series, and then "Make It Make Sense," which is our first unscripted series. Then we have more to come. I'm excited for people to get into the content and into these creators who have done a really good job at coming up with these great and interesting worlds and point[s] of view.
I'm also excited about — as the network continues to grow and people get comfortable with the content that we've put out from the entertainment aspect — the behind the scenes. Because we also have a lot of [content about] how we got the project made and what the process was that I am really excited for people to get in on. 
A lot of times, when people think about entertainment, they only think about being the performer, and they don't think about all the jobs that go on behind the scenes that are equally [as important as], if not even more important than, being the talent. So I'm excited about also making that space diverse — not just diversity in terms of representation of what we see on the screen, but also behind the screen, because that's what also makes the difference in the kind of work that we see. I'm excited about all of that.
You've talked about there being a split between Lauren [Palmer] versus Keke. Do you feel like Keke is your singing, acting, performing persona? Could Lauren be your producing, writing, directing persona?
Yes. That's how I would differentiate it, for sure. Lauren is more the business and the mind behind the brand and the creative works, but Keke is the presence that you see; it's the personality. Yeah, I think you're 100% right.
She understands the value of mentorship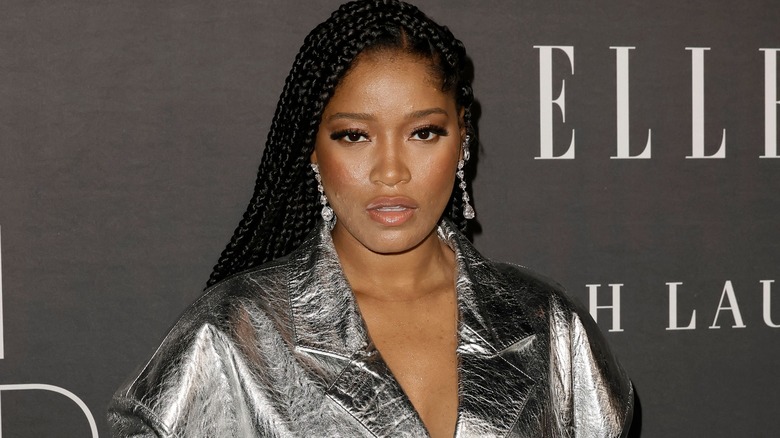 Kevin Winter/Getty Images
You're really, really good in "Nope." In both the dramatic moments and the funny moments, you nail it. And you've said that Jordan Peele has inspired you to write more. Would you want to collaborate with him? What kind of genre work would you want to get into with your writing?
I would love to collaborate with Jordan again on anything. Anything that he would be interested in I would totally be interested in doing with him, because it's always going to be something that's fulfilling and something that I'm going to learn from. He's a really talented person. I would love to work with him on anything. Whether it would be for me or someone else, I'm open to it because he's a mentor to me.
You co-created Saving Our Cinderellas as a part of the programming for Saving Our Daughters. How can people support this organization on a local level or a national level? I know it's mostly mentorship based.
We are a little bit everywhere, so if you're interested in getting involved, you can go to the Saving Our Daughters Instagram page or Saving Our Daughters Facebook page and find out [how]. Whether it's in the East LA area, or it's in Atlanta, or it's in New York, we have sections everywhere in order to reach our girls. If you're interested, definitely go to savingourdaughters.com, Instagram, and Facebook, and you can get involved.
Is there anything you want to promote besides everything you have going on? How are you feeling about your new podcast ["Baby, This Is Keke Palmer"]? I can't wait to listen to the episode with Quinta [Brunson].
I'm excited about the podcast because I get to talk, talk, talk to the damn floor, which is not something that you always get to do in an interview or in a daytime or host or talk show setting. But in this podcast scenario, I'm able to have in-depth conversation[s], and that's exciting to me.
You can enter the sweepstakes for a Doritos Big Dip Energy Kit before November 30 by heading to Doritos' Instagram.
This interview has been edited for clarity.